Ryobi 40V Jet Fan Blower Also Includes a Vacuum Function
Shoveling leaves into garbage bags might just be one of the worst parts of fall cleanup. Luckily, Ryobi has a product that encompasses the whole leaf-cleanup process, from blowing to vacuuming, to mulching. To sweeten the pot, it's all done in one machine that transforms from blower to vacuum mode with the flip of a switch. Find out how the Ryobi 40V Jet Fan Blower Vacuum can help you ditch those plastic bags forever!
Ryobi 40V Jet Fan Blower/Vacuum: The Big Deal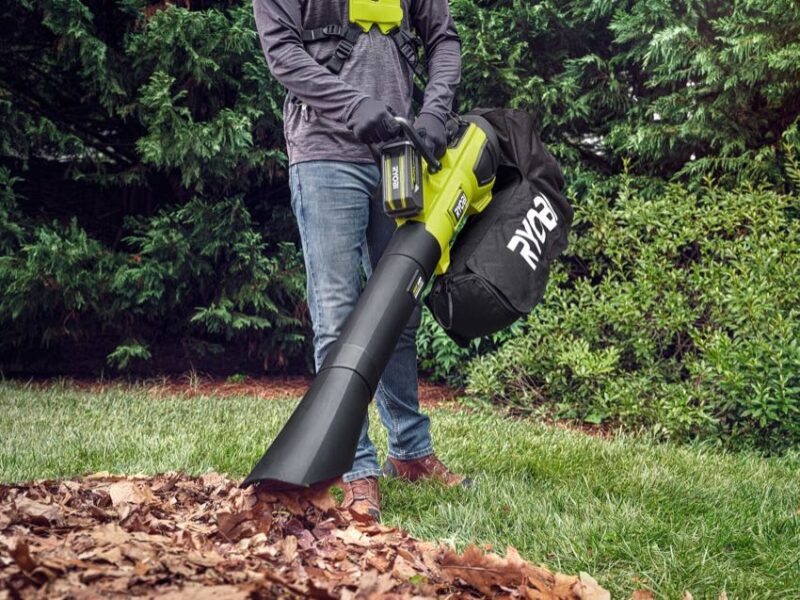 Ryobi has plenty of lawncare equipment, including one of the best battery-powered leaf blowers on the market. They also have the Vac Attack leaf mulcher that impressed us with its cordless design. The great thing about the 40V Jet Fan Blower Vacuum (RY404150) is that it combines both of these concepts into one machine. It even provides up to 25% more mulching than the Vac Attack, while incorporating a simpler, inline design.
The Ryobi RY404150 has an air volume output of up to 600 CFM. It also achieves air speeds up to 100 MPH when you use the speed tip that comes with the machine. Since it has a single-tube design, switching from blower to vacuum mode is as simple as turning a dial, which eliminates the need to mess with vacuum tubes or an overabundance of accessories.
Twist a Dial to Switch Modes
Yep, you read that right. To switch from blower to vacuum mode, all you have to do is turn a dial. Attaching a bag to the back of the machine allows it to collect mulch clippings, and the inline blower tube now acts as the vacuum nozzle.
Compared to similar tools like Makita's XBU04 cordless blower mulcher, the design of Ryobi's vacuum/blower is much more streamlined.
According to Ryobi, its brushless motor gives it twice the power compared to brushed tools. It delivers gas-like performance without the hassles related to gas power like maintenance or fumes.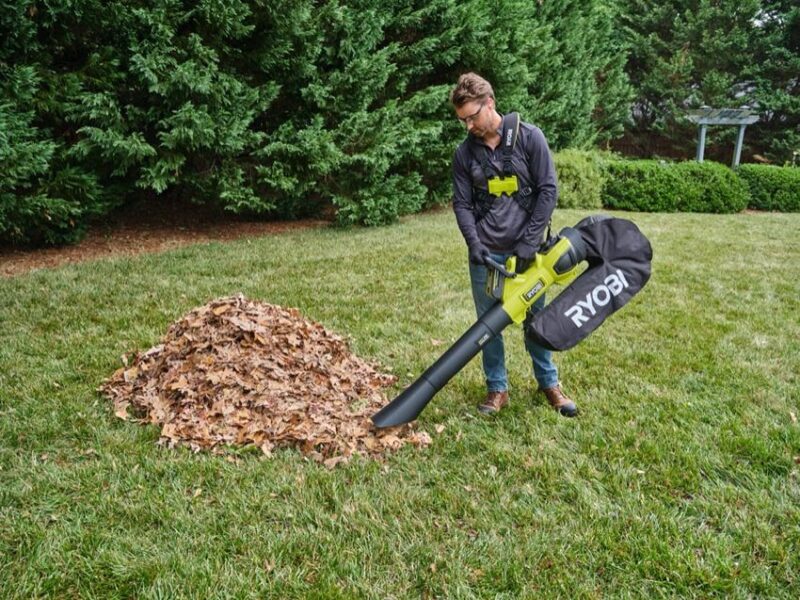 As for the mulching properties, there's a metal impeller that quickly shreds debris and eliminates clogs. It can mulch the equivalent of 20 bags into 1, which minimizes downtime spent emptying the collection bag. In total, the bag holds 10.5 gallons of debris.
The Ryobi 40V Jet Fan Blower Vacuum has a variable speed dial that controls the airflow. There's also a cruise control function that you can activate once you find that perfect setting.
Additional Features
Includes flared vacuum tip for faster cleanup
Includes adjustable harness for better balance and comfort
Ryobi 40V Jet Fan Blower/Vacuum Price
This blower vacuum retails as a bare tool for $369. You can also find it as part of a kit, which includes two 40V batteries and one charger, for $100 more. Like all Ryobi tools, it's sold exclusively at The Home Depot. Look for it starting in November 2022, just in time for fall cleanup.
Ryobi backs the tool with a 5-year warranty and the batteries with a 3-year warranty.
Specifications
Model: Ryobi RY404150
Air Volume: 600 CFM
Bag capacity: 10.5 gal / 1.14 bushels
Weight: 15.2 lbs
Max air speed: 100 MPH