We almost can't count the number of new battery-powered leaf blowers that have hit the market since our first round-up article many years ago. Consumers and professionals alike have dozens more options—from blowing force and noise output to ergonomics and price. Regardless of what you choose, leaf blowers have performance that is leaps and bounds ahead of those first battery-powered models. We round up the available models to give you our take on who makes the best battery-powered leaf blower in 2022.
What We Look for in a Battery-Powered Leaf Blower – Our Buying Guide
Blowing Force
How strongly a battery-powered blower…well, blows determines how much work you can get done. Some leaf blowers do a great job blowing leaves. Others serve as great broom replacements. Airflow (represented by CFM or cubic feet per minute) and airspeed (measured in MPH) give us some handy indicators. They don't tell the whole story, however, and sometimes getting the performance indicated by the numbers printed on the box depends on which nozzle you use.
At our shop, we actually measure the Newton force each blower puts out. This gives us a number describing the actual force a blower produces. Think of it as a single number encompassing both airspeed and air volume. The higher the Newtons, the stronger a blower.
Of course, that's just part of the story.
Battery Runtime
If you intend to blow more than just a small postage-stamp-sized yard, runtime plays an important role in choosing the best battery-powered blower. It's not uncommon to find that you really only do around 15 minutes of actual blowing when cleaning your driveway and sidewalk after mowing the grass. For those up north, however, blowing those leaves in the Fall season could have you using a battery-powered leaf blower for 30 minutes or longer.
That requires a bigger battery and/or a more efficient battery system and tool combination.
Understanding the amount of work you truly need to accomplish each time you pull out your battery-powered blower helps when dialing in your true requirements. Do you need the best battery-powered leaf blower in terms of power—or just an extra battery? Most people also buy multiple tools that work on the same battery and having extra batteries extends how much work you can accomplish.
Weight and Balance
A majority of battery-powered leaf blowers are what we call "handheld" tools. That makes weight a key metric. After all, you have to hold the tool while you use it. What good is extra-long runtime if your arm feels like it wants to fall off at the end of 30 minutes of leaf blowing?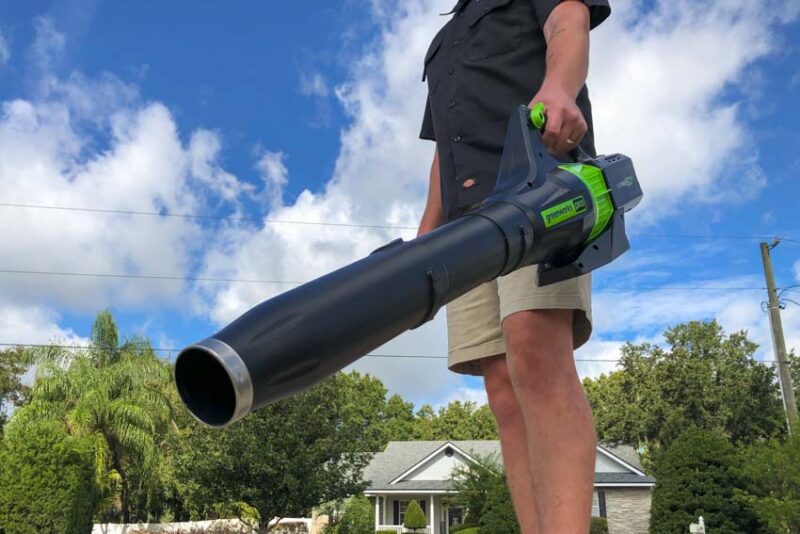 We also pay attention to balance. A well-balanced blower points its nose downward at a natural angle during wide-open throttle. This keeps you from having to work as hard to keep the nozzle at the best working angle.
Noise Output Levels
Battery-powered leaf blowers make significantly less noise than their gas-powered counterparts. Some, however, make even less noise than others. ANSI standards measure leaf blower noise output from 50 feet away. They mainly focus on the noise perceived by those not operating the tool.
We use an SPL meter placed approximately at the operator's ear to measure how much noise you can expect to hear while operating the tool.
General Features and Overall Design
When it comes to controls and features, battery-powered leaf blowers don't require a lot of training to operate compared to other tools we review. Here are some of the features that make using some blowers easier or improve their performance:
Brushless motor
Cruise control
Turbo mode
Inline design
Multiple nozzles
Shoulder strap
Rapid charger
Value
At Pro Tool Reviews, we know price matters. Everyone works within a budget. However, value means much more than a low price. We've seen even the most expensive option solve such a big problem or offer such amazing performance that it represents an incredible value. Other times, one of the best budget picks leads our value ranking. Often, it's something in between. Wherever it is, we want to help you get the biggest bang for your leaf-blowing buck.
Best Battery-Powered Leaf Blower for Power
With blowers from EGO, Ryobi, and Stihl all measuring more than 21 Newtons, we thought we had reached the topmost limits for handheld blowers. Yeah, throw that all out the window. The EGO 765 CFM blower turned the handheld blower industry upside down when it clocked over 25 Newtons using the included 5.0Ah battery. It measured 26 Newtons using a high-capacity pack. That firmly places it right up there with entry-level backpack blowers!
Price: $329 with 5.0Ah battery and charger, $449 with two 5.0Ah batteries and charger.
More Heavy Hitters
Using the included battery, not many battery-powered blowers hit numbers like the Ryobi 40V HP 730 CFM blower. We measured 20.0 Newtons of force using our ANSI-based system. When we cut off a notch from the flexible nozzle, we measured an impressive 21.7 N!
Price: $229 bare, $329 with two 4.0Ah batteries and charger
Stihl's flagship BGA 200 measured an impressive 21.3 Newtons and that number stayed consistent when using either the AP3000 backpack battery or the 6.3Ah AP300 pack. Given the high blowing force and the excellent runtime you can get using the backpack battery, Stihl dominates as the best battery-powered blower for performance-minded Pros.
Price: $449.99 bare
EGO 56V 650 CFM Blower
If you don't need the maximum amount of force, we really like the power and runtime of the EGO 650 CFM blower. using the 5.0Ah battery, it reaches 20.3 Newtons. It was a little higher with a 7.5Ah battery. However, we held 23.2 Newtons with a fully charged 10.0Ah battery. Unless you have the backpack holster, we don't recommend using this configuration because of the weight. However, that does make EGO's 650 the second strongest battery-powered blower we've tested to date, sitting only behind… EGO.
Price: $219 bare, $279 with 5.0Ah battery and charger
Quietest Battery-Powered Leaf Blower
With battery-powered blowers gaining in output power, they tend to generate more noise along the way. That defeats the purpose—so Ryobi did some work to solve that issue. Demonstrating their solution, the Ryobi 40V HP Brushless 730 CFM leaf blower not only hit 21.7 Newtons in our force test, but it also did so with a lower volume than most blowers. Instead of outputting the typical 85–88 decibels or SPL of flagship blowers, it measured a mere 72 decibels in high (76 decibels in Turbo). And we took those measurements from the operator's ear, not 50 feet away like ANSI!
What does this mean? Run the Ryobi in Turbo mode, and it outputs roughly 8x less SPL—nearly half the perceived loudness.
Though it's a few decibels louder, the Stihl BGA 200 is another model that's quieter than most.
Price: $229 bare, $329 with two 4.0Ah batteries and charger
Best Battery-Powered Leaf Blower Vac
We really liked the performance of the Ryobi 40V HP Brushless blower vac. The inline design eliminates the need to swap around the nozzle. To go from blower to vacuum, you simply attach the collection bag, flip the switch from blow to vacuum, and start bagging.
You might think the simplified design reduces performance. While not providing flagship-level blowing, the brushless motor manages an impressive 600 CFM of volume and 100 MPH of blowing speed. This tool excels at handling the blowing and collection of fall leaves—its chief design purpose. A metal impeller also makes it a reliable mulcher and it reduces leaves by a 20:1 ratio.
Price: $369 bare, $469 with two 4.0Ah batteries and a rapid charger
Another great option: Makita 18V X2 3-in-1 Blower Vacuum Mulcher XBU04
Best Battery Backpack Blower
Stihl BGA 200 Leaf Blower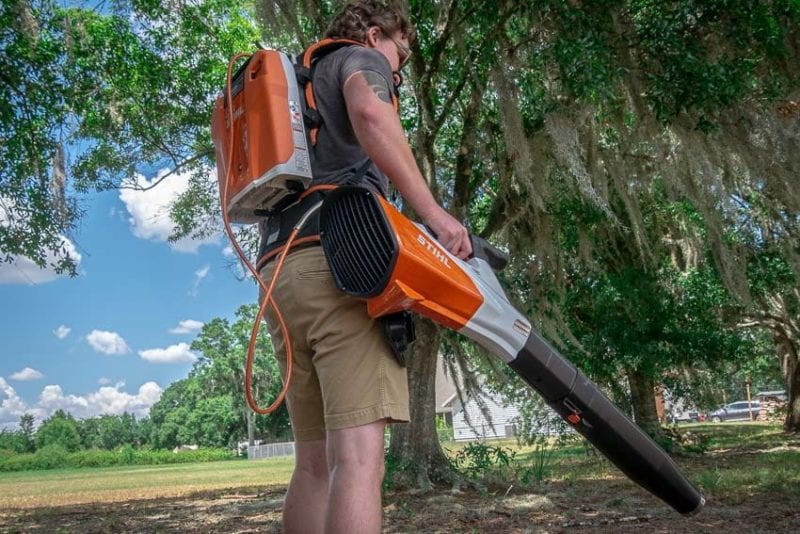 Rather than moving air from the backpack through the nozzle, battery-powered backpack blowers typically keep the inline design of a handheld blower. A connection between the backpack battery and the handheld tool provides the power source. This shifts the battery weight to your back—particularly in this design by Stihl which doesn't even take a battery on the handheld unit at all (just a tether).
The Stihl BGA 200 is our top pick and has the performance to hit one of the highest blower forces we've tested (21.3 N). It also delivers incredible runtime from the 42.3Ah (1522Wh) backpack battery. The only downside is the price—a little more than $1700 for the whole shebang.
Price: $409 bare
Best Value in a Battery-Powered Leaf Blower
Getting a great value or deal shouldn't require you to give up on performance. The Greenworks Pro 60V 610 CFM blower represents the best value in our opinion. With a maximum blowing force of 19.7 Newtons and a $199 price tag for the 2.5Ah kit, you can't do much better for this kind of performance.
Price: $199 with 2.5Ah battery and charger
Best Budget Battery Leaf Blower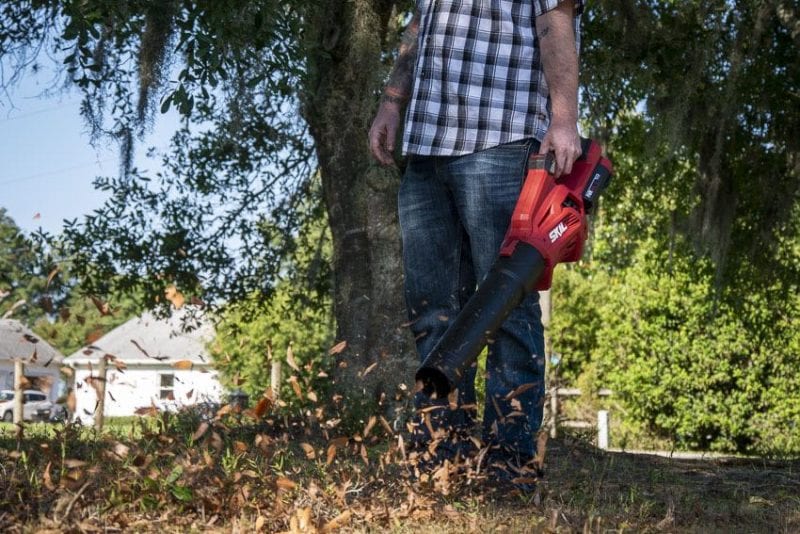 If you find yourself on a tighter budget, check out the Skil PWRCore 40 leaf blower. $149 gets you a brushless blower with 500 CFM of blowing volume and 120 MPH of top airspeed. It also hits 12.0 N in our testing—making it in line with some of the more powerful handheld gas blowers. The kit includes a 2.5Ah battery and PWRJump 40V quick charger.
Price: $149 with 2.5Ah battery and charger
Other Battery-Powered Leaf Blowers We Like from Brands We Trust
Best DeWalt Battery-Powered Leaf Blower
DeWalt moved to an inline design with the latest version of their FlexVolt blower and hit 17.0 N in our testing. The downside is that it's loud—91 decibels at our operator's ear. We also thought the tone of that sound was somewhat irritating. With a 9.0/3.0Ah battery, it ran for 12:12 in our tests.
The bare tool runs $229 and the kit with a 9.0/3.0Ah battery is only $50 more, making it one of the more value-packed kits you can buy. Plus the battery works with DeWalt's 20V Max and 60V Max lines of power tools and lawn care equipment.
Price: $229.00 bare, $299.00 with 9.0/3.0Ah battery and charger
Hart upped its blower game this year with several new battery-powered leaf blower options, including a couple that move into much higher performance classes. The top of the line is the 650 CFM brushless blower. Combining with up to 160 MPH of airspeed, it also is part of Hart's Ultra-Quiet Series so you can balance excellent performance while keeping the noise levels down.
Price: $258.00 with 5.0Ah battery and charger
Greenworks joins the 700 Club as one of the few battery-powered blowers to reach the 700 CFM rating. As the top-performing leaf blower on Greenworks' Pro 60V line, it's capable of 170 MPH top speed and is one of the elite blowers to hit 20.0 N in our testing.
Price: $299.99 with 5.0Ah battery and charger
We love the Makita XBU03 blower as a lightweight blower for quickly cleaning off hard surfaces. If it's the highest performance you're looking for, though, check out the Makita ConnectX system. Using a 1200Wh backpack battery for an energy source, it tethers to the CBU01 blower and produces up to 622 CFM and 157 MPH. It's part of a Pro-level system aiming to help commercial crews make a seamless transition from gas to battery power.
Price: $449 bare
Milwaukee's leaf blower resumé got a big boost with the launch of the 2824-20. It boasts 600 CFM and 145 MPH. Using two batteries for power, the brushless motor hit an excellent 18.0 Newtons in our testing—much better than the 11.2 Newtons from the previous model. Dropping the ambidextrous cruise control slider to deliver 12N (the high end of handheld gas blowers), we were able to run continuously for more than 30 minutes. Designed for professionals, this one runs $299.00 as a bare tool.
Price: $299
Toro 60V Max Flex Force Leaf Blower
Toro has quietly produced an excellent line of battery-powered OPE and their top brushless blower is worth considering. Maxing out at 605 CFM and 115 MPH, we measured 19.0 N in our testing. Dropping down just a notch from the highest-performing battery-powered blowers, this Toro 60V blower earns a solid value score with a bare tool price of $139.99 and a kit price of $199.99 that includes a 2.5Ah battery and charger.
Price: $149.99 bare, $219.99 with 2.5Ah battery and charger
Why You Can Trust OPE Reviews
Ever check out a "review" site and you can't tell if they actually tested the tools or if they're just "recommending" the Amazon top sellers? That's not us. We won't recommend anything unless we'd actually use it ourselves and we don't really care who the primary retailer is. It's all about giving you a legitimate recommendation and our honest opinion of each product.
We've been in business since 2016 covering outdoor power equipment, writing reviews, and reporting on industry news in the landscaping, heavy equipment, and lawn care industries. Our Pro reviewers have lots of experience in these fields as well as the skills and experience to know whether these products can perform well on the job.
Each year, our team reviews and gets their hands on hundreds of additional landscaping tools and equipment at our shop and at media events and trade shows.
We work with dozens of professionals around the United States who review products for us on real job sites and consult with us on testing methods, categories, and weighting.
We'll provide hundreds of pieces of new content this year absolutely free for our readers—including objective evaluations of lawn care tools, products, and accessories.
The end result is information you can trust because of the editorial, scientific, and real-world professional experience we collectively utilize each and every time we pick up and test a product.