Stihl BGA 200 Leaf Blower Leads The Line In Blowing Force
Having used professional Stihl lawn care equipment for several years, we know they understand battery-powered leaf blowers. Impressed with the BR 800 Magnum gas blower, we looked forward to reviewing the Stihl BGA 200 battery-powered leaf blower. Our goal? Give you an idea of what you might expect should you pick up this high-end cordless backpack blower.
Pros
Above-average blowing force
High-capacity battery options for longer runtime
Backpack design shifts weight off the blower to your back
Natural wrist position while keeping the nozzle aimed down
Weighs just 7.1 pounds
Cons
Stihl BGA 200 Battery-Powered Leaf Blower Design
Compared to other handheld leaf blowers–even backpack models—the Stihl BGA 200 blower looks different. Starting at the rear intake, the design almost swoops forward and down like the talon on a prehistoric eagle. The design actually points the nozzle down toward the ground. The effect keeps your wrist in a more natural holding position while the Stihl BGA 200 backpack leaf blower does its work.
Unlike other cordless leaf blowers, the BGA 200 has no provision whatsoever for an onboard battery. Instead, it requires a tether. You can either tether it to a Stihl backpack battery or use their battery belt. The result is a more lightweight handheld blower. In fact, the Stihl BGA 200 weighs just 7.1 pounds.
We really like the controls on this Stihl blower. A control dial sits within easy reach of your thumb (in either hand). Rather than a rotating dial that holds its position, this one lets you move it forward to cycle through the levels. It springs back in place when you let go.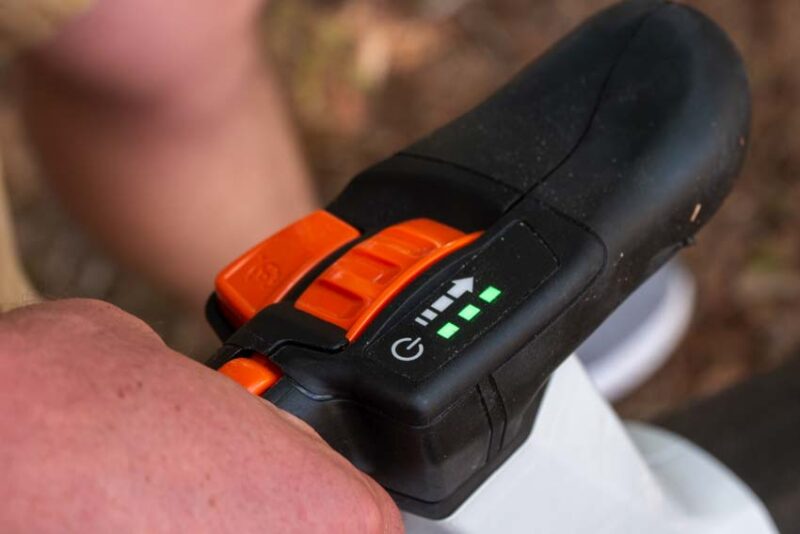 Editor's Note: Check out our top picks for the best battery-powered leaf blowers.
Additional Highlights
Rated at 59 decibels (measured from 50 feet per ANSI standards)
Rubberized soft touch handle
Hanging slot
Indoor-friendly with no emissions
No gas and oil to mix
No gas engine maintenance or winterizing
Stihl BGA 200 Battery-Powered Leaf Blower Performance
The Stihl BGA 200 produces the most blowing force of the company's battery-powered blowers. It delivers 553 CFM of air volume and a maximum of 188 MPH speed. On our bench test, it scored an impressive 21.3 Newtons—higher than their spec'd 21 Newtons.
While some other manufacturers claim higher CFM numbers, Stihl prioritizes air speed and overall blowing force. The result nets you a leaf blower with an uncanny ability to remove heavier and/or wet debris. At the same time, it also does an excellent job moving dry leaves at high volume.
Learn more about the relationship between leaf blower MPH vs CFM and Newtons.
Stihl BGA 200 Battery-Powered Leaf Blower Price
You can pick up the Stihl BGA 200 leaf blower at your local Stihl dealer. You can also order it online at Stihl.com. It retails for around $449.99 without a battery and charger.
The Bottom Line
Stihl clearly has the BR 200 battery-powered leaf blower aimed squarely at professional landscapers looking to either supplement or switch from gas. We find this tool really well-designed and refined in the sense that you can tell Stihl knows what it's doing.
Match this blower with one of the company's backpack batteries and you should have all-day trigger time. While we await future products, this one sits atop all other battery-powered blowers in the Stihl line.