Milwaukee M18 Fuel Dual Battery Leaf Blower Drive Higher Performance And Runtime
Having already reviewed the Milwaukee M18 FUEL leaf blower, its Dual Battery big brother definitely got our attention. The Milwaukee M18 Fuel Dual Battery Leaf Blower promises more power and longer runtime. We decided to break down the features in advance of getting one in for testing. Hopefully, it proves a viable option for those wanting a model even better suited for professional landscapers.
Milwaukee M18 Fuel Dual Battery Leaf Blower Design
36V Dual M18 FUEL Battery Power Source
Make no mistake, the Milwaukee 2824 requires and uses two M18 batteries. That makes it a 36V tool. To get the most power and runtime, Milwaukee Tool recommends the use of a pair of matched High Output batteries. The 8.0Ah Milwaukee High Output batteries seem the most logical choice to balance weight, performance, and runtime.
You only get the maximum runtime of the lowest Ah battery, so matching them gives you the best possible (and economical) result.
Noise Reduction
Using ANSI B175.2 testing that measures from quite a distance away, the Milwaukee Dual Battery blower generates just 64 dBA (decibels). Given the reputation blowers have of outputting quite a bit of noise, the low levels here should appease most of your clients (and their neighbors).
Size and Weight
The Milwaukee Dual Battery blower measures just over 34 inches long and weighs 6 pounds before you add any batteries. Using a pair of 8.0Ah High Output battery packs, that weight increases to 10.7 pounds. Not bad at all.
Additional Highlights
Top-mounted ambidextrous cruise control
Variable speed trigger
Onboard fuel gauge that's visible while working
Includes tapered and flat nozzles
Compatible with all M18 batteries
Milwaukee M18 Fuel Dual Battery Leaf Blower Performance
Milwaukee claims the 2824 presents a decent advancement from their previous single-battery blower (2724-20). Indeed, per the specs, the Milwaukee 2824 adds 25 MPH for a top speed of 145 MPH. For blowing capacity, Milwaukee labels it with up to 600 CFM. That tops the 2nd gen M18 FUEL blower by 150 CFM.
With a parallel claim of up to 17.7 Newtons of blowing force, we look forward to testing that in our shop using our force meter. 17.7 Newtons doesn't match some of the top-performing blowers we've tested, however that number hits good marks. Most gas handheld blowers might get to around 12.0 Newtons for comparison.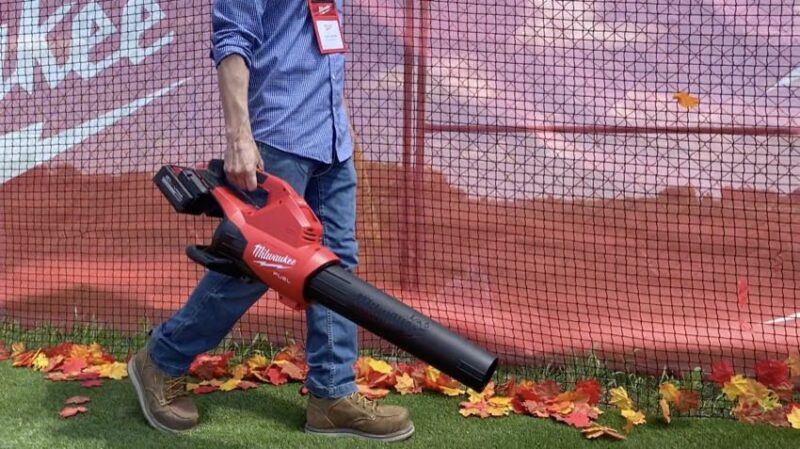 We got a chance to test the Milwaukee M18 Fual Dual Battery blower at a media event. We really liked the way it handled, and the blowing force seemed much more impressive than the numbers might suggest. One thing that really struck me was how the blower did a lot of work without necessarily pushing my arm back. While we only tested it on dry material, it gave us a brief chance to get a sense of its handling and power. So far, so good.
Milwaukee M18 Fuel Dual Battery Leaf Blower Price
Milwaukee is launching the 2824 as a bare tool only for $299. They also include a 3-year warranty.
That's more than residential models with similar performance. Just keep in mind that Milwaukee designs its OPE primarily for professional crews and longer days than homeowners ask of their blowers.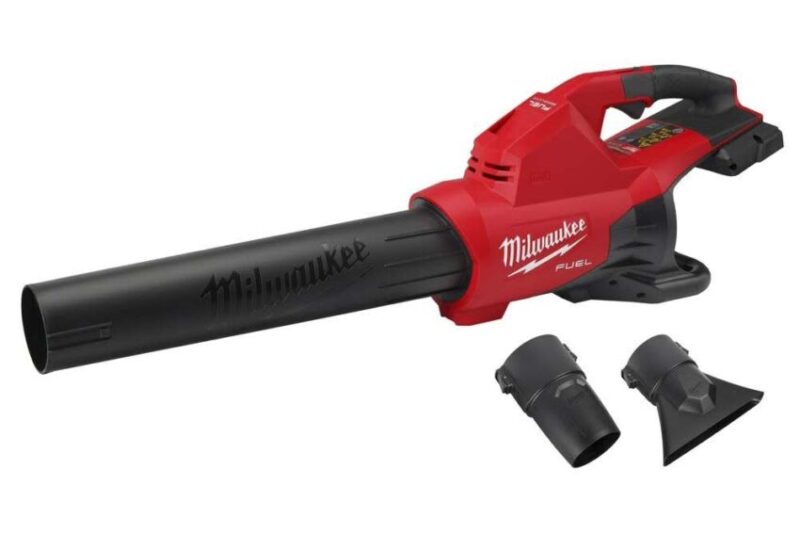 Milwaukee Battery-Powered Blower Comparison
| | M18 Fuel 2724 | M18 Fuel 2824 |
| --- | --- | --- |
| Power Source | 1 x M18 battery | 2 x M18 batteries (36V) |
| Airspeed | 120 MPH | 145 MPH |
| Air Volume | 450 CFM | 600 CFM |
| Blowing Force | 11.2 Newtons | 17.7 Newtons |
| Bare Tool Weight | 4.9 pounds | 6.0 pounds |
| ANSI Noise Level | 62 decibels | 64 decibels |
| Retail (Bare Tool) | $169 | $299 |
Specifications
Model: Milwaukee 2824
Power Source: 2 x M18 batteries
Max Airspeed: 145 MPH
Max Air Volume: 600 CFM
Blowing Force: 17.7 Newtons
Weight: 6.0 lbs bare
Price: $299 bare
Warranty: 3 years
Discover more Milwaukee outdoor power equipment here !