It seems like only yesterday we got all jazzed up when Milwaukee announced its entrance into the OPE market. Among a handful of new tools was the company's first blower . It turned out to be a respectable first crack at what Milwaukee billed as a supplemental tool for Pros working in noise- or emissions-abatement areas. That Gen I Milwaukee placed 11th among a field of sixteen contestants in our big cordless blower shootout. And now, faster than the 100 MPH wind speed coming out of that Gen I, comes a revamped version with (what we expect to be) lessons learned from the first go 'round. Let's stir up some debris with the M18 Fuel Gen II Milwaukee Leaf Blower!
Top Features
Still The Same
Milwaukee's signature FUEL trifecta is the heartbeat of Gen II just like its predecessor. FUEL is the RedLithium 18V battery compatible with over 150 tools (and counting), RedLink electronics, and the PowerState brushless motor for efficiency and longevity. The likewise efficient inline, rear-intake design also remains. It gives the air column a straight shot through the blower's body (although Gen II's propeller is significantly bigger) with a variable speed trigger. Importantly, this type of design doesn't suck in a pant leg like a side-intake can. Air volume is steady from one generation to the next at 450 CFM.
Ch-Ch-Ch-Changes
The Milwaukee M18 Fuel Gen II Blower is noticeably smaller and more streamlined than its older brother. It's shaved an inch – give or take – off each dimension – length, width, and height.  Weighing in at 4.9 pounds, it's also lighter by a little less than a pound. Gone is the cruise control of Gen I in favor of a high/low Dual Speed with a lock-on button. The tied-for-last airspeed of 100 MPH has been bumped up to a middle-of-the-pack 120 MPH (refer again to the blower shootout link above). This is likely due to a slightly narrowed tube.
Performance
I had plenty of use for the M18 Fuel Gen II Milwaukee Leaf Blower during Florida's summertime rainy season. Watching grass grow here is not quite the euphemism for boredom it is in other places because it happens so fast. I used the blower to clear clippings from concrete surfaces, as I'm sure most homeowners and Pros would do. I also used it as an alternative to raking. Whether that's smart or lazy, it gave me more time with the blower. Finally, I used it as a shop blower for dusting sawdust from my garage. I tried dusting in the living room, too, but the score for that was My Wife: 1, Milwaukee Blower: 0.
https://www.instagram.com/p/BloWXtuF9AC/?taken-by=opereviews
Get A Grip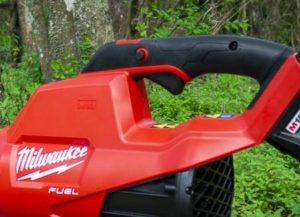 Blowers need a lot of juice so the Gen II comes kitted with Milwaukee's High Demand 9.0 Ah battery. This big battery is hefty, but it seemed to balance the blower out pretty well. I slid in a 4.0 Ah and a slim 2.0 Ah pack during the review just to see what a difference it would make. Frankly, there wasn't much, and not just because I've been working out. I suspect it's because you let a blower hang at the bottom of your arm. A heavy battery would be more noticeable on a drill, for instance, that you hold above your elbow or shoulder. Those smaller batteries significantly curtailed the blower's runtime, too.
The rubber over-molded handle is comfortable and quite long with about 5-1/4 inches of grip space. The trigger is generously-sized as well. A lock-on button is just above the trigger on the port side of the handle. Even so, both right- and left-handers can use it easily. Despite the big grip surface, I found I had to choke up on the handle. If I let my hand slide back to the back of the handle, the blower would tilt forward and point almost straight down. This risks damage to the tube as it could scrape the concrete – probably the most common wear point on a blower. I'd love to see a metal ring at the end of the tube for this reason. It would have been a nice touch.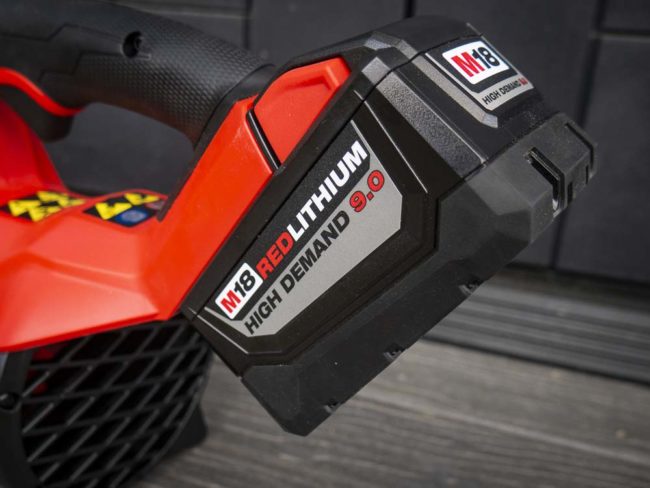 WOT Did You Say?
Out at Tim's shop, we found the decibel levels of the Gen II Milwaukee Leaf Blower was in line with Gen I. The Milwaukee pumped out around 81 decibels at my ear at Wide Open Throttle (WOT) and a handful less in Tortoise mode. It registered 67 decibels from 50 feet away, which are ANSI specs. But keep in mind that Gen II is pushing air 20 percent faster for the same amount of noise – not too shabby.
Likewise impressive was the blower's lack of vibration. I felt next to no vibration at WOT and only a slight vibration in Full-Tortoise…but I really had to think about it. It's very smooth.
That's all well and good, but how do we know where this Milwaukee blower's faster airspeed and 450 CFM place it among its peers? That's a great question! Some manufacturers emphasize one metric over the other, but you really need both working together to move debris. If you've already perused the blower shootout, you know we use the common denominator of Newton Force to level the field. The Gen I blower, with 9 Newtons, was just above the Black & Decker for the dubious distinction of lowest Newton Force. If the new Gen II competed in that same shootout, it would leap-frog about three places with its 11.2 Newtons – almost the middle of the pack.
Changing Gears For A Moment…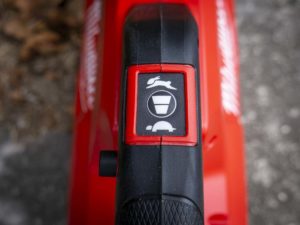 The Milwaukee M18 Fuel Gen II Blower's transmission is a bit curious. The Dual Modes mean you choose between Tortoise and Hare mode. Within both modes, the variable speed trigger modulates the speed over the range. As you might guess, the lock-on button produces either Full-Tortoise or Full-Hare. That's not the curious part. What is: you have to release the trigger before switching to the other gear. Is it that unusual? I'm not sure. But it's not a turbo-boost, a governor button to downshift, or a sliding throttle system (like Gen I). It's stop-and-start and, although it can all be done very quickly, I think I prefer the sliding throttle. I couldn't quite figure out why the new design was advantageous. On the upside, Milwaukee emphasizes the blower's ability to WOT in under a second – basically, it's instant on.
In any event, the blower gets the job done with excellence. For all our general desire for out-and-out power, it's often more practical to use a little finesse with a blower. Full-Hare mode moves debris along well in large spaces. But in confined spaces, it can make the debris airborne for a few seconds before making a mess somewhere else. Gentle speeds are needed, for instance, to move debris from the sidewalk to the lawn strip of lawn between it and the street without overshooting (and vice versa). I found the blower could easily lift leaves sitting on top of the grass and move them in the direction I pointed them. It could even liberate a few of the leaves embedded in the grass. That was a good stretch easier than raking!
The Bottom Line
Milwaukee's commitment to constant (and quick!) improvement is evident in the M18 Fuel Gen II Milwaukee Leaf Blower. Some may not see the improvements as drastic enough to upgrade immediately, but I'd say a lighter weight, smaller profile, and faster top airspeed are good reasons. I'd really like to see a metal ring around the end of the tube and a sliding throttle that would allow continuous operation through the power range. With Milwaukee pumping out the improvements at blistering speed (and breaking ground on a new R&D facility), I probably won't have to wait long!
Milwaukee M18 Fuel Gen II Blower Features
Staring Down the Barrel

RedLink Plus Intelligence: Provides optimized performance and overload protection using total system communication between tool, battery, and charger

RedLithium High Demand 9.0 Battery: Delivers unmatched run-time, power, and longer life (sold separately)
Maximum Air Volume: 450 CFM
Maximum Air Speed: 120 MPH
Newtons (force): 11.2
Lock On Button: Yes
High/Low Speed Settings
M18 Fuel Gen II Milwaukee Leaf Blower Specifications
Model Number: 2724-20 (Bare Tool)

Battery System: 

M18

Compatible Batteries: 

All M18 Batteries

Compatible Chargers: 

48-59-1812, 48-59-1806, 48-59-1807, 48-59-1808, 48-59-1810

Width: 

5.87 inches

Length: 

33.8 inches

Weight: 

4.9 pounds

Height: 

9.7 inches

Price: $149