Not all snow requires the big guns. Trust us, here. We're in the Mid-Atlantic, so we get some real doozies. That said, you do have areas like porches, patios, and partially covered walkways, where the accumulation may not be as deep. In these cases, a solution that's a little less intense than a full-sized blower, yet still more efficient than a manual tool, is what you need. Enter the Skil 40V Snow Shovel (PSS1200C).
Our staff had a chance to put their hands on this model. Would they pick one up if they were you? Here's their answer.
Skil 40V Snow Shovel Performance
Clearing Width: 12 in.
Max Clearing Depth: 6 in.
Max Throw Distance: 20 ft.
Motor: Brushless
At the heart of the PSS1200C is a brushless motor with 2-speed capability. This is always a plus in battery-powered gear, as it gives you more control over runtime. It also enables you to fine-tune the tool to the job at hand. And speaking of the battery, the Skil Snow Shovel runs on a 40V (4.0Ah) pack that's compatible with all tools in the PWRCore 40 series.
On the business end, you have a 12-inch intake and a 6-inch paddle. Together, they give the PSS1200C a snow-throwing distance of up to 20 feet. Moreover, its rear plastic scraper helps loosen any remaining packed snow. Nonetheless, you shouldn't expect measurable results on thick layers of ice.
Skil gave this 40V snow shovel a light, streamlined design that makes for agile handling. Specifically, it's an effective option in tight spaces where a full-size snow blower isn't feasible. And, as a practical matter, storage is a breeze because the PSS1200C breaks into two pieces.
We also like the fact that this snow shovel is part of Skil's 40V multi-head attachment system. Therefore, you can use it with the brand's OEM accessories, as well as any other universally compatible attachments you may already have in your garage or shed.
Skil 40V Snow Shovel Design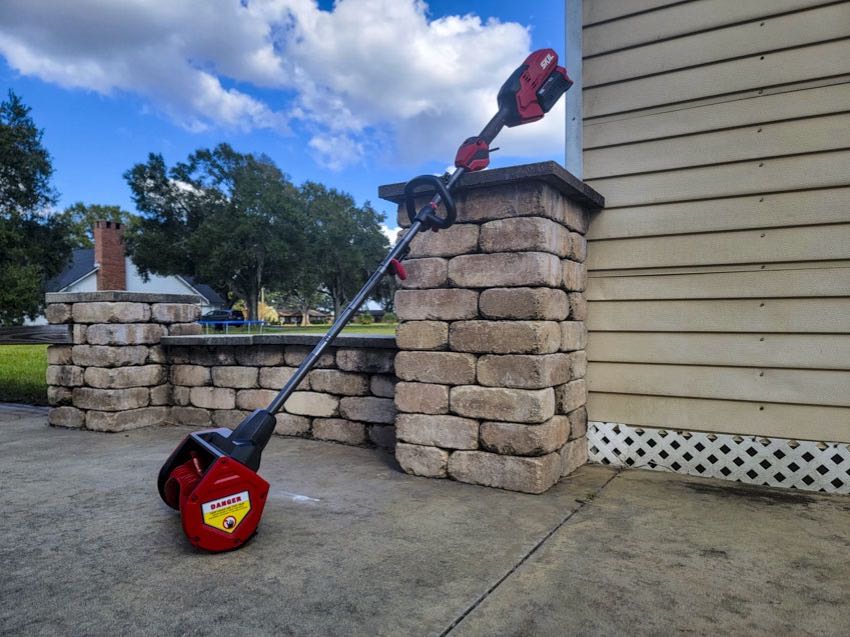 Model: Skil PSS1200C
Power Source: Skil 40V battery
Auger Diameter: 6 in.
Auger Material: Plastic
Weather Rating: IPX4
Weight: 13.9 lbs. (bare), 17.7 lbs. (with 4.0Ah battery)
Length: 69 in.
As we mentioned above, this tool's slender build gives it a manageable, almost string-trimmer-like feel. With the snow shovel attachment, it measures 69 inches long and weighs 17.7 pounds with the kitted 4.0Ah battery. Indeed, our staff found the work angle to be quite comfortable.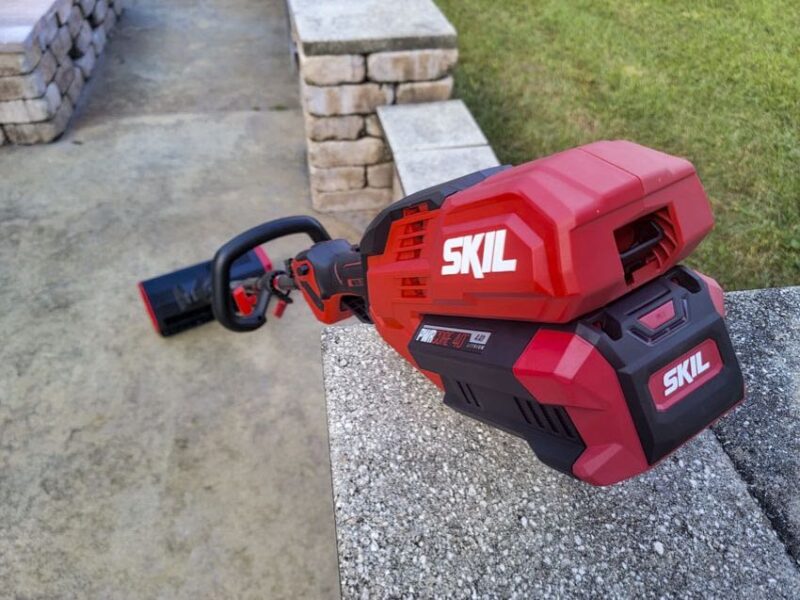 The controls are simple and straightforward, too. Meanwhile, the main grip features a textured rubber overmold, a two-finger trigger, and ambidextrous thumb safety, as well as a speed switch situated at the top.
Since we are dealing with moisture, Skil gave this snow shovel an IPX4 rating for enhanced protection in wet weather.
Skil 40V Snow Shovel Price
The PSS1200C sells as a kit for $279 and comes with a battery and charger. Skil backs this tool with a 5-year warranty.
The Bottom Line
The Skil 40V snow shovel is a solid choice for those spots where a full-size snow blower isn't practical or necessary. Overall, the PSS1200C is easy to control and store. And, perhaps most importantly, it's versatile thanks to its universal attachment compatibility. As a result, it's a worthy starting point if this is your first foray into the Skil PWRCore 40 lineup.