EGO Line IQ Brings Automatic Line Feed to Their String Trimmer Lineup
EGO consistently lands in our best battery-powered weed eater articles. For homeowners, their string trimmers provide excellent performance and value as well as low vibration. Given their existing success, could the EGO Line IQ 56V string trimmer truly improve upon an already solid design?
Pros
Automatic line feeding
Easiest line loading
Excellent cutting power
Outstanding runtime
Two different speed options
Telescoping carbon fiber shaft
Cons
EGO Line IQ Battery-Powered String Trimmer Design Notes
Extendable Carbon Fiber Shaft
With an extendable carbon fiber shaft, this EGO string trimmer fits nearly anyone. Aside from adjusting the length, the carbon fiber design makes it super durable. In fact, I found myself letting the trimer drop to the grass when pulling out the battery and reaching for a new one. Irresponsible? Perhaps—but it can take it. To adjust the length, flip up the green clamp, move the pole, and flip the clamp back down to lock it in place.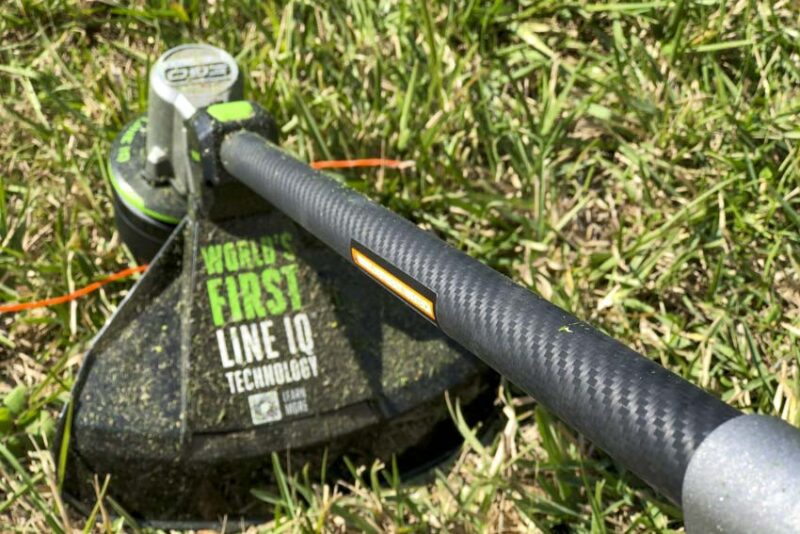 As quick as it is to adjust the length, you can also move the handle without any tools. I LOVE this. Both my son and I use this trimmer. Though we stand about the same height, we have different preferences when it comes to holding and balancing this EGO 56V Line IQ trimmer. Problem solved—I just flip the green lever and shift the handle…and leave it for him to readjust when he trims.
Weight and Balance
This Line IQ string trimmer weighs just 7.7 pounds without the battery. Add a 4.0Ah battery pack and you raise that to 12.5 pounds. It balances well in the hand and you have a LOT of adjustability to play with.
If that still feels heavy, you can add a shoulder strap to the metal-reinforced attachment point. Located just below the throttle you get about 6 inches of play to find the perfect pivoting point. This feature typically only shows up on commercial models.
Additional Features
Cushioned front handle
Trigger safety
Lifetime shaft warranty
Brushless motor performance and runtime (up to 60 minutes with a 4.0Ah battery)
0.095-inch line capacity
Variable speed trigger
Weather-resistant construction
Compatible with all EGO 56V batteries
Testing the EGO Line IQ Battery-Powered String Trimmer
Line IQ
Without a doubt, EGO Line IQ steals the show. I used this trimmer multiple times to take care of a 1.25-acre property. LineIQ automatically feeds the line to maintain a 16-inch cutting swath. You NEVER have to bump the head. Does it ever waste line? Sure. But it didn't feed line all the time and it's not based on trigger pulls like those earlier wasteful systems Black and Decker produced.
In truth, I don't really know how it works. It just does. And I like it. A lot.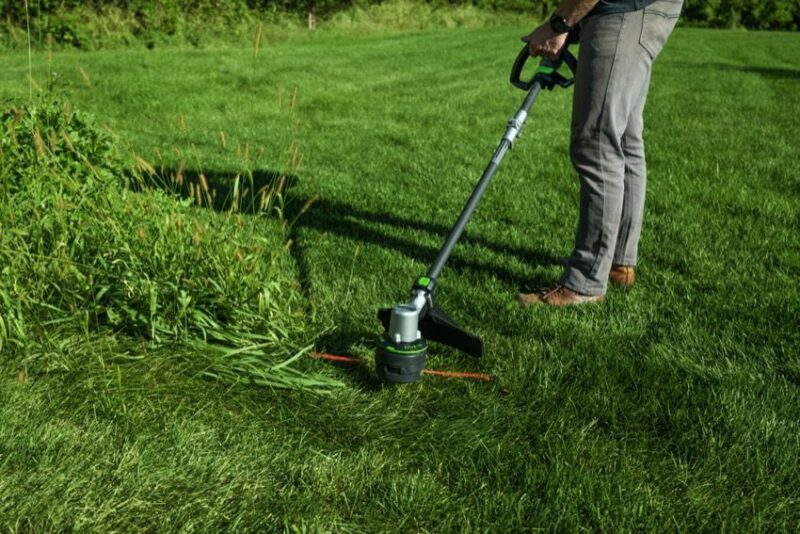 Since the Line IQ sensor really wants to maintain that line at 16-inches, you can't opt for a smaller diameter to increase cutting power and runtime. That's just not an option and the integrated cutter doesn't spin around 180º like others.
PowerLoad
EGO includes their PowerLoad trimmer head on this tool. You feed new line through the head to the middle point, push the PowerLoad button at the base of the head, and the motor automatically winds it in.
Editor's Note: PowerLoad doesn't play well with some twisted or square trimmer line. We really like Echo Black Diamond, for example, but that tends to bind up inside the PowerLoad head. Instead, use a smoother line design similar to the one supplied by EGO.
Speed Settings
Like some battery-powered string trimmers, the Line IQ has two speeds plus a variable speed trigger. An LED indicator lets you know which mode you have active. Low gets you more runtime and works well for dry grass and maintenance cutting.
Switch to High speed (4000 – 5500 RPM) when the grass is damp or wet or you run into thicker overgrowth.
Cutting
EGO supplies this string trimmer with a unique dual-color pre-cut replacement line. It switches from orange to yellow right at the halfway point, making line changes that much easier. You can certainly use your own line, but it's worth a mention. In our opinion, finding the halfway point presents no difficulty.
You don't really appreciate not having to stop and bump until you trim an entire yard without doing so. We love this trimmer head—LineIQ is the real deal! Not only were we able to keep trimming at a more consistent pace, but we also weren't searching for a hard surface to extend the line or cutting the grass lower than the rest by bumping it along the way.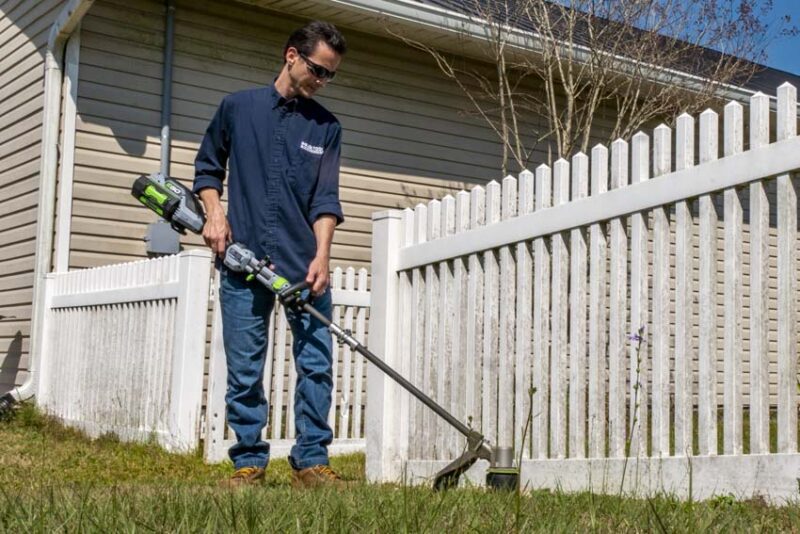 Our runtime testing consisted of charging and using the kitted 4 Ah battery. It ran for 1 hour and 4 minutes at High speed. For smaller lawns up to 1/3 acre, you can likely save some weight by using one of EGO's 2.5Ah batteries.
EGO Line IQ String Trimmer Price
Retail pricing is $299 for a kit that includes a 4.0Ah battery and charger. There's also a bare tool option for $199.
As always, EGO backs this trimmer with a 5-year warranty. The carbon fiber shaft is guaranteed for life.
The Bottom Line
We'd like to express our surprise at the performance of the EGO Line IQ battery-powered string trimmer. However, the only surprise was that they managed to improve an already-excellent product. The Line IQ kept me from having to bump the head even once. It just works. It maintains the cutting performance and low vibration of its former flagship model. We can't really ask for anything more than that in a tool.
Specifications
Model: EGO ST1623T (kit) ST1620T (bare tool)
Power Source: EGO 56V battery
Cutting Swath: 16 inches
Line Size: 0.095-inch
Weight: 7.7 pounds bare
Warranty: 5 years
Price: $199 (bare), $299 (kit)
Discover more EGO products here !