DeWalt 60V String Trimmer Features High Performance and Versatility
Having followed DeWalt through its 40V lineup and its work in 20V OPE products, we've been most impressed with its FlexVolt outdoor power tools. As they update products we bring them in for testing. That's how we came across the DeWalt DCST972 FlexVolt 60V string trimmer. We wanted to test it to see how its power, runtime, features, and ergonomics stacked up against competitors.
Pros
Lightweight
Shaft length and working angle make it perfect for tall users
Excellent cutting performance
Quick-load trimmer head
Universal attachment system
Cons
A bit louder than other battery-powered trimmers
Less runtime compared to other brushless options
Noticeably high vibration
DeWalt 60V FlexVolt String Trimmer Design Notes
The DeWalt DCST972 string trimmer is attachment-capable so it works with an assortment of options that include edger, brush cutter, pole saw, hedge trimmer, or blower attachments. Since the attachments are "universal" you can buy them from DeWalt or any compatible brand including the following:
Craftsman
DeWalt
Greenworks
Husqvarna
Poulan
Remington
Ryobi Expand-it
TrimmerPlus
Troybilt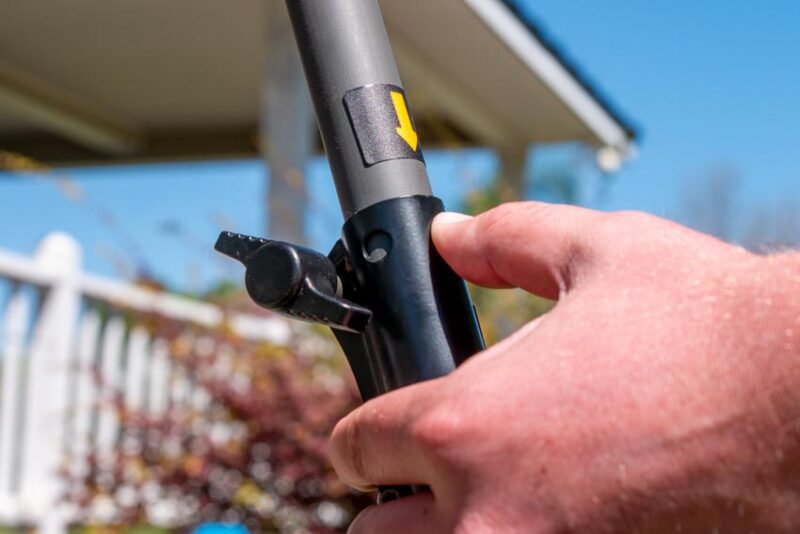 A very capable brushless motor makes the DeWalt DCST972, in our estimation, one of the stronger battery-powered string trimmers available. Because of this, you can use power-demanding attachments like a cultivator and have a reasonable expectation that you can get some real work accomplished.
A nice (though common) feature DeWalt delivers with their FelxVolt string trimmer includes multiple detent holes on the power head. These let you easily rotate the string trimmer head 90° so you can edge grass without having to adjust your grip.
Additional DeWalt DCST972 FlexVolt String Trimmer Ergonomics
This DeWalt DCST972 weed eater weighs more than many other string trimmers we've tested. While not the heaviest, it came in at 13.5 pounds with the 3.0/9.0Ah 60V battery. It weighs 10.3 pounds as a bare tool.
Looking at the handle, it features a nice overmold but has a bit more girth than we're used to (especially with DeWalt tools). You might not care for it if you have smaller hands. On the upside, the trigger mechanism and safety work very naturally when you grasp the tool.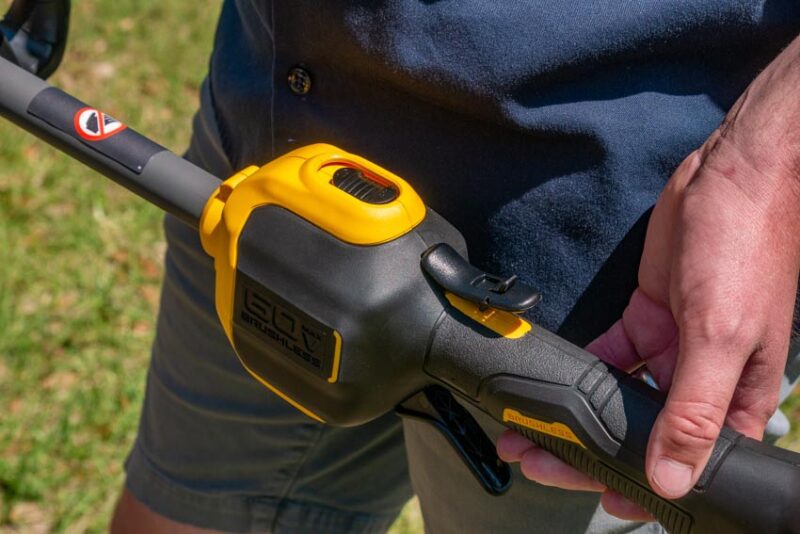 We liked the balance on this DeWalt FlexVolt string trimmer—particularly given the weight. With both the battery and motor on the back of the tool, we thought it might be difficult to balance. The opposite is true and we found it to be very maneuverable when trimming around flowers and bushes.
Another aspect of this string trimmer I really like is the length of the shaft because gives me the optimal working angle for the head. I stand about 6 feet tall and I didn't have to bend down while using it.
Additional Features
Quick-load trimmer head—just thread the line to the center and turn the head to load
Trigger safety engages easily
Oversized guard does a great job blocking flying grass
DeWalt 60V FlexVolt String Trimmer Cutting Power
To prepare for this review we purposefully allowed our grass to grow near the edges of our landscaping. Once we began tackling it with the DeWalt FlexVolt trimmer, it presented quite the challenge. Using the stock 0.080-inch line it cut quite efficiently. After some initial testing, however, we went ahead and swapped out the line.
The brushless motor on the DeWalt 60V trimmer spins at up to 5800 RPM in High. A reversible cutting blade lets you set either a 15-inch or 17-inch cutting diameter. We switched out our line to 0.095-inch Echo Black Diamond line (our favorite) and the DeWalt didn't slow down in the least. We recommend this or a similar line if you want to get the most power out of the DCST972 weedeater.
Even though it feels like there's enough power to go all the way up to 0.105-inch line, DeWalt doesn't rate it that high, so avoid the temptation.
Felt Vibration During Use
Using the DeWalt DCST972 trimmer, we did feel a considerable amount of vibration in our hands during testing. While far less than most gas string trimmers we've used, it exceeded the levels of many of the best string trimmer models we've tested to date. Some of the models with the least vibration include the EGO Line IQ trimmer and the Husqvarna 520i LX string trimmer.
DeWalt FlexVolt String Trimmer Runtime
Given the 17-inch cutting swath and power, we expected less runtime from this DeWalt FlexVolt string trimmer. Instead, we got just over 31 minutes of no-load runtime in High using the kitted 3.0/9.0Ah 60V battery. While other string trimmers may exceed that runtime by a little bit, they aren't spinning 17-inches of line at 5800 RPM!
To extend your runtime you can either cut with the 15-inch diameter option or drop down to Low speed. Low speed drops the RPMs from 5800 down to 4650 RPM. We found that manages to take care of what we refer to as "maintenance cuts" just fine. Flip it back to High to tackle anything overgrown.
Our recommendation on this? Use High mode and the full 17-inches to tackle larger areas or any truly rough spots. You can also leave it in High if you simply don't have that much work to do and plan to have less than 20-30 minutes of actual trigger time. Switch to one or both of your high-efficiency options when you need more runtime to get the job done on a single charge.
DeWalt DCST972 Noise Output (dBA SPL)
Like the increased vibration, we also noted a bit more noise on this tool than some others we've tested. From our operator's ear, we measured 87dBA SPL on High and 81dBA SPL on Low. Some of our best models measure around 80 decibels in High, so you definitely notice the difference. How does it compare to gas? MUCH quieter.
DeWalt 60V String Trimmer Price
The DeWalt DCST972 retails for $319 and comes with a single 3.0Ah 60V battery and a charger. The bare tool is $259. Getting the battery and charger for just $60 makes a whole lot of sense. DeWalt also offers various combo packages with different attachments so you can get exactly what you need.
DeWalt covers this trimmer with a 3-year limited warranty as well as 1-year of free service and a 90-day money-back guarantee.
DeWalt DCST972 Bottom Line
The DeWalt DCST972 FlexVolt 60V string trimmer has tons of power. On top of that, you can use a whole host of attachments from over a half dozen manufacturers. While it comes with a bit more weight and vibration than we'd like, the balance work in its favor overall. If you can work with all that, the performance of this trimmer should help you tackle all manner of household landscaping tasks.
DeWalt DCST972 60V String Trimmer Specifications
Model: DeWalt DCST972
Power Source: DeWalt 60V Max battery
Cutting Swath: 17-inch
Max Line Diameter: 0.095
Variable speed trigger
Straight shaft design
Shaft length: 67 in.
No-load speed: 4650(low), 5800(high) RPMs
Weight: 10.3 lbs (bare), 13.5 lbs (with 6.0Ah FlexVolt battery)
Warranty: 3-year limited lifetime
Price: $319.00