Greenworks Pro 60V 16-Inch String Trimmer Finishes the Job in Style
Having used most of the Greenworks Pro 60V cordless power tools at this point, we see the brand focusing on delivering an excellent balance for homeowners looking for both high performance and value. We wanted to bring in the Greenworks Greenworks 60V cordless string trimmer (ST60L254) to see if it would make for a viable replacement for your old gas trimmer. To do that, we ran it through our rigorous testing methods.
Pros
Great balance

Use either 0.080-in or 0.095-in line
Easy line replacement
Tool-free adjustable front handle
Brushless motor
Competitively-priced
Cons
Less runtime, but higher performance than the model it replaces
Greenworks 60V 16-inch String Trimmer Head Design
One of the features we really liked about the Greenworks Pro 60V string trimmer is its Load N' Go trimmer head. We found this aptly-named head very easy to reload. You basically just line up the green lines on the head, insert your trimmer line, and wind the bottom of the spool to load the line.
When you line up the arrows on the head, the inserts of the outer casings allow the .080″ or .095″ line to pass through the inner spool. Once you load your trimmer line, the head works like a standard bump feed trimmer head. Spin it up to full speed and tap it on the ground to let out more line.
Greenworks 60V String Trimmer Controls
You get two different speed settings on the Greenworks 60V cordless string trimmer using a handy thumb switch. On top of that, you can feather the speed further using the variable speed trigger. We found that we could handle a majority of our grasses in Low speed. It also gave us additional runtime. For thicker grasses and rougher areas, we switched to High gear.
Getting a Feel for the Weight and Balance
The 16-inch Greenworks 60V string trimmer weighs 11.2 pounds—with the 2.5Ah battery installed. That falls around the midrange for battery-powered string trimmers we've reviewed. It carries that weight better than most, however, so it ends up feeling even lighter than its weight might indicate. That also makes it a great tool for switching between trimming and edging tasks.
Should you want to reduce weight further, Greenworks added a steel-reinforced tether point. Connect a shoulder strap and you can relieve even more of the weight and create a pivot point while you trim.
Since this tool uses a front-mounted brushless motor, the weight of the 2.5Ah battery offsets the head nicely. You can further compensate for both height and balance by shifting the adjustable front handle up and down the shaft until you get it just right. The handle tightens and loosens using a convenient thumb dial. We only wish more manufacturers considered this feature!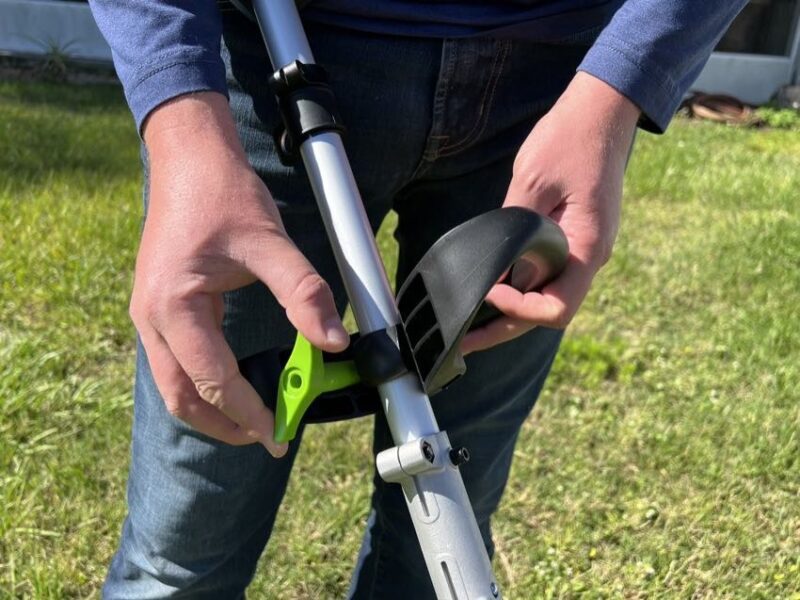 Greenworks 60V 16-inch Cordless String Trimmer Performance
We really appreciated the wide 16-inch cutting swath on the Greenworks ST60L254. Even some of the best battery-powered string trimmers feature 15-inch cutting diameters. Since Greenworks has another model on the 60V line measuring 13 inches, it makes sense they added a more premium-level model to the lineup.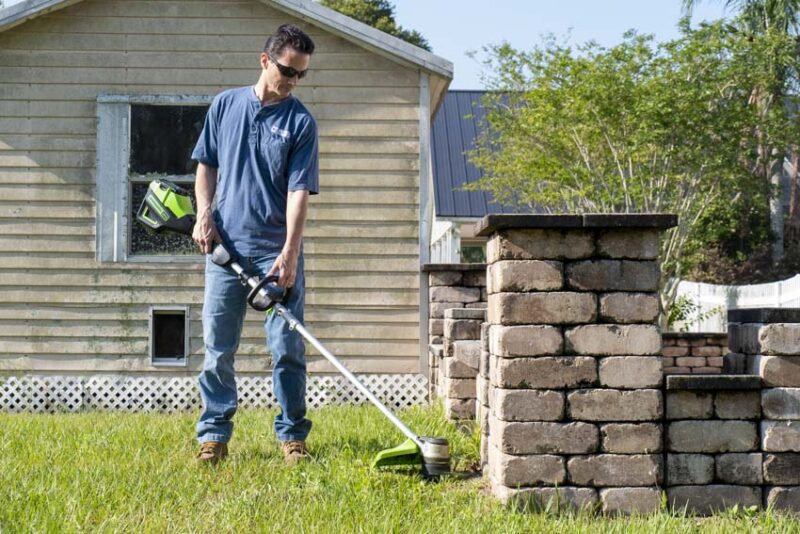 While the trimmer includes 0.080-inch line in the box, it supports 0.095-inch line. The former is very common for homeowner products. Moving up to 0.095-inch line (we recommend Black Diamond line ) gives you a bit more cutting power—and the trimmer certainly keeps up with it. Just remember that a larger-diameter line reduces your runtime.
Having used the previous Greenworks 60V string trimmer this 16-inch model simply offers a performance boost. According to Greenworks, this battery-powered trimmer operates similarly to a 30cc gas engine.
Runtime – How Much Trigger Time Do You Get?
We always test runtime so you can get an idea of how much trigger time you get with a string trimmer. The Greenworks ST60L254 16-inch string trimmer delivered some of the longest runtimes we've ever seen. On High speed, we clocked 24 minutes and 48 seconds when paired with the 2.5Ah battery. While that drops around 10 minutes from their previous 16-inch model, it's a trade-off that yields more performance. In terms of trigger time, 20+ minutes gives you an awful lot of trimming.
We did our runtime testing using 0.080-inch line since it came loaded on the tool. Even with .095″ line you should have enough trigger time to cover a 1/2-acre property—unless you have landscaping that would put you on the cover of Better Homes and Gardens. Having an extra battery around just in case also lets you double your runtime. Since Greenworks also makes mowers, hedge trimmers, and blowers—having another battery on-hand is quite likely for most users.
Greenworks ST60L254 String Trimmer Vibration and Noise
We dislike a lot of vibration in string trimmers and note it whenever it raises its ugly head. With the Greenworks ST60L254, we didn't feel any excessive vibration while we used it on our property. You should be able to go through an entire battery (or two) without feeling it in your hands. We also test these tools without wearing gloves, so that's further testimony to the comfortability of this string trimmer.
Another pet peeve next to vibration is noise. After all, people switch to battery-powered products to get away from that (in addition to saving on gas and maintenance). Measuring from the user's ear, we recorded 80 decibels (dBA) on Low and 84 decibels in High. This falls right in line with what we expect from larger-capacity battery-powered string trimmers.
Greenworks 60V 16-inch Cordless String Trimmer Price and Warranty
The Greenworks ST60L254 includes a 4-year warranty on both the trimmer and the battery. You can pick up the kit—including a 2.5Ah battery and charger—for $179.99 at Tractor Supply. In our opinion, that's a stunningly good deal.
The Bottom Line
Given its performance, weight, balance, and price, we feel the Greenworks 60V 16-inch cordless string trimmer provides one of the better string trimmers a homeowner can buy. We'd even prefer it to most gas models. With lots of power and great ergonomics, this tool joins an already-impressive 60V lineup of Greenworks outdoor power tools that give you what you need to keep your lawn looking perfect. Need more? Check out the Greenworks zero-turn mower and 60V lawn tractor!
Greenworks 60V 16-Inch Battery-Powered String Trimmer Specifications
Model: Greenworks ST60L254
Power: 60V battery
Cutting Path: 16 in.
Line Diameter: 0.080 in. or 0.095 in.
Spool: Dual Load N' Go bump feed
Shaft: Straight aluminum
Noise (low/high): 80/84dBA
Weight: 8.25 lbs (bare), 11.19 lbs (with 2.5Ah battery)
Variable speed trigger
Warranty: 4-year (tool and battery)
Price: $179.99
Click here to explore the entire Greenworks 60V line.