The Husqvarna 545FR Brushcutter is the tool you call up when a string trimmer literally won't cut it. More to the point: this beastly powerful machine is not a crossover or hybrid—it's in a different class that makes quick work of everything from tall grass to trees several inches in diameter. It also gives your business the opportunity to offer another service to customers with some untamed property. I cleared over a half-acre of overgrowth on my property and it didn't break a sweat.
Pros
Remarkably powerful
One pull start and never had to use the decompression button
Incredibly efficient at clearing overgrowth with three included head options: trimmer, grass blade, and saw blade
Comfortable harness is simple to put on and take off
Easily adjustable handlebars with vibration dampeners in the shaft are easy on the body during extended use
Cons
The optional Versatile Guard got hung up on tall grass and brush
Recommendation
This amazingly powerful brushcutter is as tough and effective as they come. I cleared over a half-acre of overgrowth on my property—an area that included 3-inch saplings and lots dense overgrowth—and the Husqvarna didn't break a sweat. In fact, I was at half-throttle nearly the whole time. With three trimmer heads included, a comfortable harness, easy start, and vibration dampening, it tames unruly land with ease.
Harness The Power
I live on a few acres near a creek that frequently floods part of my land in the rainy season. It's fertile ground that nature has covered with all manner of dense grass, saplings, and general brush—a great testing ground for the Husqvarna 545FR Brushcutter.
This brushcutter is not some hybrid or crossover with an interchangeable blade and optional shoulder strap that you call upon when the grass gets a bit too tall. No, this 45.7cc 2.8hp powerhouse can handle much tougher stuff, as you'll see. It's sturdily built with no flex in the shaft. And you will need to wear the harness.
Though it looks a bit intimidating at first, the harness is easy to don and doff and distributes the tool's weight well. It even has an emergency exit mechanism and an adjustable hook. Together with the Husqvarna 545FR brushcutter's adjustable handlebars and vibration dampening, the harness makes the tool a highly maneuverable extension of your body. I found the controls easy to use as well.
Use Your Heads
The Husqvarna 545FR brushcutter includes a trimmer head, tri-tip grass blade, and saw blade.
I used the grass blade for most of my work and found it could whack through 1-inch saplings effortlessly. When I encountered saplings around 2-inches and up, I switched to the saw tooth blade.
The heads are easy to interchange but there are a few parts involved. For example, there's a splined washer that moves to different places depending on which head you're using. I suggest keeping the instructions handy at first.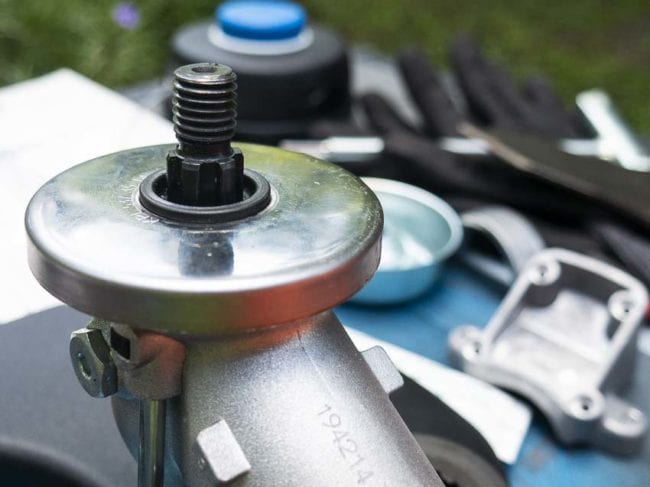 As you'd expect of a commercial-grade tool, there's a serviceable bevel gear in the head—and Husqvarna even gives you some grease.
My only gripe about the Husqvarna 545FR Brushcutter is a small one: the optional Versatile Guard snags on brush with the tri-tip grass blade. It worked just fine with the trimmer head, however.
It Means Business
The Husqvarna 545FR Brushcutter started on the first pull every time—and I never had to use the decompression button.
Once running, the tool's power was simply remarkable. It never bogged down and most of the time I ran it at half-throttle! Of course, that meant I also happened to employ the appropriate head for the work—up to 3-inch oak saplings.
Since the 545FR can handle so much more than a string trimmer and few lawn service crews have a brushcutter, there's potential for Landscape Pros to upsell services beyond the traditional mow, blow, and go.
Price
At $850, the Husqvarna 545FR Brushcutter sits near the top of a wide price range. Here's a look at the competition.
Husqvarna 545FR (tested model) – $850
Echo SRM-410U – $600
Stihl FS 460 C-EM – ~$760
Husqvarna 525RX – $400
Husqvarna 336FR – $600
The Bottom Line
The immensely powerful Husqvarna 545FR Brushcutter is no hybrid or crossover tool. Use it for just a few minutes, and you know you've stepped up to the high end of professional-grade. With three cutting head options, a great harness, vibration dampening, and a reliable first-pull start, you'll soon be clearing everything from thick grass to saplings several inches in diameter.
Husqvarna 545FR Brushcutter Specs
Cylinder displacement: 45.7 см³
Power output: 2.8 hp
Maximum power speed: 9000 rpm
Fuel tank volume: 30.43 fl oz
Fuel consumption: 450 g/kWh
Idling speed> 2700 rpm
Clutch engagement speed (±120): 3900 rpm
Maximum rpm output shaft: 8800 rpm
Weight (excl. cutting equipment): 19.2 lbs
Tube length: 54.488 in
Tube diameter: 1.3 in