Milwaukee's Brush Cutter Evolves from Trimmer Attachment to Dedicated Tool
In 2022, we reviewed Milwaukee's Quik-Lok brush cutter attachment. That product was an attachment rather than a standalone unit. Therefore, Milwaukee got our rapt attention when we learned they released a dedicated M18 Fuel Brush Cutter.
So, how does this standalone model compare to its attachable predecessor? We're going to explore its performance and design features to find out.
M18 Fuel Brush Cutter Performance
Model: Milwaukee 3015-20
Reaches full throttle in under one second
RedLink Plus technology
Sustains power under load without bogging down
Two-speed control
Variable speed trigger
Max speed: 6200 RPM
Here's what we gathered on the performance features.
According to Milwaukee, this brush cutter can hit full throttle in under a second, thanks in large part to their proprietary PowerState brushless motor and RedLink Plus intelligence.
Notably, the Milwaukee M18 Fuel Brush Cutter should sustain its power under load without straining itself, while the RedLink Plus technology prevents the unit from overloading, overheating, and over-discharge.
Furthermore, this brush cutter keeps the same two speed settings as the Quik-Lok attachment (0-4900 RPM and 0-6200 RPM, respectively). Additionally, a variable-speed trigger lets the operator choose the right amount of power for the job at hand.
Milwaukee M18 Fuel Brush Cutter Design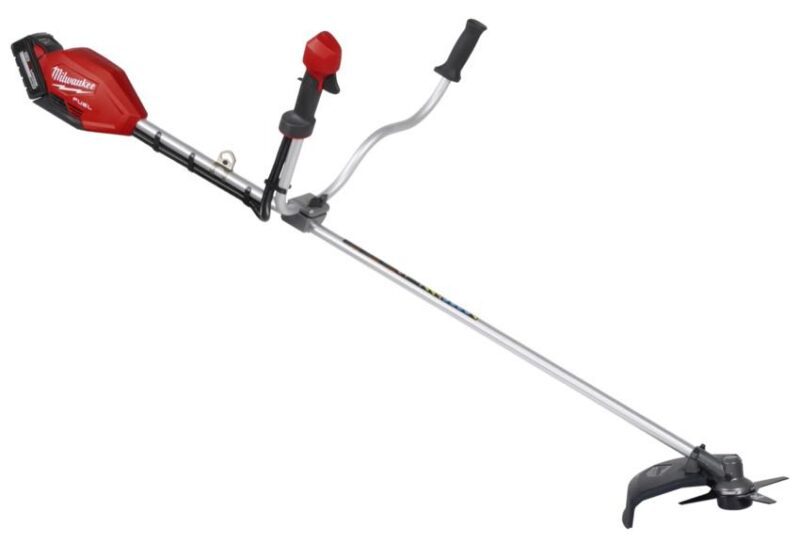 Length: 72 inches
Weight: 11.4 power (bare)
PowerState brushless motor
Blade length: 9 inches
String trimmer cutting swath: 14-16 inches
Line diameter: 0.080 – 0.095 inches
Balanced design
Dual shoulder strap harness
This model is 72 inches long and weighs 11.4 pounds as a bare tool.
What's more, just as the string trimmer doubled as a brush cutter via the attachment, the Milwaukee M18 Fuel Brush Cutter can double as a string trimmer by way of an attachment. This lets you use the 9-inch metal brush-cutting blades or attach the included string trimmer head for trimming lighter brush.
The tool's designers aimed for a well-balanced design that promotes comfort and maneuverability, and that's why the Milwaukee brush cutter houses the motor on the rear end.
Moreover, they included a dual shoulder strap harness that hooks onto the tool. Because this helps distribute the brush cutter's weight onto the operator's core, it lessens some of the fatigue associated with prolonged use.
Milwaukee 3015-20 Price
The Milwaukee M18 Fuel Brush Cutter retails for $399 starting in April 2023.
It includes the brush cutter blade and guard, string trimmer head and guard, as well as the dual shoulder strap harness. However, at this time there are no kit options available.
Milwaukee backs your purchase with a 3-year warranty.