Brush Cutter Attachment Expands Milwaukee's Quik-Lok Multi-Head System
Back in 2019, Milwaukee released the M18 Fuel Quik-Lok multi-head system. I continue to use it for everything from trimming to edging—even tackling overgrown gound cover at the lake. Between the string trimmer and articulating attachments like the pole saw and hedge trimmer, it handles more than a few tasks. When we heard about the Milwaukee M18 FUEL brush cutter attachment that went with the Quik-Lok system, we had to get our hands on it to try it out.
Of course, we really wanted to see if Quik-Lok could handle heavier brush-cutting tasks from the same power head. To find out, we loaded up the new attachment and headed out to the ranch.
Using the Milwaukee M18 Fuel Quik-Lok Brush Cutter Attachment
Having used dozens of gas-powered string trimmers and brush cutters, we wondered which design Milwaukee would take. As it turns out, they went with a straight shaft terminating in a 4-blade brush cutter. This, they nestled below a 9-inch plastic shield.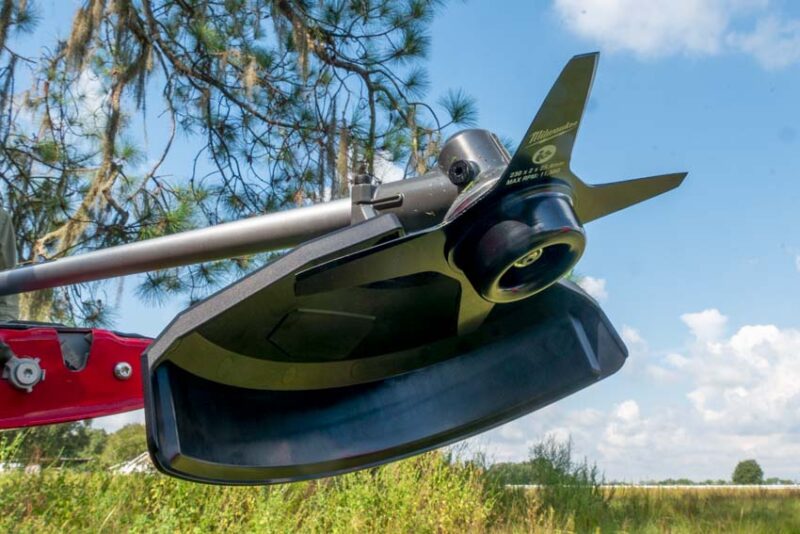 The brush cutter blade feels strong but light—certainly lighter than the thick 3-blade cutter on the 45cc gas Husqvarna 545FR. Given that you have a battery vs gas scenario, we're used to seeing thinner cutting blades. You may need to sharpen and/or replace it more frequently, but it delivers greater runtime.
We love that the new Milwaukee brushcutter attachment includes a shoulder strap. Since the brushcutter adds 3.66 pounds on top of the Quik-Lok powerhead, that strap helps when using the tool for extended periods of time.
Clearing Brush with the Quik-Lok Brushcutter Attachment
The Milwaukee brushcutter attachment spins at 4900 RPM at Low speed and 6200 at High speed. With a brushcutter, you tend to find yourself on High all the time. You can conserve some runtime on Low, but it won't work as quickly. You may also find thicker brush taking more than one pass at the lower speed.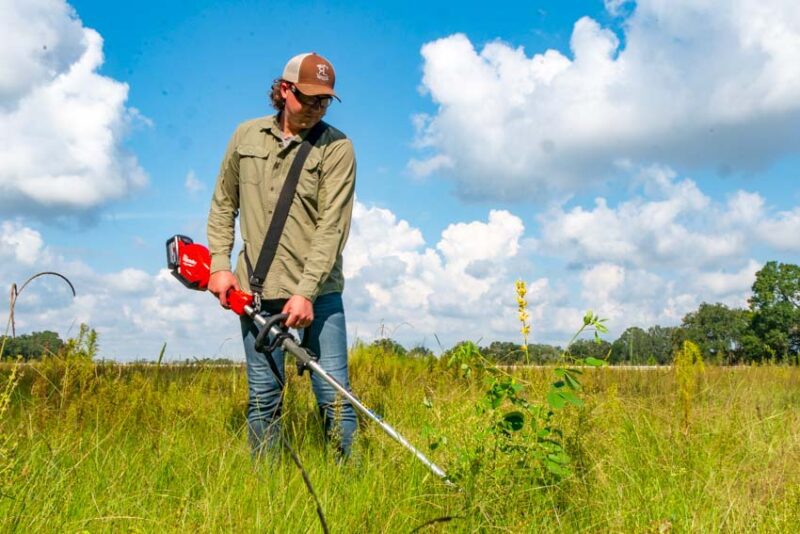 We did a large majority of our brush cutting on tall, wild grass peppered with brush that measured less than 3/4 of an inch thick. The Milwaukee brushcutter didn't even hesitate through the material. Based on prior experience, this brush would have presented a huge problem for even a commercial string trimmer. In fact, even a DR Power trimmer mower (which uses a thick line to cut) had a tough time clearing out some of the thicker stalks. Considering this was a small area, the Milwaukee brush cutter seemed like the right tool vs a larger machine.
The integrated plastic blade shield did a good job protecting the operator (in this case—me) against flying grass and stalks. We could see the Milwaukee brush cutter attachment ending up in our next best string trimmer reviews article.
Pro Tip: Remember this brush cutter operates in one direction. The Milwaukee blade can be flipped over to give you some additional cutting before having to sharpen it.
In the end, we considered the maximum or recommended capacity for this brush cutter attachment from Milwaukee. For small trees and saplings, Milwaukee maxes it out at 1-1/4 inches. You might get through more if you cut into softwoods like pine. For harder material and trees, stick to 1-inch or less for best results.
Milwaukee Brush Cutter Price
The brush cutter attachment carries a retail price of $149. Replacement blades cost $29.97. Acme Tools has several purchasing options:
Replacement Blade: $29.97 (49-16-2757)
Attachment Only: $149 (49-16-2738)
Pole Saw and Brush Cutter Attachment Combo (attachments only): $318 (49-16-2738-2720)
Pole Saw and Brush Cutter Bundle with Powerhead, 8.0Ah High Output Battery, and Charger: $598 (2825-21PS-49-16-2738)
String Trimmer and Brush Cutter Bundle with Powerhead, 8.0Ah High Output Battery, and Charger: $448 (2825-21ST-49-16-2738)
Final Thoughts
If you need to tackle heavier brush and overgrowth, the Milwaukee M18 Fuel Quik-Lok Brush Cutter attachment works wonders. We can see using it in our ditches and anywhere a string trimmer falls short. It certainly gives an assist even to the Milwaukee lawn mower. As part of the Quik-Lok attachment system, you can pick this up without having to buy an entire tool. Anything that saves money gets a thumbs-up in my book.