Ryobi's Trimmer, Mower, and Edger is the Swiss Army Knife of OPE
As with most everything, we all have our personal opinions. However, it's hard to deny that Ryobi is an experienced player in the world of cordless equipment. Founded in 1943, the company has been making power tools since 1968. And here we are in the 21st century, and they're still churning out products like the Ryobi 18V Trim Mower.
From what we've heard, this 3-in-1 tool can tackle edging, trimming, and even small mowing tasks with minimal fuss. Of course, marketing and advertising wizards are dab hands at talking the talk, which begs the question: Can the Ryobi 18V Trim Mower walk the walk?
After putting one through some decidedly medieval paces, we have an answer.
Ryobi 18V Trim Mower Overview
If you're not already familiar with these designs, the 3-in-1 tools are ideal for homeowners with small- to medium-sized yards and limited storage space. The Ryobi P20160 can serve as a trimmer, a mower, and an edger, and it doesn't need a pile of attachments to do it.
Model: Ryobi P20160
Brushed Motor
18V (4.0Ah) lithium-ion battery
Weight: 12.65 pounds
Cutting Width: 10 & 12 inches
Shaft Length: 54 inches (adjustable)
Variable speed trigger
Push-button auto-feed line head
Powering this model is a brushed motor fed by an 18V (4.0Ah) One+ lithium-ion battery, which you can use on any One+-compatible Ryobi tool.
Functions and Attachments
Before we go on, let's have a quick look at the tool's functions and attachments.
Mower Deck
The attachable 12-inch mower deck comes into play when you have areas that are too much to trim but too small to require a large push mower or lawn tractor.
Furthermore, this attachment has a 4-position, single-point height adjustment (1.5–3.5 inches), along with an adjustable cutting width (10–12 inches).
String Trimmer/Edger
As a string trimmer and edger, this tool is compatible with .080- and .065-inch trimmer line. It's also equipped with an automatic line advance system, and a variable speed trigger designed to increase control.
To help you cut clean edges along sidewalks and pathways, Ryobi included a pivoting trimmer head.
Ryobi 18V Trim Mower Performance/Design Notes
String Trimmer/Edger
Out of the gate, this trimmer had its work cut out for it. We put it to the test on a half-acre lot loaded with edges along curbs, sidewalks, a driveway, building foundations, and retaining walls.
In some areas, the grass (mostly fescue) had grown to the point of brush-like thickness, so this residential tool faced commercial-grade challenges. And to our surprise, it conquered them like a commercial-grade trimmer.
Simply put, trimming and edging were a breeze. The Ryobi trim mower chewed through even the densest overgrowth, all while using .080-inch string, which is not the best size trimmer line for that kind of work.
And on the edging side of things, the P20160 cut nice, clean borders along the property's driveway and sidewalks.
Power wasn't a problem, either. Together, the trim mower's brushed motor and 18V battery performed admirably.
On average, our test sessions involved 30 minutes of fairly heavy trimming. We continuously ran the tool at full throttle, even while walking between locations. And still, we never used more than 25% of our battery.
In terms of handling, the Ryobi trim mower was quite manageable. Lightweight and well-balanced, it was easy to control and really comfortable, thanks in large part to two factors.
First, the shaft transferred minimal vibration, and second, there are no sharp edges on the grips and handles. So, if you need to work for extended periods, you shouldn't have to worry about numbness and chafing.
Mower Function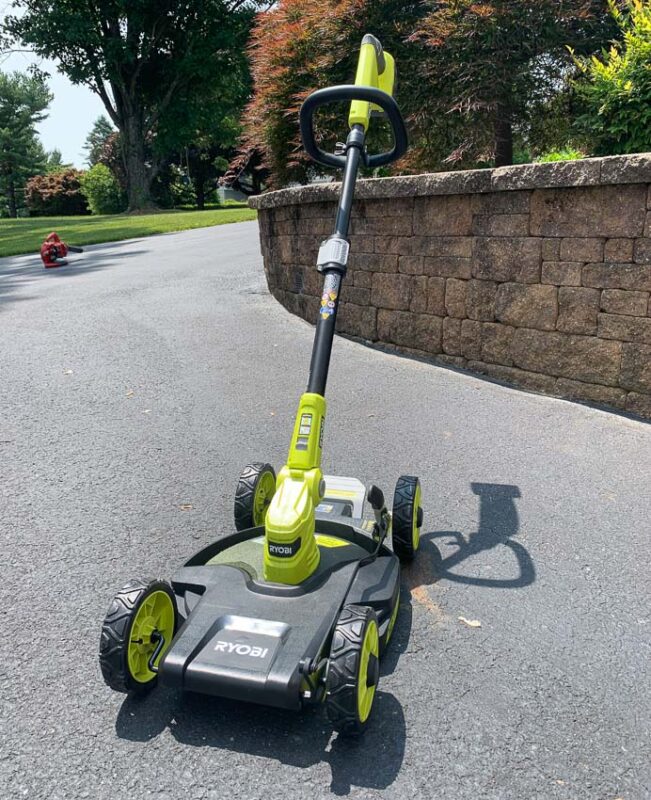 No doubt, the P20160's mower attachment is a handy add-on, but don't mistake it for a full-on lawn mower. In our tests, we used it to tidy up around shrubbery and in spots too small for a push mower, yet too wide for a trimmer.
On the whole, this attachment provided an even cut, and in conjunction with the trimmer's shaft, felt more like vacuuming a carpet.
Pros
Design is ideal for smaller properties
Multiple tools in one help with storage and versatility
Easy to reload
Good runtime/Efficient charging
Cons
Brushed motor (Other Ryobi tools like the Expand-It Edger are brushless. Why not this one?)
The Final Word
Overall, this tool is a great solution for homeowners with smaller yards and limited storage space. Although it's a residential model, its performance is strong enough to handle a variety of more demanding jobs.
While we'd like to see Ryobi go with a brushless motor next time, this unit runs quietly and efficiently all the same.
In short, Ryobi's 18V trim mower gives you convenience, reliability, and versatility at a price point that's hard to beat.
Ryobi 18V Trim Mower Price
The Ryobi 3-in-1 kit retails for $209 and includes the tool, attachments, a One+ battery, and a charger. Ryobi backs its product with a 3-year warranty.
Remember, you'll need to clean up after you're finished trimming, so be sure to check out our Best Leaf Blower Reviews!