Greenworks shook up the battery-powered OPE market with its 25-inch commercial mower a while back. Now they have a 60V version for homeowners and it has some updates for this season. We took the Greenworks Pro 60V 25-inch self-propelled lawn mower out to see how it stacks up against the best mowers we've tested.
Pros
Great cut quality
Excellent power
Turbo mode for tough patches

Dual active battery ports with automatic switching

23.75-inch cut width
Easy cut height adjustment
Compact, vertical storage
Cons
We'd like a slower speed option when cutting thicker grass
You need to roll the mower forward slightly to disengage the drive system when backing up
No side/rear discharge option
Editor's Note: Check out our best self-propelled lawn mowers and best battery-powered lawn mowers articles for our top picks in these categories.
Greenworks 60V 25-inch Lawn Mower Performance
Right out of the gate we wanted to test the performance of this lawnmower. Having already tested the commercial model, we wanted to understand what translated to the consumer version. When you have larger blades nearly 24-inches across, you need a solid brushless motor to make it all work. Currently, no other manufacturers make a battery-powered consumer model with a deck this wide.
We first cut a large area of grass at the mower's maximum height of 4-inches. Then, we dropped the deck all the way down to 1 3/8-inches to see if it would cut. Typically, when finding the minimum effective cut height, we have to raise the deck a couple of notches.
This time we didn't. The Greenworks 60V 25-inch lawn mower can cut at its "buried" 1 3/8-inch minimum depth—quite easily, in fact.
Calling More Power
When cutting into deeper grasses and weeds, the brushless motor on the Greenworks 25″ lawn mower drives the blade at even higher RPMs to compensate. This results in more power when and where it's needed. When you don't, the mower (and its battery) operate at more conservative numbers—saving runtime. And, if you want to manually ramp up your power, just hit the Turbo button anytime.
Greenworks 60V 25″ Self-Propelled Lawn Mower Cut Quality
Most of us in Florida prefer to mulch our grass. Having twin blades with twice the number of cutting edges seemed to help this mower cut the grass into even finer pieces than we've seen with many competing battery-powered lawn mowers.
Examining the evenness of cut, we found the Greenworks 60V 25-inch lawnmower to leave a very even path with few irregularities. You may think that, with two blades, you could run the risk of leaving a "mohawk" down the center of your cutting path. In actuality, Greenworks timed their overlapping blades so that nothing gets missed during any single pass.
The Greenworks 25-inch lawn mower sucks grass up pretty well with its default blades. We checked the bag and it collected a lot more material than we find with many competing brands. We saw even more grass hit the bag when using their high lift blades. If you like to bag your grass, you'll love this mower.
As with nearly any mower when it encounters tougher grass and heavy loads, mulching and cut quality take a brief hit. After all, you're almost eliminating the area under the deck, so the blade efficiency goes down dramatically (as does lift). When you need to do dramatic cuts like that, plan on bagging—or mowing over the same area twice. For normal maintenance cuts—this simply presents no issue.
Greenworks Pro 60V 25″ Lawn Mower Runtime and Cutting Area
Everyone wants to know runtime for a mower—so we did our best to test it. Often, more power equates to less runtime. Actually, this is always the case. So then it just depends on how well the system utilizes the batteries in managing both metrics. We fully charged the two 4Ah Ultra Power batteries included in the kit and inserted them into the mower.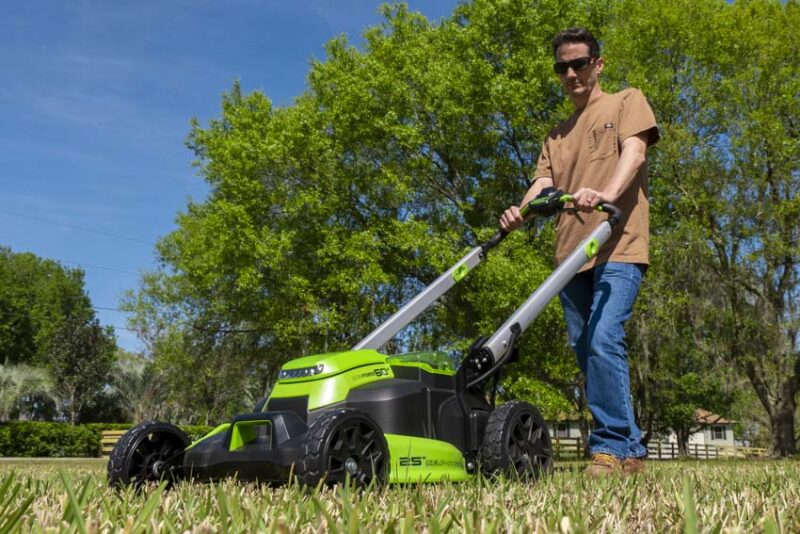 We have a little over an acre of grass available at the shop. To start our testing, we first leveled the entire lawn at 5 inches using a Cub Cadet Pro Z 560. Next, we set the height of the Greenworks 25-inch lawn mower to 3-inches. We consider this a reasonable maintenance cut—at least for Florida in the summer months. Most of our grass is Bahia with some sections of St. Augustine.
After 33 minutes our first battery depleted and the mower automatically switched to the second. After a total of 1 hour and 9 minutes, the second battery ran out. That's an excellent runtime for any battery-powered lawn mower!
During our testing we avoided engaging the Turbo mode (we didn't need to). Expect runtime to drop accordingly if you have to use this mode for any length of time.
With the included batteries, the Greenworks Pro 60V 25-inch self-propelled lawn mower easily handles up to a 1/2-acre on a regular basis—possibly more.
Push Forward to Pull Backward
One odd thing we noticed while cutting was that you can't instantly roll backward when needed. You first have to push the mower forward a little bit to disengage the drive. Then you can roll it backward. This can be frustrating when you need to do this rapidly over and over again in corners and near obstructions.
Greenworks Pro 60V 25-inch Lawn Mower Design
The Greenworks 25-inch lawn mower resembles its Commercial 82V cousin. It also shares some features with the 21-inch 60V self-propelled mower.
Controls and Ergonomics
This mower uses the exact same controls and handle configuration as their 21-inch mower. That includes the Turbo button. The handles have a nice fall away from the center that makes them easy to grip with a natural positioning of your hands.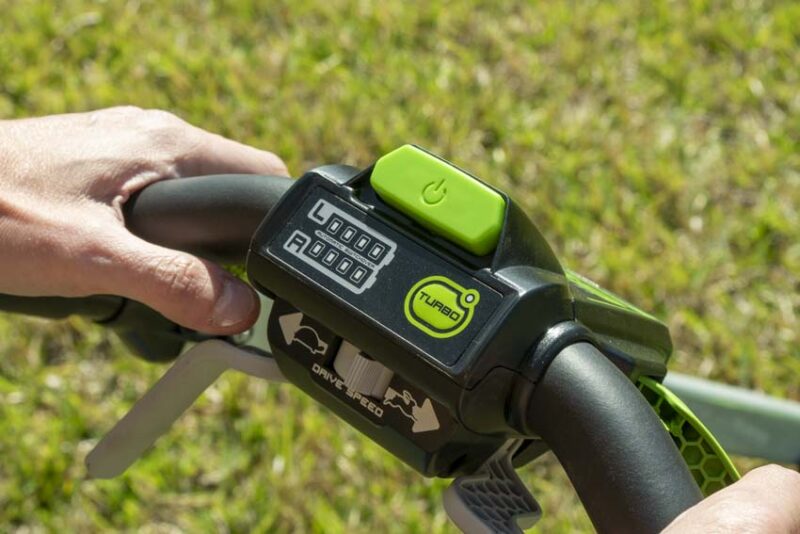 Greenworks gives you an LED for the battery level so you don't have to open the lid and check each battery as you mow. You know when you're getting close to "empty". The indicator lights up if you hit the power button, self-propel bar, or blade bar.
Gentlemen, Start Your…Brushless Motor!
This mower starts as easily as you might suspect. Press the power button and then pull back on the bail bar to start things spinning. It also works in reverse order. The self-propel drive motor works separately from the blades, so you can move the mower to and from your shed or garage as needed without expending more battery power than needed.
You can adjust your speed using the dial located right in the middle of the handle controls. You can't miss it. The slider is stiff enough that it doesn't drift or move unless you specifically make an adjustment.
We liked the range of the self-propelled mechanism and motor. The maximum speed let me walk as fast as I might want while the slowest speed kept me at a leisurely pace., If anything, I wished the low end could go even slower. When cutting really thick grass slowing down definitely helps.
Dual Batteries
The two battery ports work actively—and they switch automatically from one battery to the other. You can also run the mower with just one battery if needed.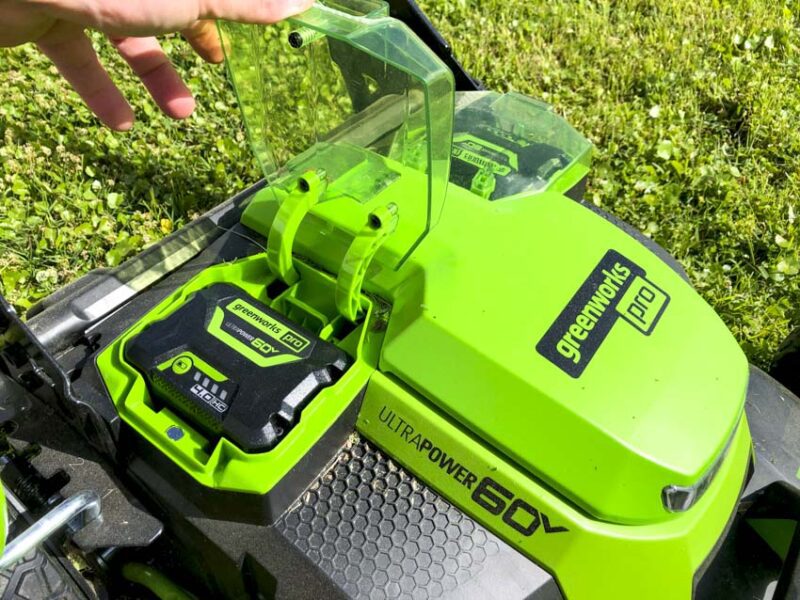 Adjusting the Height Adjustments
You can adjust the deck height using the single lever located at the right rear wheel. Even though this mower has a steel deck, two blades, and two batteries, that single lever moved everything smoothly and easily. Kudos to Greenworks Pro for an excellent design here.
Twin 23.75-inch Cutting Blades
A single nut holds each of the 23.75-inch cutting blades in place underneath the steel deck. Like the commercial version, the Greenworks Pro 60V 25-inch self-propelled lawn mower overlaps the blades to cover a full 23.75" cutting width. Each blade is smaller and weighs far less than any single blade sported by a standard 21-inch mower. That seems to give this mower an advantage in power though it must drive both blades at once.
Greenworks designed these blades to rotate in opposite directions. They did this so that both blades direct grass straight back into the bag. It's a smart design, and it really worked well.
Greenworks also includes a high-lift set of blades in the kit which produces better results when bagging at the expense of some runtime. We didn't test runtime with these blades.
One downside of this design is the lack of a side discharge. While it gives the deck less interruption in airflow, we're surprised Greenworks didn't come up with a rear-mounted side-discharge option as some other manufacturers have.
Additional Field Notes
Vertical Storage
We love that you can fold the handle forward on this mower to store it vertically. It works easily—more easily than any other system we've used. You release the handle forward by pulling up on the green tabs. The same releases let you adjust the handle height between two positions.
Yes, It Has LED Headlights
If you like to mow in the early morning or at dusk, the inclusion of LED headlights will make you smile. Arranged as a string of 6-LEDs, this lets you illuminate your cutting path without sacrificing much in the way of runtime.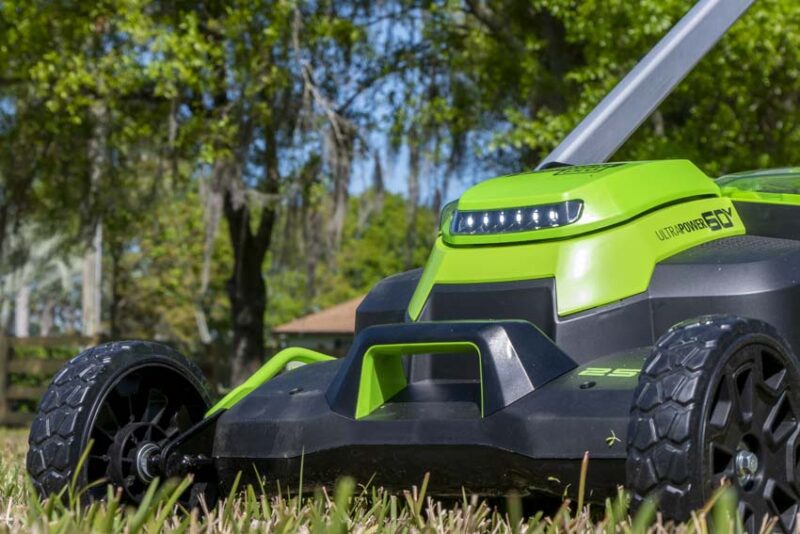 How Much Does the Greenworks 60V 25″ Lawn Mower Cost?
You can buy this model at Tractor Supply for $749.99 with a pair of 4.0Ah batteries and a dual-port charger. Both the mower and the batteries are backed by a 4-year warranty.
When you look at other battery-powered mowers in that price range, Greenworks is one of the most compelling models considering its performance and coverage.
The Bottom Line
Having used and appreciated the commercial 25-inch lawn mower from Greenworks, we loved how they transitioned that product into a consumer product. Now residential users have the option to choose between a traditional 21-inch mower and a wider 25-inch model with dual batteries. That can really shorten your mowing time on larger lawns. Our recommendation? Get the 21-inch mower for lawns under 1/4-acre and get the 25-inch mower for anything larger.
Greenworks Pro 60V 25-inch Self-Propelled Lawn Mower Specifications
Model: Greenworks 2531502 (MO60L427)
Power: Greenworks 60V battery
Deck: 25-inch steel
Cutting width: 23.75 inches
Blade diameter: 2 x 12.5 inches
Cutting height: 7 positions (1 3/8 to 4-inches)
Discharge: Mulch or bag
Warranty: 4 years mower and batteries
Price: $599
Learn more about this and other battery lawn care products at the Greenworks website !