IsoTunes Keeps the Music In and the Noise Out
Technology's never-ending march of progress always seems to lead to some pretty useful creations. In many cases, these are iterations of long-existing technology like hearing protection. So, we want to see if the same applies to the IsoTunes Air Defender Radio Earmuff.
IsoTunes IT-91 Fit and Protection
For this model, IsoTunes chose the over-ear design.
Personally, I prefer this variation to the earplug style. In my experience, the latter doesn't offer nearly the same quality fit or hearing protection.
Conversely, the over-ear design encloses your entire ear for solid decibel shielding. And that's especially important considering that AM FM radio is, perhaps, this unit's central component.
Worn properly, you have an NRR 24 rating with 24 decibels of ambient noise reduction (a CSA Class A rating in Canada).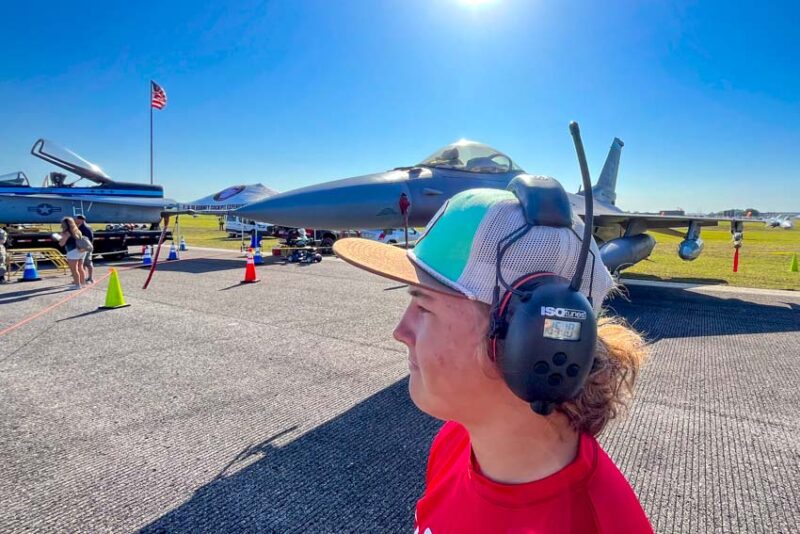 IsoTunes IT-91
NRR 24 rating
CSA Class A rating
85-decibel max volume
IPX4 ingress rating
60-hour battery life with 2 AA batteries
In terms of comfort, the IT-91 is a nice setup. This includes extendable earpieces, memory-foam padding, and just the right amount of tension. Additionally, the headband padding eliminates pressure-point concerns.
Last for comfort is the matter of weight. This unit is quite manageable at 13.6 ounces with the batteries installed.
IsoTune Air Defender AM FM Radio Earmuff Entertainment
The primary source of entertainment is an AM/FM radio, powered by two AA batteries. That may seem out of date with all the Bluetooth options around, however, there's a method to this madness.
For one, not everyone gets to work where there's a reliable cell signal. No signal, no data; and no data, no streaming music, making downloads your only option (further limited by storage capacity).
AM/FM radio
Over-ear design
Memory foam pads
3.5mm aux input
Another reason is that some people actually prefer listening to the radio over streaming. Imagine that! Music with a touch of human (AKA your favorite disc jockey–another dated notion), not to mention news and talk shows.
If that's not you, just go with a Bluetooth model.
And for those of you who want the best of both worlds, the IsoTune Air Defender Radio Earmuff has a 3.5mm aux cable input you can use to listen via phone. Those who have new phones without an aux jack should remember to bring an adapter.
As usual, IsoTunes limits the volume to 85 decibels, keeping you OSHA-compliant while you work.
IT-91 Controls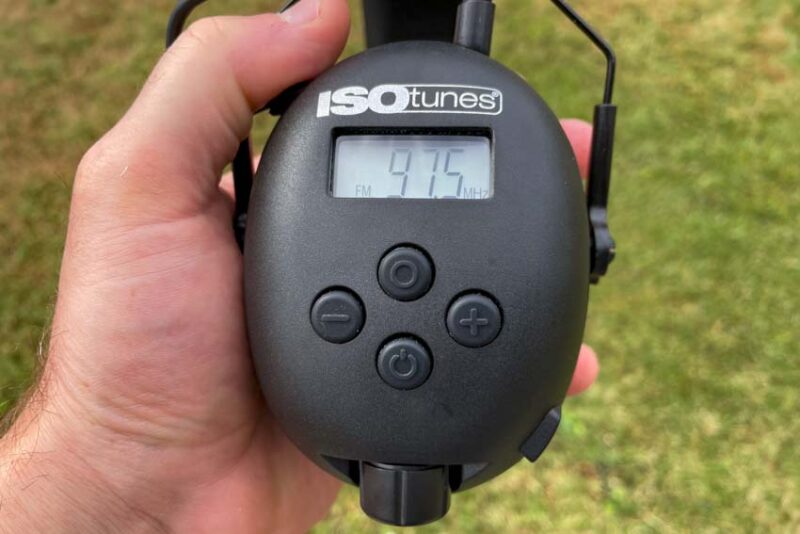 Controlling the IsoTune Air Defender Radio Earmuff is simple. Press and hold the power button to turn it on. Short press the power button to cycle between AM and FM bands.
The + and – buttons take care of tuning to the station you want to listen to and the unit holds that station in memory once you turn it off. Moreover, an LCD screen helps you keep track of the band frequency.
The sound is excellent for a headset. When you use the aux cord and a high-quality audio file, the sound quality is pleasing, though not at the level you would get from premium brand headphones.
IsoTune Air Defender Radio Earmuff Price
The IT-91 retails for $59.99 and comes with a 1-year warranty. Batteries and an aux cable are not included.
The Bottom Line
Let's face it, many of us need some form of entertainment while we work, and radios have long been fixtures on job sites. (Our apologies to Snow White's seven dwarves, but whistling doesn't cut it anymore).
The IsoTunes Air Defender radio earmuff gives you talk and tunes, as well as comfortable hearing protection. Even though it doesn't have Bluetooth and a rechargeable battery system, it's able to keep the price reasonable because of it.