Converting from Gas to Battery-Powered Lawn Tools is Becoming a Reality for More Professional Landscapers
More and more municipalities keep encouraging, sometimes strongly, emissions-free and noise-free solutions for outdoor power equipment. Outdoor power tools seem to fall into an area where we see lots of change toward battery-powered products. While converting from gas to battery-powered lawn tools might be simple for homeowners, professional landscapers face more hurdles.
We jumped on the phone with the Greenworks Tools team to see how they address some of these concerns. As they continue manufacturing and developing more residential and commercial battery-powered outdoor power tools, they have a decidedly clear take on this transition process.
Converting from Gas to Battery-Powered Lawn Tools
Overcoming the Hurdles
We asked the Greenworks team about the most common objections to converting from gas to battery-powered lawn tools.
Their response had to do with education. Both consumers and landscaping professionals need to understand battery-powered OPE products better. In particular, they need to develop a clearer understanding of how power and runtime interact. They also need to translate that into their day-to-day requirements. At Pro Tool Reviews, we see it first-hand. When we introduce a professional landscaper to a battery-powered tool like a zero-turn mower or string trimmer they get it. Skepticism quickly turns to optimistic questions about how the tools function and how maintenance and use differ from gas.
Today's battery-powered lawn tools far exceed those first models introduced around 2014 or so. Even the past few years have seen battery technology, runtime, and power make tremendous leaps and bounds.
Battery-powered outdoor power tools also tend to include the potential for more technology. Apps can help you understand the condition, charge status, and location of your battery-powered tools. When you want to track efficiency and manage the resources available to your landscaping crews, battery-powered tools offer that potential.
Low-Hanging Fruit
Pros immediately notice which lawn care equipment requires lots of power. When you look at the differences between smaller 2-cycle engines and larger motors used on commercial riding mowers, this becomes obvious. Tools like battery-powered hedge trimmers and string trimmers immediately appealed to commercial users. To get everything on your trailer ready for converting from gas to a battery-powered system you have to dig deeper, however.
Greenworks believes that nearly the entire residential OPE segment has already jumped into the commercial segment of the business. Platforms like the Greenworks 82V commercial line give professional landscapers the power and run time to replace all of their gas products.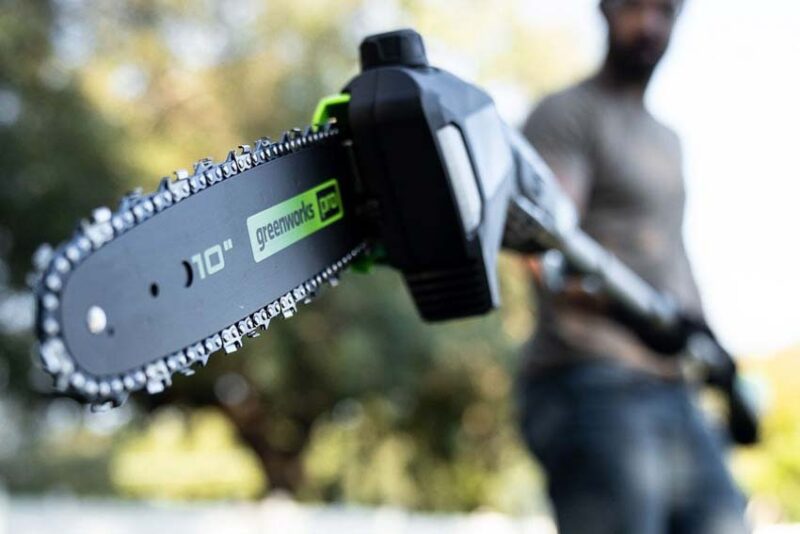 Tougher Tasks When Converting from Gas to Battery-Powered Lawn Tools
Some tools have difficulty competing directly with their gas counterparts and require some adjustment. For commercial use, zero-turn mowers and backpack blowers come to mind. For companies like Greenworks, they know they must deliver products with enough run-time to accomplish a full days' work.
The Greenworks 82V Lithium Z stand-on and zero-turn mowers along with their UTV represent commercial-targeted battery-powered products. Some segments, like larger pavement blowers, require massive battery capacity. Tools like that will arrive once battery density and capacity reach appropriate levels.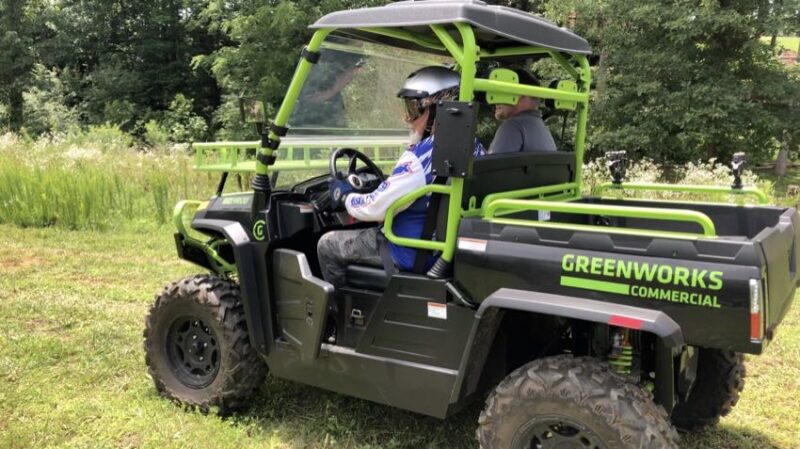 Visualizing the Loadout
We conceptualized what a commercial trailer might look like when converting from gas to battery-powered lawn tools. In reality—it differs little with respect to the outdoor power tools you carry. What changes is the power source.
The Greenworks Commercial line can replace every handheld tool landscapers use on their trailers with battery-powered tools. That includes string trimmers, backpack and handheld blowers, edgers, and string trimmers. They also have walk-behind, stand-on, and zero-turn mowers covered as well under the 82V line.
So what's the difference? Well, it comes down to carrying enough batteries to last throughout the day. This isn't unlike factoring in how many 5-gallon cans of gas you need. For commercial zero-turn mowers and stand-ons, you need all-day runtime. You can't charge those easily or quickly. Swapping out batteries also isn't practical.
While recharging batteries during the day is possible, you need to factor in cool-down time for overheated batteries. Some professional ladscapers have even installed sophisticated solar panels on their enclosed trailers to help recharge battery packs for handheld tools. For the best results, however, you want to bring along enough batteries to get you through your entire day. When you get back to the shop, your loadout includes recharging all your batteries, backpacks, and larger mowers.
ROI When Converting from Gas to Battery-Powered Lawn Tools
Clearly, converting from gas to battery-powered lawn tools and equipment requires higher upfront costs. Battery-powered outdoor power equipment simply costs more than gas tools.
However, while the initial cost of battery-powered tools exceeds gas, you're really just buying all of your "gas" up-front. That's what your batteries are. Then, over the lifetime of the equipment, you can begin to see how not having to purchase gas adds up—often quickly.
Add it all up on a spreadsheet for yourself. Factor in the higher upfront costs of battery-powered tools. Then add up your average daily fuel costs—as well as your maintenance costs over the life of each product. If you'd rather not do the math yourself, contact a Greenworks Commercial dealer. They may have some literature to help you see the long-term ROI on their 82V tools.
Gaining Momentum
We asked the team about areas of the country that are seeing higher adoption rates for battery-powered lawn equipment. It's impressive to see how widespread it is for commercial crews.
According to their data, Greenworks is now seeing that the battery transition is occurring all around the country. As of 2021, over 100 cities in the United States alone have some sort of restriction or outright ban on using gas-powered leaf blowers.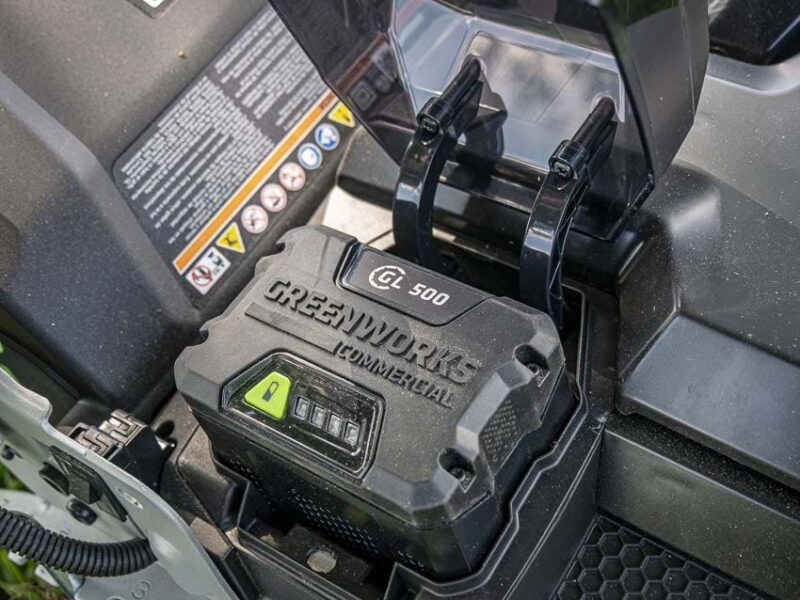 A new law in California, AB 1346 , will require the state to adopt regulations around these gas-powered tools by July 1, 2022. Further, it would potentially ban their sale by 2024. The genie is out of the bottle. Don't expect this momentum to do anything but accelerate in the future. Eventually, this affects everyone—particularly commercial users.
Parting Thoughts
It doesn't seem to matter who we speak with—the writing is on the wall. Converting from gas to battery-powered lawn tools is more than a trend. The OPE industry is well on its way to replacing gas wherever it can. We're always excited to witness new products come to market that make this transition easier and more economical.
For homeowners, switching from gas to battery-powered lawn tools doesn't take much. They don't need the same power and run time as commercial landscaping crews. As tools mature and battery technology improves, more and more options are appearing for Pros who want to ditch gas.
As with all change, expect some growing pains. Anything this big is sure to bring its share of headaches. Our recommendation is to dip your toe in and give it a try.
Let us know if you've already converted from gas to battery power in the comments below!