Tech X Boots Deliver a Wellington Cowboy Style Work Boot
Unfortunately, we "discovered" the Twisted X Tech X boots too late to include them on our list of Best Work Boots. Designed for comfort, these boots are ideal for those in the farming and agricultural trades. We wanted to explore, in particular, the Tech X lineup to see what makes these boots stand out.
Twisted X Tech X Work Boots Key Features
The Tech X boots showcase a heel design reminiscent of the traditional western style and are available in a wide range of 22 styles for both men and women.
The collection also incorporates sustainable materials such as blended rice husk in the soles, molasses EVA, and LeatherTWX fabric created from 80% reclaimed scrap leather in their construction.
The CellStretch comfort system is the ultimate selling point of the Twisted X Tech X boots. This interconnected system of cells responds to each step, activating over 100 pressure points in the foot and offering a comfortable step all day long. We honed in on this feature as one that really sets these boots apart. After all, you want a work boot that stays comfortable all the way through to the end of the day.
Style Options
Twisted X gives you three different profile and midsole options in the Tech X lineup. In fact, you have several models in each configuration. They offer a traditional profile, with either a rubber or leather outsole as well as boots featuring both a rubber outsole and midsole.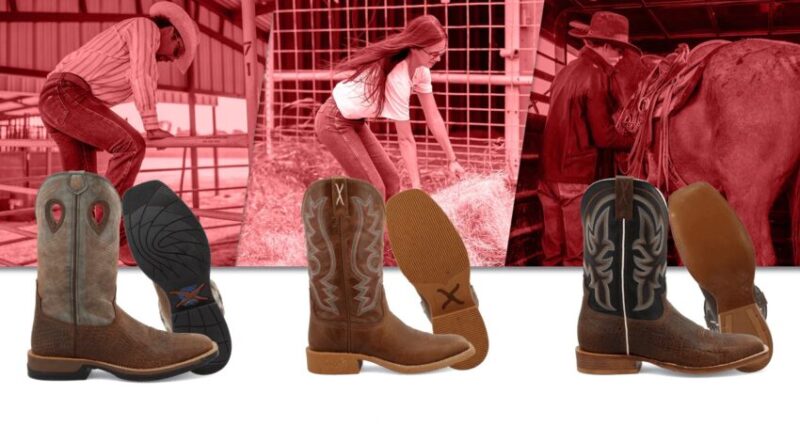 You can get the Tech X wellington style boots in both 11-inch and 12-inch heights. They also make them in both men's and women's styles. If you like pull holes vs straps, you can find several models in each. We actually thought the tear-shaped pull holes looked pretty cool while they also give you an assist with pulling on the boots.
Additional Information
Full grain leather upper
Blend85 footbed made with 85% recycled foam
EcoTweed lining from recycled bottles
Molded rubber outsole uses blended rice husk in the mix
Soft toe only
Double-stitched welt construction
Twisted X Tech X Boots Price and Availability
With the number of styles and boot configurations, look for pricing to range between $204.95 and $269.95 depending on which pair you choose.
Check out the whole Tech X lineup on the Twisted X website .