When considering switching to battery power from gas or corded power, a cordless hedge trimmer makes for a good place to start. These tools do not require as much power as mowers and chainsaws. Rather, they can operate for an extended period of time without needing a large battery. The best cordless hedge trimmer models (many of which we've reviewed) make the transition seamless. They also eliminate the hassles associated with gas engines and extension cords.
Types of Hedge Trimmers
You can find four main types of cordless hedge trimmers. Each has its own unique benefits and some property owners may find that they need more than one style. This article focuses on the traditional design, but many of the recommended brands below offer more than one model.
Traditional hedge trimmer: Uses forward/backward reciprocating blades to cut branches as you sweep the trimmer side-to-side
Pole hedge trimmer: Places the traditional hedge trimmer knives on an extension pole—allowing for greater reach
Articulating pole hedge trimmer: These tools feature a pivoting head. With it, you can angle the blades to trim under, over, and/or across hedges
Grass shears/topiary trimmer: This "short" hedge trimmer uses traditional or side-to-side shears. These let you shape hedges more precisely than other designs
While many pole hedge trimmers ship as standalone tools, others function as accessories to a multi-head attachment system.
Cordless Hedge Trimmer Buying Guide – What We Look For
Power Source and Motor
You might be purchasing a cordless hedge trimmer as your first piece of battery-powered lawn equipment. If so, it's important to pay attention to the battery platform you choose. While 18V/20V max models may be attractive due to their reduced weight, they may not provide the necessary power for other tools such as string trimmers, blowers, and mowers. If you don't mind managing multiple batteries and chargers, this may not be an issue for you.
On the other hand, if you value the convenience of using a single set of batteries for all your equipment, consider opting for a more robust battery platform. Most often, the battery-powered lawnmower is what determines the starting point for the platform and brand you want.
Makita uses the same batteries for their 18V and 18V X2 products. Similarly, DeWalt FlexVolt batteries also work with their 20V Max tools. That lets you run certain outdoor power equipment at higher voltage while retaining at least some backward compatibility with your 18V/20V handheld power tools.
Hedge trimmers are one of the tools that can be highly effective with a brushed motor. However, we still recommend the benefits of a brushless motor if it's within your budget.
Weight
You might have to hold your cordless hedge trimmer at chest level (or higher) for an extended period, depending on the height of your hedges. A heavy trimmer can cause fatigue in your arms. We recommend selecting one that carries the least weight for the power you need to get the work done. This makes a typically difficult task more manageable.
Vibration Control
In addition to weight, it is important to consider vibration as you seek to reduce fatigue and increase comfort while using cordless hedge trimmers. We always prefer lower vibration, so if you can find a tool that offers both low weight and low vibration, consider that a solid choice.
Knife Length
Longer hedge trimmer blades (also known as knives) let you shape hedges more quickly. They can also help reduce the need to bend over to reach the base of ground-level hedges. A cutting length of 24 inches makes for a good baseline to consider. Some models offer 26 inches, and Makita even has a model with a cutting length of 30 inches. As an alternative to knife length, an articulating hedge trimmer helps with reach as well.
Cutting Capacity
For most users, using a hedge trimmer with 3/4 inches of cutting capacity works for most applications. More powerful models exist that cut branches up to 1 inch (or more in diameter). With that capacity, you begin entering the Pro models.
Price and Value
When looking for a hedge trimmer, the price is often the first thing people think about. You should also consider how well the trimmer works and whether the design meets your needs. Also, take into account any other tools you might want to use with it in the future. Between product compatibility and warranty/support, you stand to save a lot of money if you make the right upfront choice. For example, if you already have several cordless lawn care tools, you might want to buy the bare tool that uses those batteries.
Hedge Trimmer Features That Make It Easier to Use
Dual-action knives
Rotating head
Reverse/anti-jam
Tip guard (if you trim around screened enclosures or siding)
Debris sweeper
Hybrid AC or battery power
Best Cordless Hedge Trimmer Overall
The Makita XHU07 18V hedge trimmer is a reliable and efficient tool that we frequently turn to for trimming. It runs on a single 18V battery, making it lightweight and easy to handle. We also tested it and found it exhibited some of the least vibration among the models we tested. Additionally, the XHU07 is part of Makita's 18V X2 platform, so it can use the same 18V batteries found in their hand tools.
One of the features that we really appreciate about the XHU07 is the ability to rotate the handle for more comfortable cutting at different angles. The trimmer comes with 24-inch knives, but you can swap them out for 30-inch ones if desired. Or, you buy the XHU08 model which includes the 30-inch knives standard. The XHU07 also has a jam-clearing reverse function and a fast cutting speed of 4400 SPM with minimal vibration.
While the XHU07 presents a less budget-friendly option at $249 for the bare tool and $389 for a kit with two 5.0Ah batteries, it's still a good investment. We actually use this tool and continue to find it one of our go-to products.
Best Cordless Hedge Trimmer for Homeowners
EGO 56V 26-inch Brushless Hedge Trimmer HT2601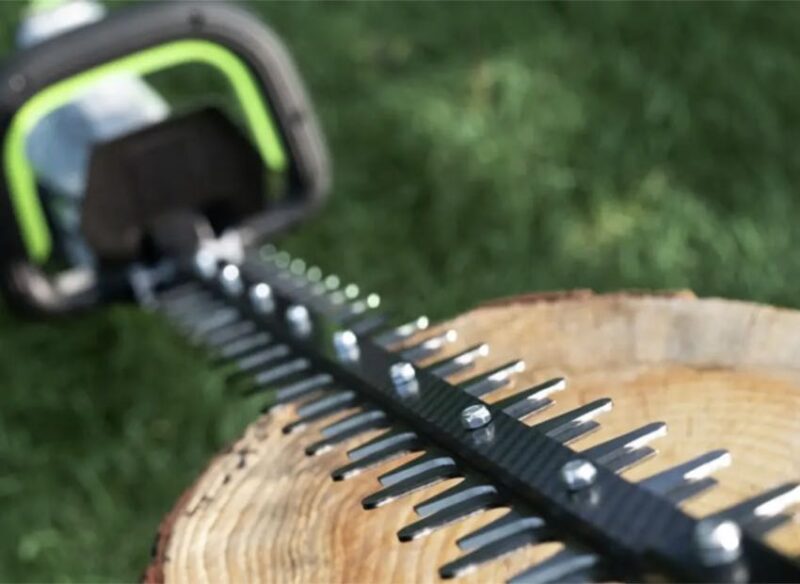 EGO brought a new hedge trimmer into 2022, moving the performance to a higher level and taking over our top recommendation for homeowners. The HT2601 provides 1.2 inches of cut capacity across its 26-inch blades. The brushless motor drives those dual-action blades at 3400 SPM. With an overall knife length hitting 25 inches, you get a ton of reach. For even more versatility, a 180-degree rotating handle lets you trim the sides of hedges as easily as the tops.
As a kit, you can pick up this top-performing EGO hedge trimmer for $249. That price includes a 2.5Ah Arc Lithium battery and charger—along with a 5-year tool warranty.
Best Value Cordless Hedge Trimmer
Greenworks Pro 60V Brushless Hedge Trimmer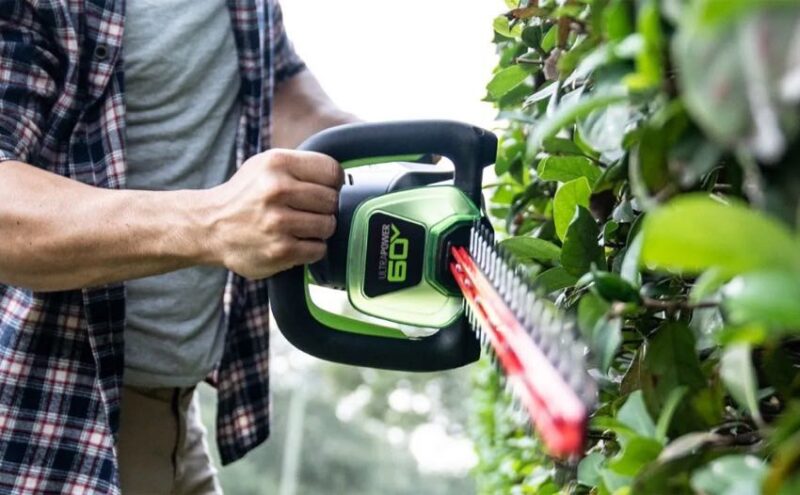 Greenworks emerged as a strong contender in the race for the best cordless hedge trimmer for homeowners, competing against Ryobi and EGO. It ultimately took the top spot for the best value, offering 26-inch knives, a top speed of 3200 SPM, a 1.2-inch cutting capacity, and a rotating handle.
The only downside is that we can find no bare tool option if you already use Greenworks 60V batteries. Get the tool as a kit with a 2.0Ah battery and charger for $219.
Best Budget Battery-Powered Hedge Trimmer
Skil PWRCore 40 Brushless Hedge Trimmer
Skil has gained a reputation for delivering impressive performance at affordable prices with their PWRCore 12 and PWRCore 20 power tool lines. Now, they seem to be bringing that same level of quality to their lawn care products.
The Skil PWRCore 40 brushless hedge trimmer serves as a prime example. This tool includes long 24-inch knives and cuts at up to 3000 strokes per minute. Despite weighing 8.5 pounds with the battery, we like the value of the HT4221-10 kit. Pick it up for around $159 with a 2.5Ah battery and a PWRJump fast charger.
Best Cordless Hedge Trimmers From Brands We Trust
Craftsman V20 20-inch Hedge Trimmer CMCHT810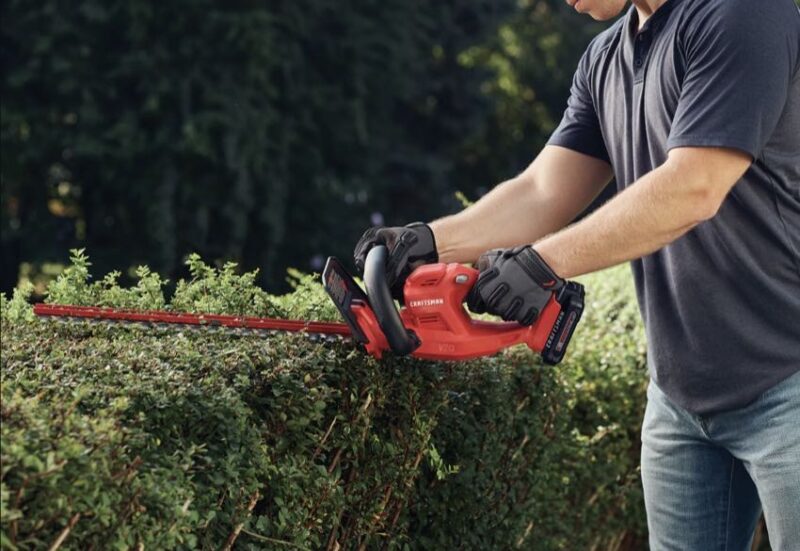 With Craftsman shifting its focus to the V20 platform, you have clearer options for cordless hedge trimmers. We find the Craftsman CMCHT810 a solid choice for those looking for a lightweight tool. It has 20-inch dual-action blades and a stroke length of 3/4 inches. It also weighs less than 8 pounds with the battery installed.
Craftsman adds a VersaTrack-compatible hook to the base of this tool. With that, you can hang it from the wall (even without the VersaTrack system). Since the blades only cut through branches less than an inch thick, you may have trouble with thicker bushes.
You can get this one at Lowe's for $119 with a 1.5Ah battery and charger.
DeWalt 60V Max 26-Inch Hedge Trimmer DCHT870
The DeWalt DCHT870 is a powerful and capable tool for lawn care tasks that require cutting through branches over an inch thick. Its 3400 SPM speed and 1 1/4 inch cutting capacity, combined with its 26-inch knives, make it a valuable addition to the FlexVolt line of products.
However, it should be noted that the DCHT870 is on the heavier side, weighing 8.7 pounds without a battery. Even with the smallest FlexVolt battery, the total weight exceeds 10 pounds.
Pick this one up for $199 as a bare tool or $269 with a 2.0Ah/6.0Ah FlexVolt battery and charger.
The Hart 40V hedge trimmer kit offers a lot of features for its price point of $158. It includes a rotating handle, 24-inch knives, and a 1-inch cutting capacity, making it both efficient and well-designed. The kit also comes with a 2.5Ah battery and charger.
If you already have the 40V system, you can purchase the bare tool for $119. One potential drawback to consider is that this model is not brushless. However, for the price, it may be worth the trade-off.
Husqvarna 40V 24-Inch Cordless Hedge Trimmer 520iHD60
Husqvarna has a couple of battery hedge trimmers to choose from and their 520iHD60 is our pick for its combination of value and performance. This tool works well for both homeowners and professionals looking for a robust cordless hedge trimmer.
The blades move at a speed of 4000 SPM and you get a full 1-1/4 inch cutting capacity on those 24-inch blades. We also found this tool one of the more quieter models—just 78 decibels at your ear.
You can pick this one up for $449.99 as a bare tool from your favorite dealer. We've also seen kits around $699.99 that include a charger and a 5.2Ah battery.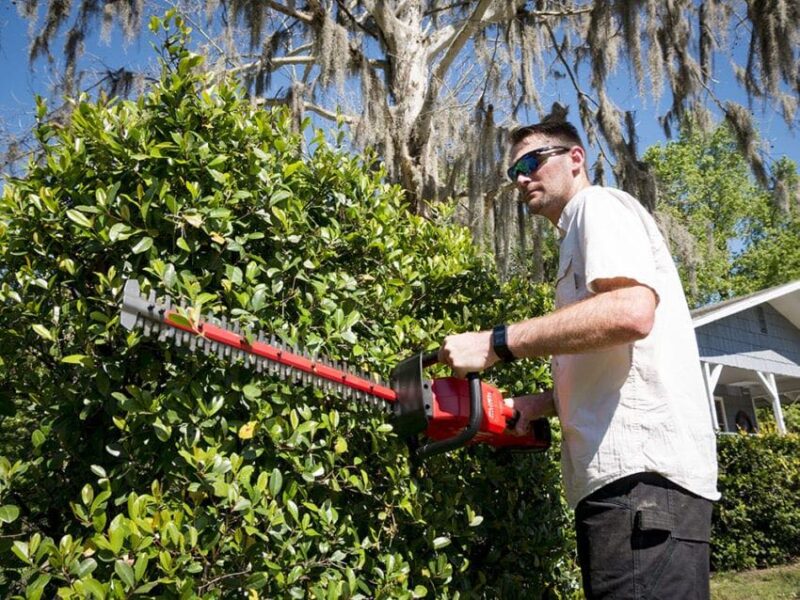 The Milwaukee M18 Fuel cordless hedge trimmer starts with a solid design. Sporting 24-inch blades with a 3/4-inch cutting capacity, they cut at a speed of 3400 SPM. Without the bells and whistles found on other trimmers, Milwaukee seems to have developed a simple design that stands the test of time. We would like to see a rotting handle, however.
You can find the Milwaukee 2726 hedge trimmer either online or in-store for $199 as a bare tool and $349 as a kit with an 8.0Ah High Output battery and charger.
Ryobi 40V HP Brushless 26-Inch Hedge Trimmer RY40640VNM
The Ryobi 40V HP Brushless hedge trimmer is a powerful tool with a 1-inch cutting capacity and longer 26-inch blades. It has a rotating handle and a HedgeSweep bar that helps clear away branches as you trim. In comparison to Ryobi's previous 40V models, the tools in the 40V HP Brushless line have been significant improvements and have helped elevate the brand.
The kit comes with a 2.0Ah battery and charger for $279.
Stihl 36V 24-Inch Cordless Hedge Trimmer HSA 94 T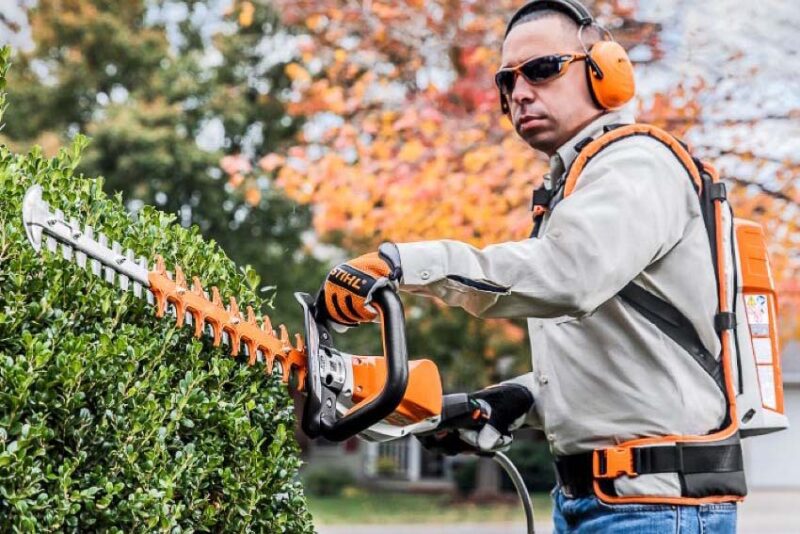 Stihl has several excellent choices for both homeowner and professional needs—though they lean towards those who value a dealer relationship. At the top of their lineup sits the HSA 94 R. This hedge trimmer has a higher capacity and 1.5-inch tooth spacing. You can also choose the HSA 94 T which provides more speed—up to 4700 SPM. It also shaves around a half pound. With two great choices, you can't go wrong (but we still recommend going with the lighter-weight model!)
These professional-level tools aren't cheap. Both of these Stihl cordless hedge trimmers retail for $549.99, and that's before you add a battery or charger.
What About the Best Cordless Pole Hedge Trimmer?
This article focuses on traditional hedge trimmers. However, there are plenty of cordless pole hedge trimmers, and we also really like articulating models that give you greater reach. You can find a majority of these products in our best attachment systems article.
Why You Can Trust OPE Reviews
Have you ever read a "review" site and found that you couldn't tell if they actually tested the tools or if they were just "recommending" the top Amazon sellers? That's not us. We won't recommend anything unless we'd actually use it ourselves—and we don't really care who the primary retailer is. It's all about giving you a legitimate recommendation and our honest opinion of each product.
We've been in business since 2016 covering outdoor power equipment, writing reviews, and reporting on industry news in the landscaping, heavy equipment, and lawn care industries. Our Pro reviewers have lots of experience in these fields as well as the skills and experience to know whether these products can perform well on the job.
Each year, our team reviews and gets their hands on hundreds of additional landscaping tools and equipment at our shop and at media events and trade shows.
We work with dozens of professionals around the United States who review products for us on real job sites and consult with us on testing methods, categories, and weighting.
We'll provide hundreds of pieces of new content this year absolutely free for our readers—including objective evaluations of lawn care tools, products, and accessories.
The end result is information you can trust because of the editorial, scientific, and real-world professional experience we collectively utilize each and every time we pick up and test a product.