EGO Zero-Turn Riding Mower Line Adds a 52-Inch Option
Following the successful launch of their 42-inch battery-powered zero-turn riding mower, the larger EGO 52-inch model offers several key step-ups. From the larger, fabricated deck to the 12Ah batteries—can this larger mower prove a good fit for those with larger properties? Both EGO zero-turn mowers offer advanced features and plenty of run-time for residential use.
Editor's Note: Check out this video review of one of the EGO Z6 zero-turn mowers in action!
Pros
Compatible with all 56V ArcLithium EGO batteries
Onboard fast charging
LED lights cover both safety during the day and low/no-light mowing
Comfortable, adjustable seat with armrests
5 different drive and cutting speeds
Easily cuts 1-1/2 acres on a single charge
Cons
Unconventional deck height increments
Starting the EGO Zero-Turn Riding Mowers
EGO's initial 42-inch zero-turn mowers featured a steel deck equipped with two 21-inch blades, powered by four independent brushless motors. It boasted a performance level equivalent to that of a 22 HP gas engine and could reach a top speed of 8 MPH. The upgraded EGO 52-inch zero-turn mowers feature a 3-blade design. It boasts a performance level equivalent to that of a 25 HP gas engine.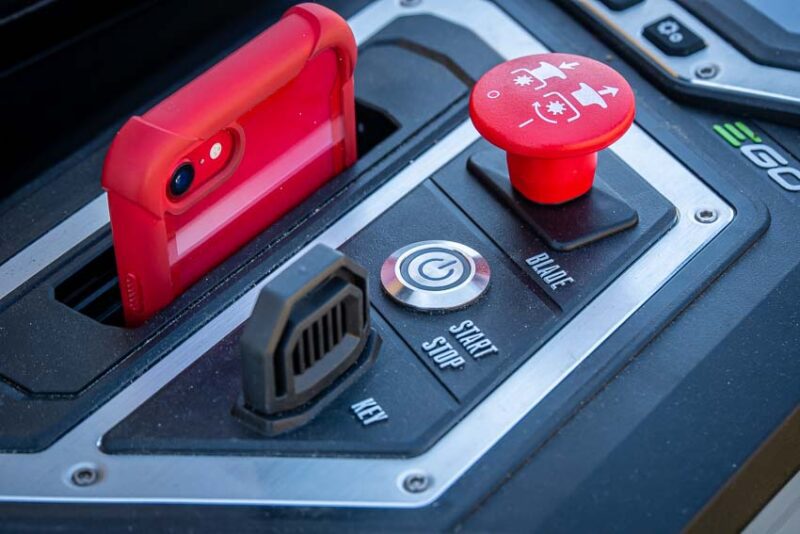 To activate the mower, ensure that the key is inserted, then press the power button to check the charge status. Press and hold the power button to turn on the mower. To engage the mower, push down on the parking brake located on the left side using your foot, then you can begin using the mower.
Controlling Drive and Blade Speed
EGO battery-powered zero-turn riding mowers come equipped with separate controls for both the drive and blade speeds. Each control has four modes, with an additional "bonus" mode. You access that by holding down the button at its highest level. The drive speeds while cutting range from 3 to 7 MPH. You can access the top travel speed of 8 MPH by pressing and holding the button while in the highest mode.
The blade speed control has four modes. We find the bottom two speeds suitable for cutting dry grass while the top two speeds work better for thicker, wetter grass. Additionally, a "Turbo" mode (accessed by pressing and holding the button after reaching the highest speed) works well for particularly tough patches of grass. We didn't find it necessary during regular cutting.
The mower also has three drive modes to choose from: Control, Standard, and Sport. These modes define the aggressiveness of both acceleration and turning. Remember, since each wheel has its own brushless motor, software ultimately controls your steering.
Control mode is recommended for new users or those who need to be careful around landscape obstacles. Standard mode compares well with most residential zero-turn mowers. Sport mode produces the quickest acceleration and turns. In Sport mode, it's possible to spin the tires slightly.
We recommend sticking with Standard mode unless you're an experienced user or need to quickly cut a lawn in adverse conditions.
EGO 56V Battery-powered Zero-turn Riding Mowers Performance
Cutting
After cutting a combination of Bahia and St. Augustine grasses, we felt the EGO zero-turn mowers produced excellent cut quality. The Z6 reduced the height of our test yard from 5 inches to approximately 3-1/2 inches (oddly measured in "1/3-inch" increments).
Both EGO zero-turn mowers gave us ample power to drive the blades effectively. It was possible to cut grass at the lower two speeds, but the lift and side ejection of the clippings were greatly improved at high speed. In this setting, the mower cuts most similarly to a high-quality gas-powered model. It is also the recommended setting for optimal mulching when using the optional mulching plug.
EGO 42- and 52-inch Battery-powered Zero-turn Lawn Mowers Runtime
During our testing, we mowed a yard of approximately one acre in size. Using one of the 42-inch EGO zero-turn mowers, we were able to complete the task with ample battery power remaining. The test was conducted in the Standard mode with both drive and blade speeds set to level 4. This configuration allowed us to mow for approximately one hour, using only the batteries that came with the mower.
If you have similar lawn conditions, using the same settings on the EGO battery-powered zero-turn riding mower, you should be able to mow approximately 1.5 acres. With properties with longer runs between turns, it could reach up to 2 acres. EGO claims that by adding 2 more 10Ah battery packs, you could cover up to 3 acres. This seems like a fairly realistic estimation of use.
When using the larger deck and bigger battery on the EGO 52″ zero-turn mowers, you can expect even more coverage. Our test was conducted with the same settings, Standard mode, and level 4 for both blades and drive. We cut for a full 75 minutes. If you were able to maintain top speed the entire time that translates to roughly 4.5 acres. However, if you were to maintain a more realistic average speed of 4-5 MPH, you would cover around 2.5-3 acres.
EGO Zero-turn Riding Mowers Power Source
One of the key features for current EGO users is that the company has decided to maintain consistency and compatibility by using the same battery platform across their 56V product line. This includes their riding mowers. Each ZT mower holds a maximum of six batteries. It doesn't seem like EGO can extend much beyond the physical size of the 12Ah battery packs based on available space.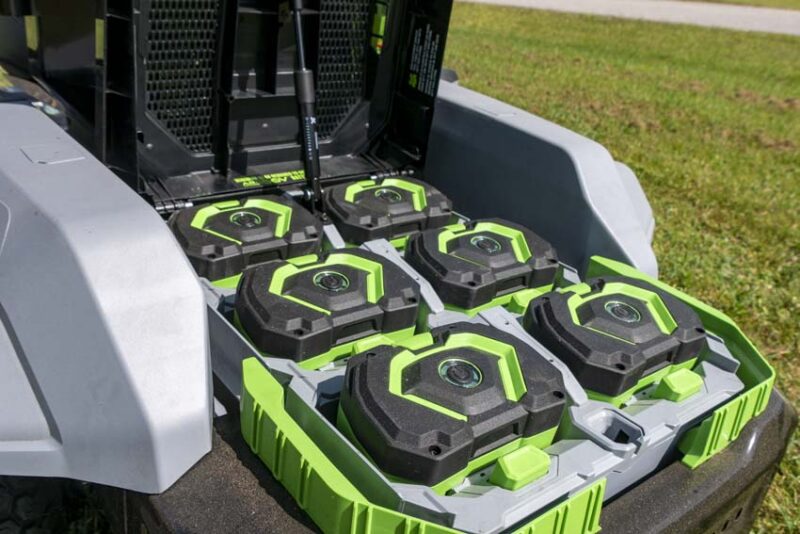 The 42-inch model comes with four 10Ah batteries, providing a total potential capacity of 3360 watt-hours. Out of the box, you have 2240 watt-hours to work with. The 52-inch model comes with six 12Ah batteries for a total capacity of 4032 watt-hours.
It's worth noting that EGO's design is especially convenient. By using their 56V battery and Peak Power technology, the mowers remain compatible with all other EGO 56V tools. This lets you easily use the batteries from your other EGO tools to extend the mower's runtime. Additionally, you can swap out batteries if you need to cover a larger area than what one set of batteries can handle.
EGO zero-turn mowers can run off almost any combination of 56V batteries. They just need to total at least 15Ah in capacity. During our test, we found that batteries with capacities of 10Ah, 7.5Ah, 5.0Ah, and 2.5Ah, can bring the mower to life as long as the total capacity hits 15Ah or more. While not all are recommended, some possible "minimum" combinations include:
6 x 2.5Ah 56V batteries (probably won't result in much runtime)
4 x 4Ah 56V batteries
3 x 5Ah 56V batteries
2 x 10Ah 56V batteries
Charging the EGO Battery-powered Zero-Turn Riding Mowers
An additional aspect that is worth mentioning is the charger. It can charge all six batteries simultaneously—even while still in the mower.
Charging four 10Ah batteries take 2 hours and charging a full load of 6 batteries takes 3 hours. The 52-inch model lets you charge all six 12Ah batteries back to full capacity in just 4 hours.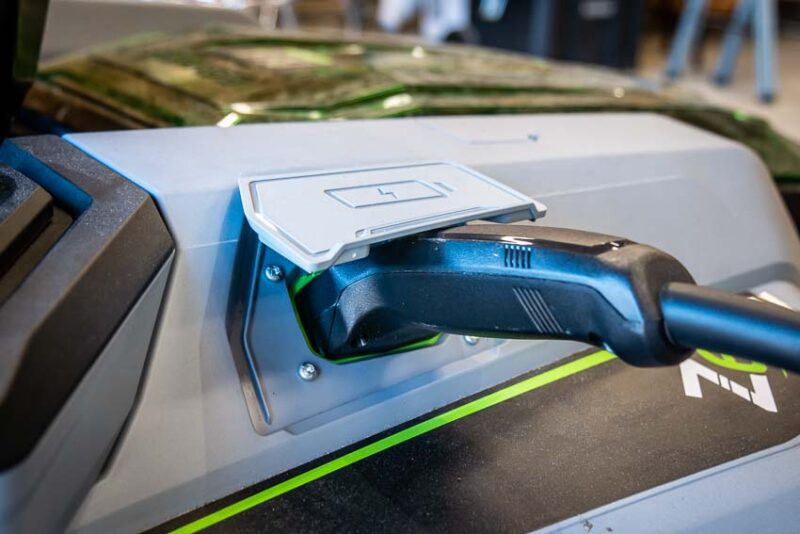 EGO states that after just 15 minutes of charging, you'll have enough power to cover a quarter of an acre of grass. This can be useful when you need to finish mowing but don't want to wait for a full charge cycle.
During our test, we ran the mower down to 6% battery, which prompted the mower to enter into "limp mode" and indicate to return to the charger. The four 10Ah batteries took 1 hour and 53 minutes to fully charge, which is slightly faster than EGO's estimate.
The charger is relatively large, but it has keyholes on the back for wall mounting, and the cords provide a total reach of 15 feet.
EGO Zero-turn Riding Mowers Additional Highlights
Traditional Design
EGO zero-turn mowers have a classic zero-turn profile, with individually controlled 18-inch drive wheels at the back and 11-inch 360° caster wheels at the front, to help make tight turns using the lap bars.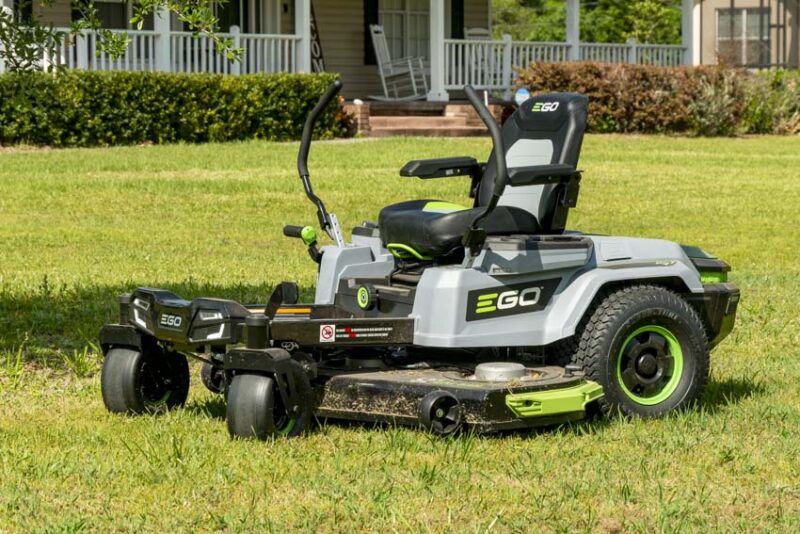 As with most zero-turn mowers, the long wheelbase of the mower can make it challenging to maneuver around obstacles. While it is certainly capable of making tight zero-radius turns, it can be difficult to get the cutting deck close to smaller trees, underground tank covers, and other objects.
The rear of the mower also sticks out a considerable amount, making it very similar to a traditional engine-powered zero-turn mower.
LEDs for Sight and Safety
The front of the EGO zero-turn mowers features LED lights which are always illuminated when the mower is powered on. However, by pressing the light button on the control panel, you can activate additional lights to aid when mowing in low or no light conditions.
A second set of LED lights on the rear blink when you put the mower into Reverse. Hopefully, this warns anyone who might be standing behind the ZT when you back up.
Height Adjustments
Located on the right side of the driver's seat is the manual deck height adjustment bar. It lets you adjust the 42-inch steel deck to any of 10 different heights between 1-1/2 and 4-1/2 inches.
The adjustment levels provided are in 1/3-inch increments, this might seem unusual at first, but it isn't a significant issue once you find the preferred height. The 52-inch model has a similar story, except for the difference in width. It also has a fabricated deck rather than a stamped deck.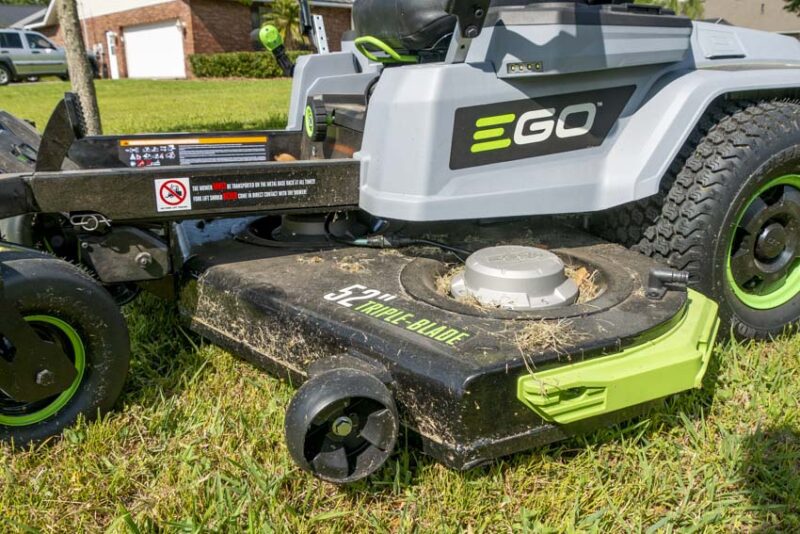 Device Storage and Charging
The EGO 52-inch zero-turn riding mower offers a convenient storage area with a magnetic closure and an interior USB charging port. This space is spacious enough to store your phone, wallet, and keys while you mow.
Located adjacent to the storage area, is a cup holder that accommodates two sizes of drinks like water bottle, soda can, or even a large size cup from your local store. Additionally, a dedicated slot on the right side of the control panel allows for quick and secure access to your phone while mowing. It doesn't quite feel protected enough for me to trust the fragile glass of my iPhone to it, however!
Seating Arrangements
At the center of the 52-inch mower, EGO has incorporated a comfortable seat with adjustable armrests, this seat is the most comfortable among the residential battery-powered ZTs we've tested.
Our tester, Clint, was able to find a suitable setting for his lighter frame, but the seat did bottom out in rough terrain. A few adjustments were needed to fix this but overall, we found it comfortable.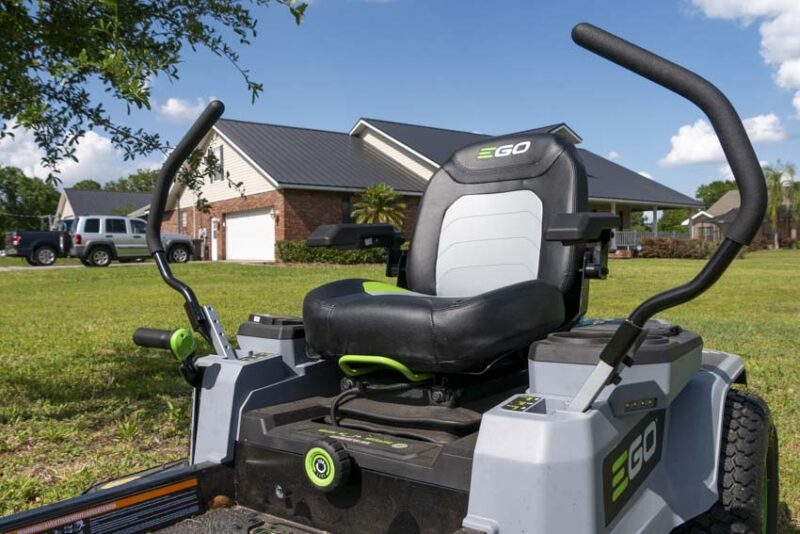 In contrast, as a person who is 6-foot-2 inches tall and 200 pounds, I found that I needed to increase the tension and adjust the seat back slightly. But after some adjustments, I was able to find a comfortable setting with ample room.
Many of EGO's competitors use non-adjustable spring systems. I find these less accommodating for riders who are lighter or heavier than average.
Eyes Forward LED Charge Indicator
We spotted something cool from the driver's seat of the EGO zero-turn mowers. An LED indicator between your feet lets you keep an eye on your charge levels without taking your eyes off the grass. We love this feature.
More LCD Info
The LCD screen has some additional features, including facilitating Bluetooth connectivity for diagnostics. One of the more innovative features lets you calibrate the mower to correct any left or right drift of the brushless motors. It's by far the most advanced control system we've seen so far.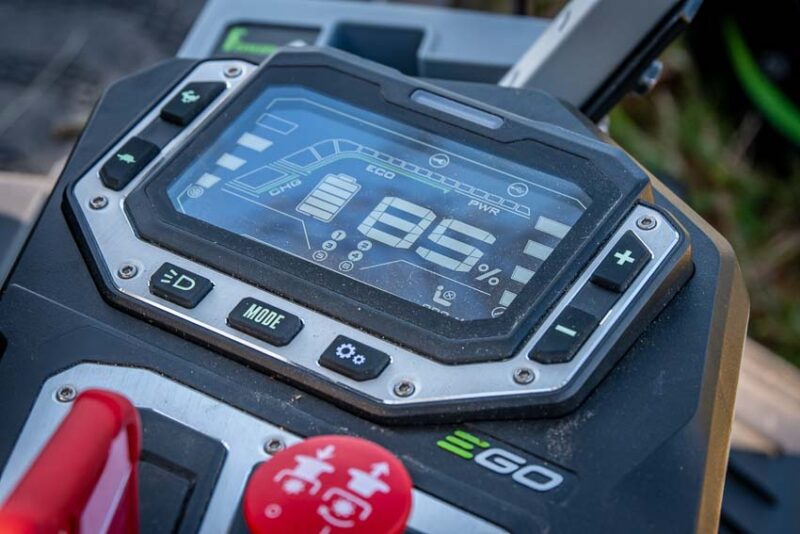 Deck Wash Hose Connection
EGO gives you a handy deck wash hose connection on the driver's side. We recommend blowing off the deck and using that washout port to keep the mower in decent shape from week to week.
EGO 42- and 52-inch Zero-turn Riding Mowers Price
As a full system with the new charger and four 10Ah batteries, the 42-inch EGO zero-turn retails for $5499. Given other options on the market, that presents an attractive price for anyone looking to go with a residential battery-powered ZT solution.
If the 52-inch model fits your needs better, it retails for $6999 with six 12Ah batteries.
Register your purchase and EGO covers the mower, charger, and batteries for 5 years.
The Bottom Line
The EGO 56V 52-inch zero-turn riding mower raises the bar for what you can expect from a battery-powered rider. While more expensive than some other options, it also delivers a more advanced design. In our opinion, EGO clearly did its homework, delivering premium options for battery-powered residential zero turns.
Have any questions or feedback? Let us know in the comments below!
EGO 52-inch zero-turn Riding Mower Specifications
Models: EGO ZT4204L (42-inch), EGO ZT5207L (52-inch)
Power Source: EGO 56V batteries (at least 15Ah combination required)
Gas Engine Equivalence: 22 HP (42-inch), 25 HP (52-inch)
Deck Material: Steel
Deck Width: 42 inches or 52 inches
Max Coverage: 3 acres (42-inch), 4 acres (52-inch)
Warranty: 5 years with registration
Price (42-inch): $5499 with four 10Ah batteries and charger
Price (52-inch): $6999 with six 12Ah batteries and charger
Learn more on EGO's website .