Exmark 2022 Radius X-Series Features Major Power Upgrade Plus Other Bonuses
Designed for the professional and commercial landscaper, Exmark added some new features to its 2022 Radius X-Series Zero-Turn Lawn Mower. We took a look at some of the 2022 updates to see if this model offered some advantages to benefit lawn care Pros.
2022 Exmark Radius X-Series Zero-Turn Lawn Mower Details
2022 brought some noteworthy features to the updated Exmark X-Series Radius ZT mower. First, it includes a larger, more powerful engine. Exmark claims the 31HP Kawasaki twin-cylinder engine makes these the most powerful Radius models to date. For comparison, the 2021 Radius X-Series used a 23.5 HP engine. This translates into roughly a 32% increase in horsepower.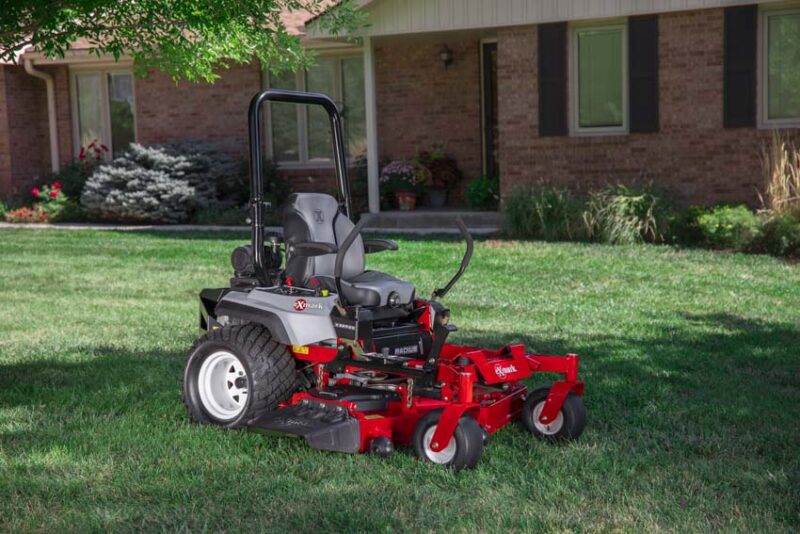 Exmark also increased the cutting depth of the 60-inch deck. While the E-Series and S-Series zero-turn mowers cut up to 5-inches, the Radius X-Series features a larger 5.5-inch cutting capacity. Combine the extra 0.5-inch increase and larger horsepower motor and you get the ability to mow thicker grass at faster speeds.
Turning to speed, the new Kawasaki engine helps this Radius X-Series mower cut at up to 10 MPH. For comparison, the E-Series and S-Series mowers topped out at 9 MPH.
Another 2022 upgrade to the Exmark Radius X-Series includes their premium full-suspension operator's seat. With it, you adjust the seat to match your weight—at least as a starting point. We've used these seats extensively, and they really do reduce vibration. On top of everything, they even added an Elastomeric Vibration Control foam base.
Additionally, Lazer Z-style deck strut insolation technology eliminates sway, eases deck height adjustment, and reduces vibration.
Additional Features
Side-discharge design
Flow Control baffle technology for improved cut quality
Larger 24-inch Kenda drive tires and front caster wheels
Heavy-duty unibody steel frame
Improved balance by housing heavier components at the mower's base
Maintenance-free sealed bearing blade spindles
Digital hour meter
Window-style fuel gauge
Integrated hitch and jack receiver (jack sold separately)
How Much Does the Exmark Radius X-Series Zero-Turn Lawn Mower Cost?
Pricing for the 2022 Exmark Radius X-Series Zero-Turn lawn mower starts at $12,099. Exmark will get you an estimate on their website or you can find a local dealer .
Specifications
Model: Exmark RAX921GKA604A3
Length: 82 in
Width: 73 in
Height: 70 in
Curb weight: 1232 lbs
Cutting deck width: 60 in
Blade tip speed: Approx. 18,500 FPM
Cutting height: 1.5 in to 5 in; 0.25 in increments
Blade length: 20.5 in
Engine displacement: 999cc
Engine speed: 3750 RPM
Fuel capacity: 7 gal
Electrical components: 12V battery w/ 15A alternator