We saw the Grasshopper Model SO26 stand-on mower at the 2022 Equip Expo in Louisville, Kentucky. Coming off a three-year development cycle, the mower features a 26HP Vanguard engine and a height-adjustable command center tower that provides easy access to controls.
Grasshopper SO26 Stand-on Mower Design and Features
Grasshopper mounted the T-Drive transmission and engine right on the deck to prevent damage when raising or lowering it. It also lets them go with an inline serpentine belt. They use the same T-Drive hydrostatic transmission with tandem 12cc Parker pumps-in-reservoir they've been using in their out-front machine.
Possibly the best feature is the tower platform has a 4.5-inch vertical adjustment range. Using a cordless drill or ratchet, you can quickly set it to preference. With this adjustability, the mower can be driven by virtually anyone. Combined with the EZ Deck Lift Lever, it allows for easy adjustment of the cutting height.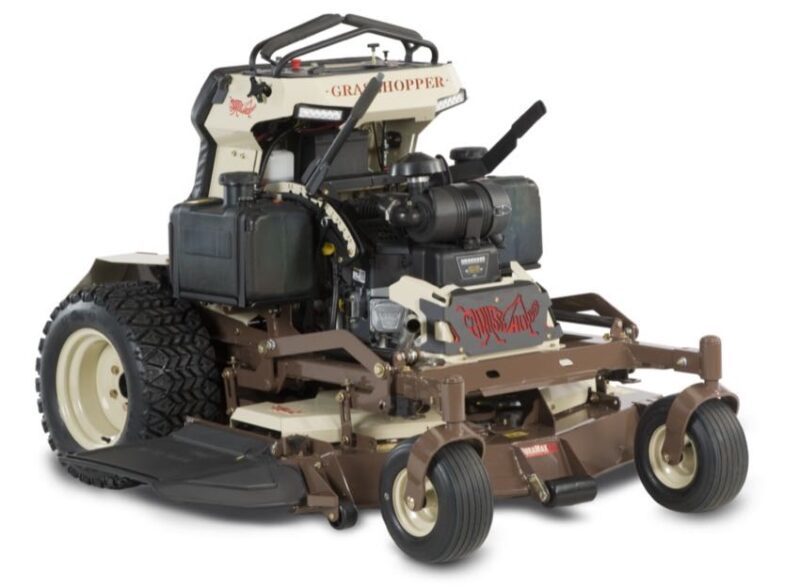 The platform features an extra-wide, extra-thick anti-slip pad for driver comfort during long mowing sessions. You also get a shock-absorbent coil-spring suspension that makes mowing feel effortless. Grasshopper also positioned the SO26 platform between the drive tires to eliminate the "slingshot" effect.
Author's Note: The "slingshot effect" occurs when your standing position sits too far behind the drive wheels on a stand-on mower and you make a sharp turn. The momentum created by the turn pulls the operator away from the controls. To eliminate this, many manufacturers have relocated the operator standing position closer to the zero-turn position between the rear wheels of the stand-on mower.
Available Options and Deck Sizes
Grasshopper lets you choose between 52″ or 61″ extra-deep DuraMax decks. The SO26 runs an 810cc OHV Briggs & Stratton Vanguard 26HP engine. They match it to the transmission, deck, and overall weight of the machine.
The compact wheelbase and low center of gravity also make it easy to maneuver through tight spaces, and the centralized location of the engine, T-Drive pump, and dual fuel tanks helps to lower the center of gravity within the stand-on. With a 9.25-gallon total fuel capacity, you can mow up to 5-1/4 acres per hour before needing to refuel. Speed maxes out at 9.5 mph.
Pricing and Availability
You can buy the Grasshopper SO26 Stand-on Mowers now from authorized dealers . The 52-inch model retails starting at $11,995.
Key Specifications
Engine: B&S Vanguard V-Twin 49.4 cu. in. (810cc)
Fuel capacity: 9.25 gal. twin tanks with fuel selector
Decks: 52 in. (3×18 in.), 61 in. (3×21 in.) dual-layer 10-gauge + 7-gauge formed steel deck
Suspension: Coil spring with dampening
LED work lights
Transmission: T-Drive hydrostatic with tandem 12cc Parker pumps-in-reservoir
Max speed: 9.5 mph (15.3 kph) forward, 5.0 mph (8.0 kph) reverse
Tires: 23 x 10.5-12, 350 Mag OTR, 4-ply rated
Dimensions (LxW 52/61): 73×53 / 75.3×62 (not including side discharge chute)
Weight (52/61): 1080 lbs. (489.9 kg) / 1120 lbs. (508.0 kg)