The Greenworks 82V Blower Brings Cordless and Commercial Together
Of the many tools that populate the realm of outdoor power equipment, cordless products have probably made the biggest leap of all. Indeed, battery-powered technology and performance are at a stage that many of us found hard to imagine, in some instances rivaling gas-driven gear. A case in point is the Greenworks 82V commercial backpack blower (model 82BA26).
Let's take a quick tour, shall we?
Greenworks 82V Commercial Backpack Blower Performance
Max Airflow: 690 CFM
Max Airspeed: 195 MPH
Blowing Force: 26N
Runtime: 60 min. (high), 34 min. (turbo)
Noise Level: 73.4dB
Gas-Equivalent: 63cc
Based on the numbers, at least, this 82V backpack blower can get pretty gusty. According to Greenworks, the max air volume is 690 CFM with a top speed of 195 MPH.
That's performance that's fairly comparable to the Greenworks 60V X-Range model.
And here's something worth noting. In spite of this power, this blower's brushless motor seems to keep the noise down. Specifically, Greenworks advertises 73.4 decibels, which is hardly ear-shattering.
Of course, whenever you're dealing with cordless equipment, the million-dollar question is: "How long can I run it?" The manufacturer says that the Greenworks commercial backpack blower should provide 34 minutes of runtime on turbo, using two fully-charged 8Ah batteries.
So again, based on the numbers, you have the power and the time to tackle various commercial applications.
Greenworks Commercial Backpack Blower Design
Model: Greenworks 82BA26
Power Source: Greenworks 82V batteries
Weight: 16 lbs. (bare), 28.3 lbs. (operating weight)
Trigger Type: Variable speed
Weather Rating: IPX4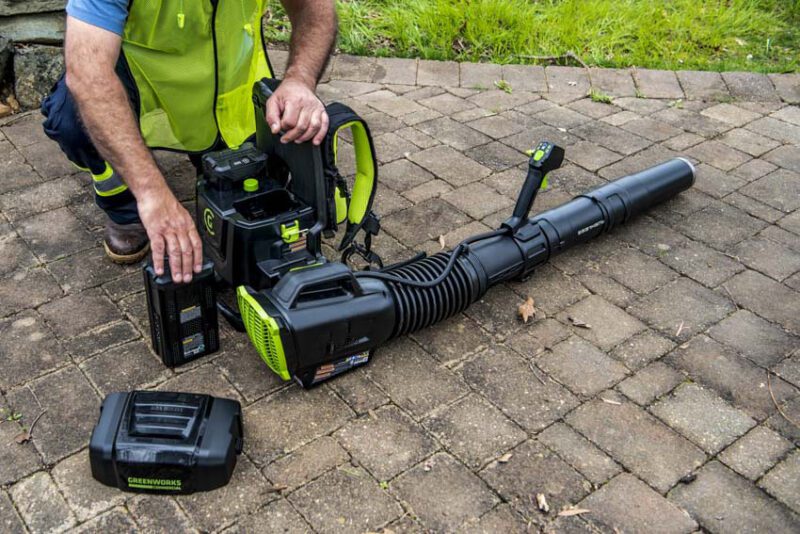 Concerning design, comfort is a pretty big deal when you have a tool mounted on your back. The Greenworks commercial backpack blower features wide, padded shoulder straps, as well as padded waist straps.
The throttle consists of a variable-speed trigger, a cruise-control lever, turbo button, and a battery indicator. What's more, this model has an adjustable grip and a steel nozzle ring for durability and even scrapping up stubborn debris.
Additional Features
Compatible with all Greenworks Commercial 82V batteries
Steel nozzle ring for added durability
Greenworks 82BA26 Price
As a bare tool, this blower retails for $362.99 and $899.99 as a kit. The latter comes with two 5.0Ah batteries and a dual-port charger. Greenworks backs both the blower and batteries with a 2-year limited warranty .