Kubota Announces 3 New Z200 Residential Zero-turn Mowers with K-RIDE
Kubota Tractor Corporation has expanded its residential zero-turn mower offerings with three new Kubota Z200 Series. The updated mowers will be available from your local Kubota dealership starting January 2023.
What is Kubota Saying About the New Z200 Lineup?
"These mowers are perfect for homeowners with large properties or lawns to maintain who want a durable mower that mows like a commercial mower, and will stand the test of time. Some say our mowers are over-engineered for the residential market, and we wouldn't have it any other way. That's how Kubota has built its reputation, on durable, high-quality equipment—and we keep that bar high across all product lines."

Tom Vachal, senior turf product manager for Kubota
Mower Options in the Kubota Z200 Line
The Kubota Z200 series includes 3 new models that run the gamut of deck sizes and engine options. The Z232 brings a 42-inch mower deck, while you can get the Z242 and Z252 models with either a 48-inch or 54-inch deck. Those models also include either Kohler or Kawasaki engine options.
All three Z200 series zero-turn residential mowers feature elements of the Kubota K-RIDE comfort system. The technology helps ride comfort—regardless if you plan to mow for an hour, or all day on much larger properties. Kubota engineered the Z200 Series for durable residential use.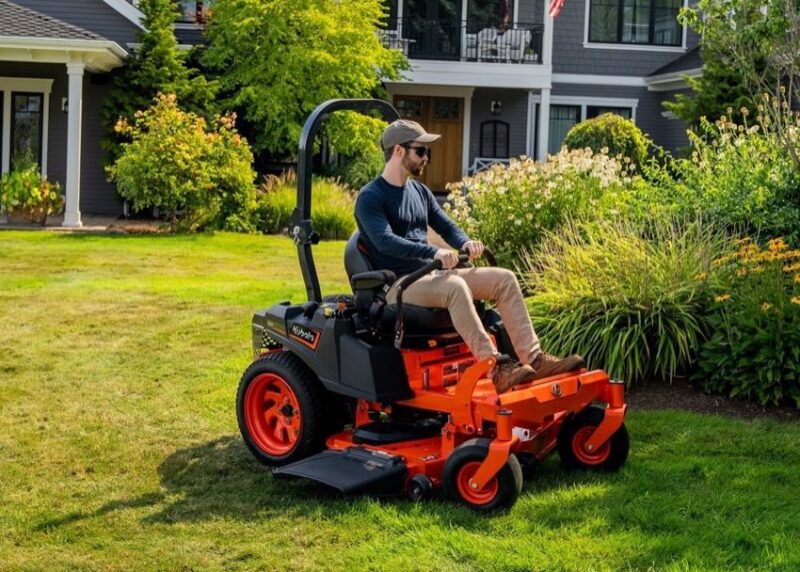 What is the K-RIDE Comfort System?
The Kubota K-RIDE comfort system includes features that reduce vibration and improve operator comfort. But how? Well, K-RIDE takes a variety of features and jams them altogether for a package that most residential users should appreciate.
For example, the Z200 Series offers a keyless start, a high-back suspension seat (available on the Kawasaki engine model), an improved foot pan design with vibration isolators, and a Kubota-exclusive lap bar design.
Kubota's K-Lift pedal lets you easily adjust the cutting height without much effort at all. An updated hydrostatic transmission (HST) lever even helps to reduce vibration. K-RIDE—rather than an actual single component—represents a grouping of features designed to help you have an overall improved level of comfort when you mow.
Additional Kubota K200 Residential Zero-turn Features
Depending upon which model you purchase, you can buy the Z200 Series mowers with several pro-level features. That includes a foldable ROPS bar (on the Kawasaki engine model). You can also get an adjustable suspension seat—which we love and feel is worth the money. Some models include a higher-quality steel mower deck.
Some of the mowers even include a push-button start feature. All Kubota Z200 mowers include a 4-year, 300-hour warranty.
Safety
Kubota designed the Z200 Series with an eye on operator safety. These mowers have a low center of gravity, and just in case you manage to put that feature to the test, Kubota included a ROPS system with every model—not just the higher=-end SKUs. The mowers even include seatbelts. A flexible spring-loaded plastic discharge shield and four safety interlocks add to the safety features.
Kubota K200 Series Warranty
Kubota covers the Z200 Series mowers with a comprehensive manufacturer warranty of four years or 300 hours on both the mower and the engine.
For more information about the Kubota Z200 Series mowers, or to find your closest dealer, visit the Kubota USA website .