As much as we love our string trimmers, some of us wonder why there aren't more customizable options for such a multifunctional tool. This uncertainty prevails especially as it pertains to string trimmer heads. "Why isn't there a universal standard for our string trimmer heads?" We, at OPEReviews.com, get asked this question quite a bit. So, in response, we thought we'd take a stab at answering that question.
Why Isn't There A Universal Standard?
Gas-Powered String Trimmer Heads
If you find that you've asked this question before, the chances are good that you're using either a corded or cordless electric trimmer. The truth is that gas-powered string trimmers, such as the Husqvarna 525LS String Trimmer, don't generally suffer from having a lack of options. While there isn't necessarily a universal standard in the gas-powered world, switching out string trimmer heads, line gauges and shapes, blade attachments, etc., don't tend to be much of a problem.
This is especially the case with pro-grade string trimmers. Basically, as long as the string trimmer head is compatible with the arbor bolt coming out of the trimmer, the combustion going on in the gas engine will be more than enough to power any gauge string or attachment you might want to use.
Electric Trimmers
This becomes more of an issue when it comes to electric string trimmers. Many cordless heads cannot be upgraded to professional grade heads, or replaced if the trimmer head breaks. Most electric string trimmers are relegated to the world of light gauge trimmer string. Bladed attachments generally don't work for the electric string trimmer either. Why is this? There are probably a few reasons why there isn't a universal standard for electric string trimmer heads.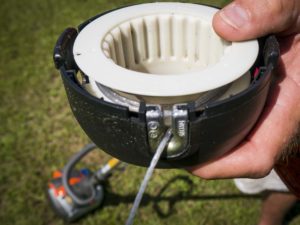 Corded Trimmers
In the case of the corded string trimmer, the reason might just have to do with the quality of the trimmer. Corded trimmers handle the needs of the homeowner with a smallish lot, but don't tackle too much beyond that. They're generally the cheapest of the string trimmer options, and the quality and customization of these units reflect that. Suffice to say that corded string trimmers generally aren't designed to handle anything but light-duty work.
Battery-Powered Trimmers
This is not the case with a lot of cordless models. Many of the battery-powered, cordless string trimmers have the requisite quality to handle some professional applications, but the problem comes from the design. Most cordless string trimmer heads come "hard-wired" to the unit, rather than being attached by an arbor bolt. A lot of the time, this happens because the motor for the trimmer is placed at the bottom of the shaft, with the head mounted directly to it.
Also, electric motors just don't produce the kind of power that a gas engine will. Electric motors, particularly from the cordless market, prioritize efficiency over power in an effort to improve runtime and vibration control. Therefore, the head that comes with the trimmer is specifically attuned to that model. Weight, speed, and the wind resistance of a particular gauge of string all factor into the software of the unit. Having the capability to customize the trimmer head, or to string up a thicker gauge line, would inevitably throw the head out of balance. This could cause much more vibration or potential breakage. Ultimately, one of the big reasons for not having a universal standard, at this point, seems to revolve around the delicate and proprietary systems of cordless electric trimmers.
Final Thoughts
To sum it all up, there might not be a universal standard for string trimmer heads. But, if you work with gas powered trimmers, it shouldn't matter all that much. As long as your arbor bolt and upgrades are compatible, you ought to be good to go. Even this isn't much of a problem, as arbor bolt adapters are widely available.
The problem with universalizing string trimmer heads in the electric world has to do with performance from model to model. Since each manufacturer optimizes a trimmer to specific cutting head specifications, any deviance from that spec could ruin the trimmer. Plus, battery-powered trimmers tend to have their cutting heads mounted directly to their motors, making customization impossible.
Perhaps cordless manufacturers could eventually establish a standard. The cordless tool market keeps seeing continual improvement, with electric motors becoming more powerful and efficient. It does seem unlikely, however, at least in the near future. As manufacturers continually improve their own proprietary platforms, there might not be much incentive to universalize parts. Though making a cutting head upgradeable in the electric market seems like a good inroad to more professional functionality, it seems like all we can do is dream. At least for the time being.