Ryobi's Most Powerful Electric Pressure Washer Hits the Market
Ryobi seems destined to make our best electric pressure washers list, releasing its most powerful model to date. The Ryobi RY143011VNM electric pressure washer boasts 3000 PSI, but is that enough to satisfy homeowners looking to do basic cleaning?
Ryobi 3000 PSI Electric Pressure Washer – The Big Deal
With 3000 PSI, the Ryobi RY143011VNM is clearly the company's most powerful electric pressure washer Ryobi. Using a brushless motor and water-cooling technology, the company designed it for cleaning driveways, sidewalks, siding, and other surfaces.
Ryobi designed this electric pressure washer to put out enough pressure to compete with entry-level gas-powered models. The upside is that the Ryobi RY143011VNM requires no gas or oil. Indeed, it removes the need for most maintenance you'd associate with a typical gas pressure washer. While Ryobi nails the entry-level PSI pressure needed for a true homeowner product, gas still typically offers great water flow rates (GPM). Ryobi tops out at 1.1 GPM while consumer 3000 PSI gas pressure washers average around 2.0 GPM.
Still, this is a big deal. Greenworks is the only other electric pressure washer at the same PSI output level. Coincidentally, both are PWMA-certified .
Additional Features
On-board accessory storage
35-foot high-pressure hose with wrap
Integrated detergent (soap) tank
GFIC plug
12-inch wheels for navigating rough grass or on and off concrete
Integrated soap tank
Includes 5-in-1 Quick-Change nozzle (15°, 25°, 40°, Fan Soap, and Jet Soap) and a Turbo nozzle
Ryobi introduced two other pressure washers alongside this model. They released both a 2700 PSI version and also an 1800 PSI pressure washer. You can purchase any of these three tools right now at Home Depot (in-store or online).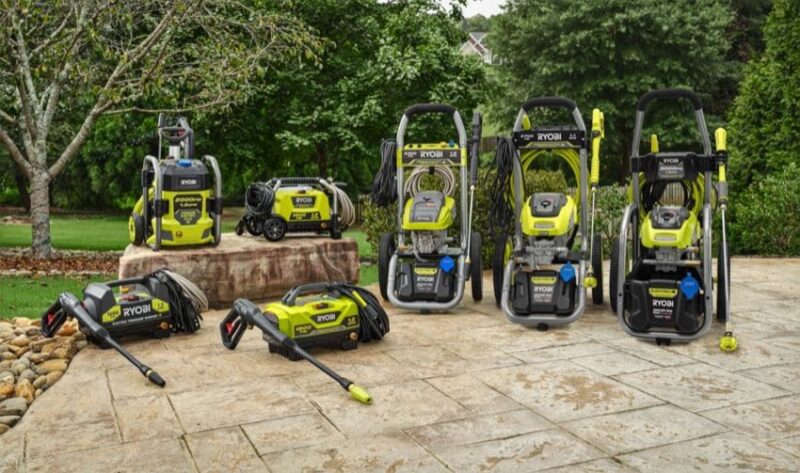 Ryobi 3000 PSI Electric Pressure Washer Price
The Ryobi RY143011VNM is exclusive to The Home Depot. It retails for $399 with a 3-year limited warranty.
Specifications
Model: Ryobi RY143011VNM

Amperage: 13A

Cord Length: 35 ft

Adjustable nozzle + Turbo

Electric ignition start
Axial pump
Dimensions (LxWxH): 24 x 20.5 x 12.6 in.
Weight: 39 lbs.
Includes: Detergent tank, GFCI plug, 35 ft. hose