Extend Your Runtime With The Ryobi 40V Backpack Power Supply
In the past few years, Ryobi has made a noticeable performance jump with its 40V lawn care lineup. In 2022, the brand designed a few unexpected innovations, like a joystick-controlled zero-turn. We wondered whether Ryobi was going to target the professional market, and we're getting closer to an answer as we dive into the Ryobi 40V Backpack Battery System.
Using the Ryobi 40V Backpack Battery System
When you look under the cover, you'll notice space for up to three Ryobi 40V batteries and you can use anything from 2Ah batteries to the large 12.0Ah packs. It allows you to mix and match different battery capacities, too, since each port powers your tools independently. All three ports are active and automatically switch from one pack to the next starting with the batteries with the greatest charge.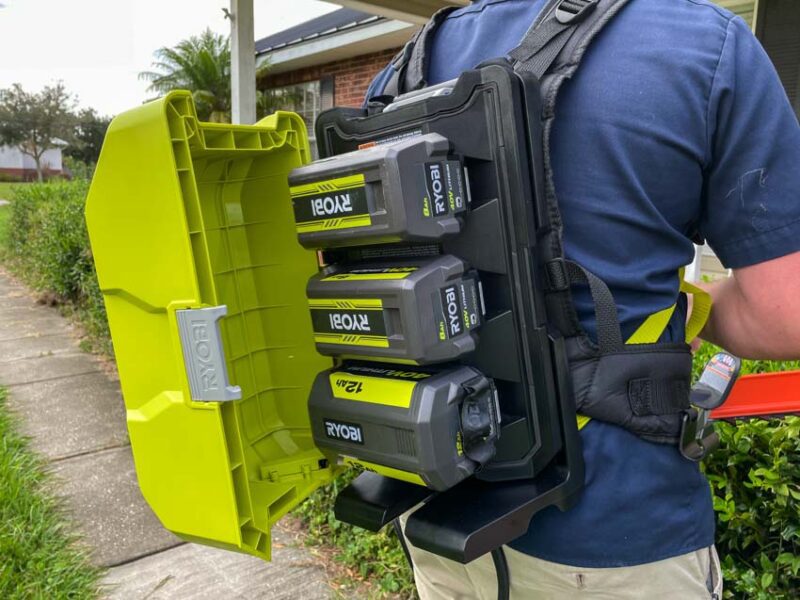 A cable connects from the backpack to a dummy pack that you slide into your tool in place of a standard battery. LED indicators on the back of the dummy pack display the remaining charge of each battery in the backpack.
The backpack also functions as a sequential rapid charger, but not through the dummy pack. It actually comes with a charging block that connects to the side of the backpack and a standard 120V wall outlet, giving you 295 watts of charging power. In total, the cord reaches just shy of 13 feet.
Ryobi Backpack Battery Harness
The harness features shoulder and chest straps to hold the weight of the backpack while you wear it. There's also a padded hip strap that shifts some of the weight from your shoulders to your hips. We can tell Ryobi designed the harness to fit a variety of body types and we quickly found a comfortable fit.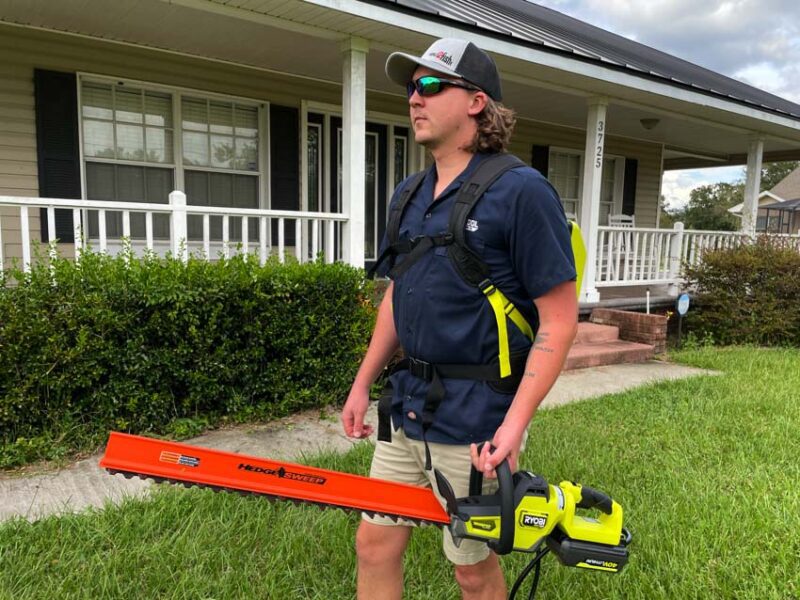 There's a cable guide on the right hip strap that keeps the cable from hanging down loose. We would love to see a reversible or bilateral cable guide in future models, but this version only has one on the right side.
You can also remove the harness from the power supply for easier storage and charging, or to clean the harness. All it takes is releasing the latch at the top and tilting the unit forward until you're able to remove it.
Additional Highlights
Gasket offers some water and dust protection
Dummy pack has a belt clip for when you're switching tools
Works with all Ryobi 40V batteries
Who It's Good For
Obviously, the biggest draw for this power supply is having the runtime of three batteries on your back as opposed to just one battery for your tool. It also allows you to use higher-capacity batteries than you normally would. For example, using a 12Ah battery on a chainsaw would make the tool severely unbalanced, but with that battery power on your back instead, you get a longer runtime without sacrificing balance.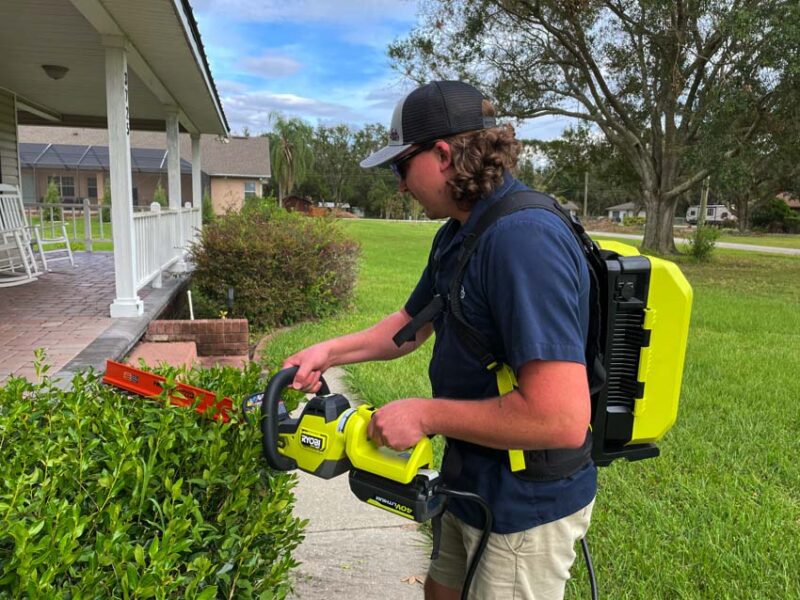 Whether you need a long runtime for a single tool or the ability to switch tools to cover a larger property, or even use a single power supply for multiple properties, you should get plenty of use from this battery system.
Ryobi 40V Backpack Battery System Price
This battery system retails for $449 at The Home Depot, but you'll have to buy your batteries separately. Ryobi offers a 5-year warranty on the unit and 3 years on the charger.
The Bottom Line
Ryobi's backpack battery system gives you a longer runtime and marks the brand's venture into the professional lawn care sector. Whether you need the runtime to tackle multiple yards or maintain your own large property, having the battery capacity and runtime of three batteries on your back will help reduce downtime and increase production.