The Toro Revolution Battery-Powered Zero Turn Lawn Mowers include three primary models. They include the Toro Grandstand Revolution stand-on mower, the Z Master Revolution zero-turn, and the 60V Toro HD 21 Revolution push mower. These mowers fall squarely on the commercial business side of the industry with performance, run-time, and pricing to match.
What Toro Revolution Electric Mowers Offer
Increasingly, local municipalities continue to pass laws mandating OPE equipment perform with lower noise emissions. These municipal noise restrictions have forced many commercial landscapers and lawn care professionals to consider battery-powered products for their business—if not in whole, then in part.
Toro Revolution Series electric mowers deliver on the all-day runtime needed in order to achieve commercial-level operation and expectations. Their extra-large batteries and commercial-level decks ensure that professionals have another option when looking to supplement or switch over to electric.
Toro Revolution Mower Technology
We think Toro did a few really great things with the Revolution Series electric mowers. For one, they minimized components through the use of brushless motors and removing the need for hydrostatic wheel controls. That should translate into less maintenance compared to a gasoline engine and standard transmission. Next, they mounted the battery packs as low as possible on these mowers to drop the center of gravity and help them perform more confidently on all manner of lawns—including hilly terrain.
The battery packs of the HyperCell Power System used in the Grandstand mower, for example, feature 135 cells per pack (they appear to be 21700 cells). Each pack stores and delivers roughly 2337.5Wh of energy. Multiply that by the 8 battery packs that fit within the Toro Grandstand zero-turn mower, and you have somewhere around 18.7 kilowatt-hours of available power! That's roughly the equivalent of 18 Stihl AR 3000 backpack batteries and should give you all-day mowing capability unless you only mow uphill.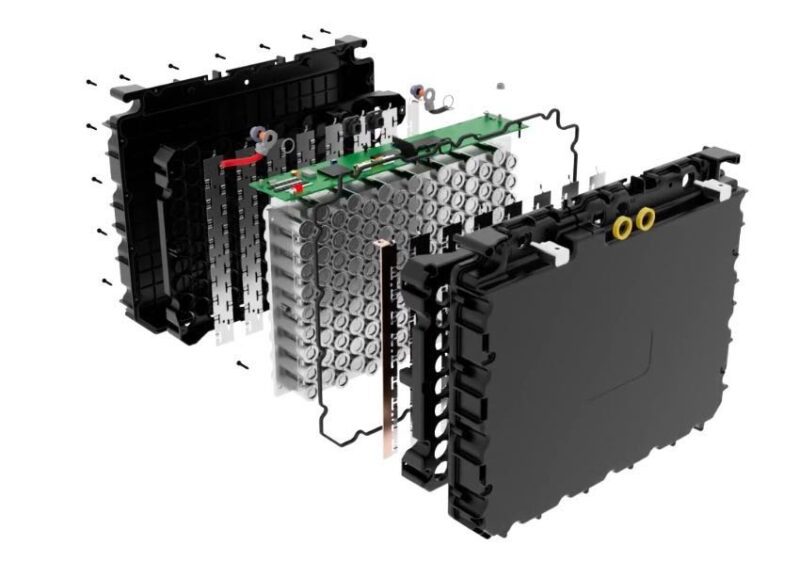 It goes without saying that the Toro Revolution Series mowers have incredibly robust battery systems. In fact, here's how some of the key features compare:
Toro Grandstand
Revolution
Toro Z Master
Revolution
Greenworks
CZ 60R
Mean Green
Rival 60″
Total Capacity
18,700 Wh
23,400 Wh
16,128 Wh
22,000 Wh
No. of Packs
8
10
Single unit
Single unit
Runtime (est.)
7 hours
7 hours
14 acres
7.25 hours
Voltage
???
???
82V
48V
Max Speed
10 mph
11 mph
10 mph
11.5 mph
Mower Warranty
2-years
2-years
5-yr/2000-hr
2-years
Battery Warranty
2-years*
2-years
5-yr/2000-hr
3-years
Price
$33,999
$35,000
$19,000
$35,199
* or 1.5 megawatt hours
Toro Z Master Revolution Zero-Turn Mower
The Toro Z Master Revolution zero-turn lawn mower delivers over 7 hours of mowing time. It does this by using 23,400 watt-hours (Wh) of stored energy in the HyperCell Power System. With a 12 mph maximum ground speed and 7-gauge fabricated steel deck, this mower offers quality and features professionals want to see.
The controls on the Z Master Revolution include hard buttons—eliminating issues with trying to use touch controls while wearing gloves. We love this and think all mowers should get away from touchscreen interfaces. They have no place on mowers. Using the Horizon interface, you can control blade tip speed and maximum drive speed. Toro also lets you see the remaining battery charge and other helpful info.
An adjustable deck rake gives you a pro feature that also helps increase runtime by letting more grass clippings exit the rear of the deck while mulching. You can also adjust the rake to optimize cutting performance.
Between the battery and brushless motors on this electric mower, Toro claims you get the equivalent of a 38hp engine. That should be enough to tackle even overgrown grass, though regular maintenance cuts will yield you the longest overall run times.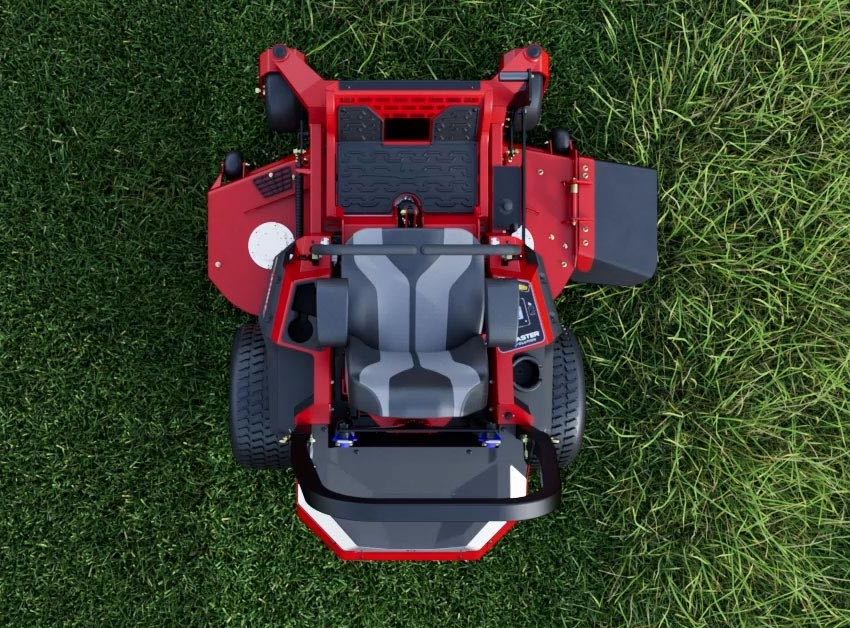 With three available models, expect to pay $35,000 for the 48-inch model and even more for the 52-inch, 60-inch, and premium 60-inch model with MyRide suspension.
Specifications
Models (48/52/60/60 MyRide): 18748/18752/18760/18765
Battery: 10x HyperCell 23.4 kWh
Charge Time: 6 hours
Runtime: 4-7 hours
Charge type: 3.3kW 240V (standard), 1.2kW/120V (optional)
Transmission: Planetary gearset
Deck size: 48/52/60 in. and 60 in. +MyRide
Deck material: 7-gauge steel
Optional electric deck lift
Seat: Deluxe Suspension Comfort w/Armrests, MyRIDE suspension (18765)
Max Speed: 11 mph (7 speed settings)
Drive tires (48/52/60/60 MyRide): Super Turf 24 x 9.5/10.5/12/12 x 12 in.
Front casters: 13 x 6.5 x 6 in. flat-free semi-pneumatic

Weight (48/52/60/60 MyRide): 1354/1367/1381/1461 lbs.

Warranty (residential): 5-year, 1500-hour
Warranty (commercial): 2-year (no hour limit)
Toro Grandstand Revolution Stand-on Mower
The Toro Grandstand Revolution Stand-on Mower isn't the first battery-powered stand-on in the market. It does, however, offer some unique features worth looking into. Toro built this electric stand-on mower on the same commercial platform as their gas-powered GrandStand series.
The mowers feature the same strong I-beam front end and 7-gauge steel deck with bullnose bumper.
Like the Z Master, the GrandStand Revolution lets you adjust the deck rake to compensate for various mowing conditions. Instead of the 10 batteries of the Z Master, this machine uses 8 Toro HyperCell batteries totaling 18.7 kWh of power. It delivers up to 7 hours or more of runtime with a maximum speed of 10 mph.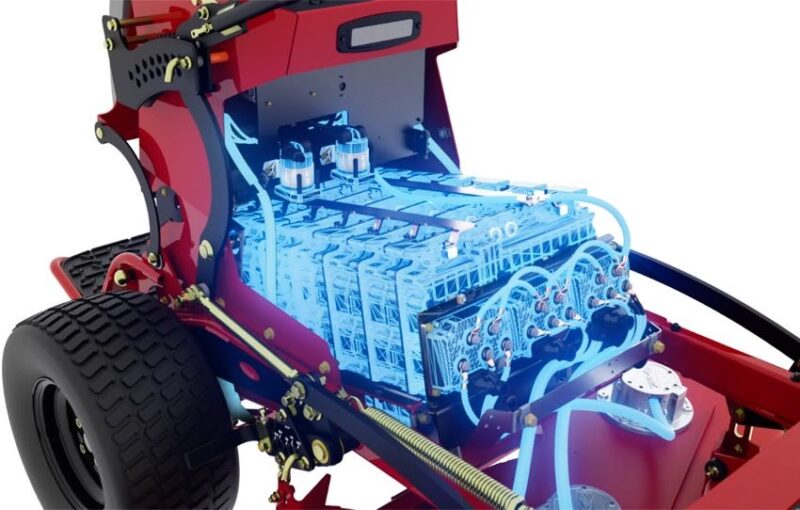 Specifications
Model: 18560
Battery: 8x HyperCell 18.4 kWh
Charge Time: 12 hours
Runtime: 4-7 hours
Charge type: 1.2kW/120V (optional)
Transmission: Planetary gearset
Deck size: 52 in.
Deck material: 7-gauge steel
Max Speed: 10 mph (7 speed settings)
Drive tires: Super Turf 20 x 10 x 10 in.
Front casters: 11 x 4 x 5 in. flat-free semi-pneumatic

Weight: 1109 lbs.

Warranty (residential): 5-year, 1200-hour
Warranty (commercial): 2-year (no hour limit)
Final Thoughts
Clearly, these electric mowers from Toro offer professional quality. They also, however, offer themselves at a professional-level price. Starting around $35,000, the Toro Z Master and Grandstand Revolution mowers aren't for the faint of wallet. While you can certainly make the case for an eventual ROI, our calculations put that around 4-5 years. That corresponds to the time when you may need a replacement battery. Unfortunately, the battery can make up half the price of the original mower.
We can't help but think the future of commercial battery-powered lawn mowers will fall to the leasing market. It makes too much sense and eliminates the issue of long-term ROI based on uncertainties like ongoing run-time and battery replacement.