Greenworks 60V Chainsaw Gets a Major Power Boost
Having written several Greenworks chainsaw reviews, we wanted to get our hands on their latest model. Testing the claimed increased power, we tested the Greenworks 60V 16″ chainsaw using the same kind of tried and true methods to mark any improvements. Our resident rancher, Eli Mosley , helped us out by providing some oak trees that needed removal.
Pros
Additional power and speed
Standard tooth chain
Captured nuts on the bar
Metal bucking spikes
Cons
Kitted 2.0Ah battery may not give you the runtime you need for larger projects
Greenworks 60V 16″ Chainsaw Features
Starting the Chainsaw
Most cordless chainsaws feature some sort of mechanical or electronic safety mechanism. The reason has to do with the lack of a pull-start. As it turns out, picking up a saw and accidentally activating it by pulling the trigger is quite dangerous! The Greenworks 60V 16″ chainsaw uses a simple (mechanical) side button for this. Once you press that, you can pull the trigger and get right to work. It lacks any sort of master on/off electronic switch. We don't favor those as they tend to time out too quickly.
A Beefier Chain
Greenworks "upgraded" from a 0.043″ Oregon 91 skip-tooth chain to a 0.050″ full chain. Skip-tooth chains clear more wood out of the cutting path but also cut more slowly. The use of a full 0.050″ chain indicates that Greenworks clearly believes the power on this 16-inch battery-powered chainsaw can handle the increased cutting load.
A Bar with Pro-Level Features
The use of dual studs with captive nuts makes this a much more Pro-focused chainsaw. Nuts do require a wrench to tighten and loosen them, but they hold more securely than tool-free systems. Overall, we think Greenworks made the right call here.
Pro Tip: Alternate nuts when tightening to avoid twisting the mechanism and to achieve an even and secure hold.
Steel Bucking Spikes!
Having seen several battery-powered chainsaws with plastic ribs, we were glad to see this Greenworks 16-inch chainsaw use actual steel bucking spikes. This really helps grip logs or material securely when leveraging the saw during a cut.
Bucking spikes give your rear hand the ability to "lift" upward and drive the blade down into the cut. It has a lot to do with ergonomics. Plastic "spikes" just don't get the job done. If we have any complaint here, it would be that Greenworks could have made their bucking spikes a tad larger.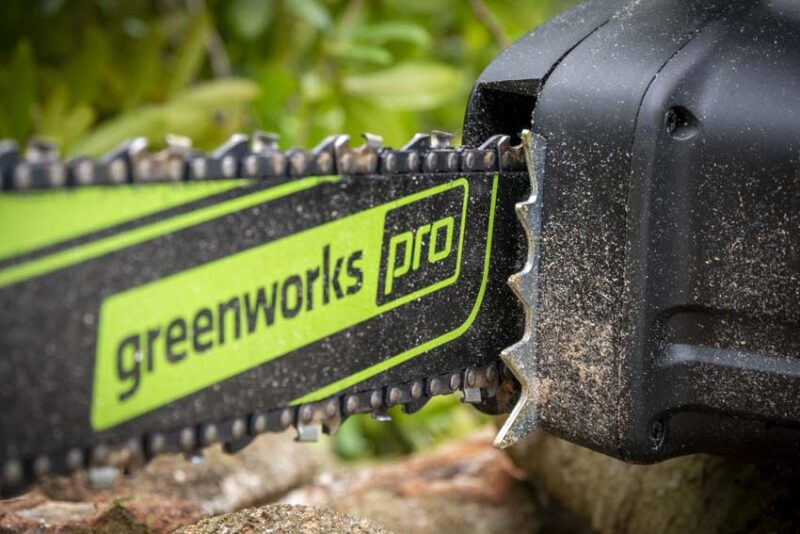 Ergonomics
We liked the balance of the 60V Greenworks 16″ chainsaw. The 2.5Ah battery does well in this tool, but even a larger 4.0Ah or 5.0 Ah pack doesn't feel overbearing. Larger battery packs—which mostly take up the same space—simply shift the weight of the saw backward.
We had some internal arguments over the size of the handle on this Greenworks chainsaw. Anyone with large hands might want a thicker handle. I have medium-size hands which fit the tool nicely. I can, however, see how larger folks might want a bit more girth. Since this chainsaw really targets homeowners it strikes a pretty good balance.
Oil
The Greenworks 60V 16″ chainsaw has an oil cap with a lug that's easy to turn—even when wearing gloves. The flip-up tab gives you a solid grip. We do think that the translucent window makes it tough to see through, however.
Like most chainsaws, the oil leaks out when it sits. Be sure to empty the reservoir before putting it up unless you have a system in place to catch the oil while it rests.
Greenworks Pro 60V 16″ Chainsaw Performance
More Power, Less Weight, Less Noise
We asked a couple of our tree guys if they preferred climbing with a gas saw or if they wanted to do it with a battery model. Fortunately, they decided to give our Greenworks 16-inch saw a try.
On the first trigger pull, one of the men noted that it sounded "adorable". However, after ramping it up to speed and making his first few cuts in oak, a conspicuous smile appeared on his face.
A couple of the folks on the ground quickly noted just how much easier it was to communicate with the guy in the tree. After all, we didn't have to shout overtop the noise of a gas chainsaw. Even idling, they can be very loud.
After taking down some of the main branches, we got to work on the ground. We used the Greenworks 60V 16″ chainsaw on everything from cutting up the main limbs to taking off the smaller pieces along the way. Branches ranged from 3″ to 12″ in diameter. The Greenworks chainsaw never missed a beat and didn't stall out—unless we deliberately drove it too quickly into a larger branch. This would have stalled a comparable gas saw as well.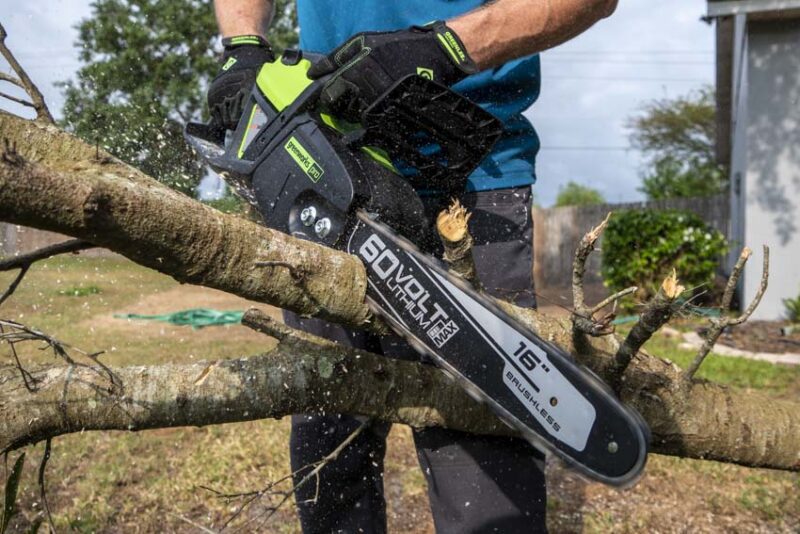 Greenworks claims this 16″ chainsaw cuts with more power and speed than a 42cc gas chainsaw. After testing it as we did, it definitely has more power than the former model. We have to assume at least some of the performance relates to the updated electronics and battery technology. Greenworks calls this "HC" and it lets the batteries deliver more current to the saw when needed.
By the time we had all of the debris piled up, no one had even bothered to fire up a single gas chainsaw.
Runtime
Unfortunately, we didn't actually count the number of cuts made during testing (we forgot to be perfectly honest). We find it difficult to quantify runtime with chainsaws regardless. You have to account for the number of cuts, the diameter of the material, and the type of wood. That presents a lot of variables!
We did, however, manage to take down several main oak branches that measured roughly 12-inches in diameter. We did that using a single 5.0Ah battery (the kit comes with a 2.5Ah pack, but we knew we needed a bit more). Still, on that battery, we managed to cut the bigger parts into smaller 18-inch sections. We then removed all of the small branches. It ended up being around 90 minutes of total working time (not trigger time).
We think the kitted 2.5Ah battery in the kit would work well for trimming and climbing. You want a larger battery (like the 5Ah pack) for doing heavier cutting or tree-felling, or if you have a whole lot of limbing work to do.
Greenworks Pro 60V 16-inch Chainsaw Price
This Greenworks 60V chainsaw runs $299 as a kit with a 2.5Ah battery and charger. You can also pick up the bare tool for $229. That's a pretty good price for what you get. We would like to see an option that includes a 5.0Ah battery. If you already use the Greenworks 60V 21-inch mower or another of their products, you may already have a larger battery.
The Bottom Line
We really like the increased performance delivered by the Greenworks 60V 16″ chainsaw. It's also a good value. The power and runtime should fit larger property owners and give them a tool they can take advantage of. The kitted 2.5Ah battery should work well for trimming applications, but pair it with a larger battery for felling tasks or extended use.
Greenworks 60V Chainsaw Specifications
Model: Greenworks Pro CS60L212 (kit)
Voltage: 60V
Weight with Battery: 12.2 pounds
Kitted Battery: 2.5Ah HC
Nominal Battery Watt Hours: 108
Chain: 3/8″ pitch, 0.050 gauge
Bar Length: 16″ or 18″
Warranty: 4 years limited
Price: $229 (CS60L212T bare tool), $299 (CS60L212 kit)