The DG630 Offers Performance and Features for Consumers and Pros
For more than a century, Cat's name has been a fixture in the world of heavy construction equipment. But as consumers and Pros are quickly learning, the manufacturer is also leaving a footprint in the battery-powered OPE market with gear like the Cat 60V 16-Inch chainsaw.
So, here's a peek at what it's packing in features and design elements.
Cat 60V 16-inch Chainsaw (DG630) Performance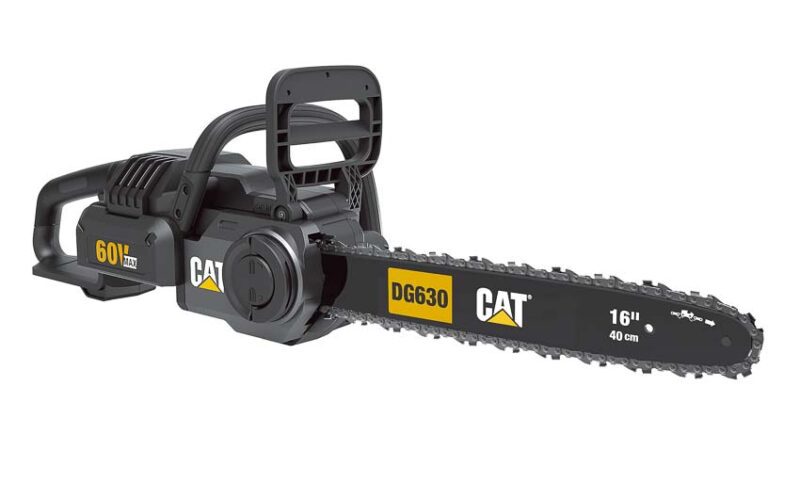 Chain speed: Up to 72 FPS
Max Cut Diameter: 30 inches
According to Cat, the DG630 caters to both the homeowner with challenging tree maintenance needs and professional landscaping crews. Given that we are dealing with a saw here, we'll get started with perhaps the most important performance aspect of all—cutting.
With a 16-inch bar, the Cat 60V chainsaw technically has the capacity to get through timbers up to 30 inches in diameter, though we'd shy away from that being the intended primary application. In the process, the operator is working with a cutting speed rate of 72 fps, and Cat is confident this will yield professional-level results.
Driving this saw is a high-efficiency brushless motor that, according to Cat, provides up to 40 percent more power and 10 percent longer runtime than standard motors. Feeding the DG630 is the Cat 60V MAX lithium-ion battery, which fully charges in 50 minutes using a 3-amp charger.
Cat 60V 16-inch Chainsaw Design Features
Model: Cat DG630
Power source: 60V, 2.5Ah MAX lithium-ion battery
Bar length: 16 inches
Weight: 13.1 pounds (w/ battery)
Tool-less chain tensioning
Auto-oiling system w/ 6.7-ounce reservoir
On the design side of things, the Cat 60V chainsaw has a 16-inch bar, a reduced-kickback chain with a 3/8-inch low pitch, and an automatic oiling system that provides lube to both the bar and chain throughout operation. Likewise, this model has easy tool-free chain tensioning.
Moreover, the DG630 has a series of safety features, including a chain kickback brake and lock-off button. You get the expected benefits here, such as added control, protection against the operator's left hand touching the chain, and the reduced likelihood of accidental starting.
The fully enclosed cell protection provides increased security against vibration, impact, moisture, and heat. What's more, this power source is compatible with all Cat 60V OPE products.
Cat 60V 16-inch Chainsaw Price
The Cat 60V 16-inch chainsaw retails for $279.99 and comes with the 60V 2.5Ah battery and the 3A charger. Cat backs their product with a five-year limited warranty.