EGO Steers in the Direction of Unique ZT Features
EGO's original Z6 zero-turn lawn mower had a powerful influence on our expectations about what a battery-powered model would be. They followed this with a 52-inch version that kicked the power and deck size up a notch. If you're thinking that a 60-incher is next in line, then think again. As its name suggests, the EGO E-Steer zero-turn lawn mower touts a different set of features.
Pros
Easy to learn steering system
Control right at your fingertips
Battery gauge on the wheel
True zero turning radius
22HP gas power equivalent
Excellent cut quality
Quick charging
Comfortable, adjustable seat with armrests
A variety of accessories are available
Cons
There is some screen glare
EGO E-Steer Zero-Turn Mower Performance
4 independent brushless motors (two for the drive and one for each of the two blades)
22HP gas equivalent
6 battery ports with onboard charging
2.5-acre runtime with four 12Ah batteries
1.5 – 4.5-inch cutting heights (10 positions)
4 – 8 MPH forward speeds
When it comes to performance, you're not going to see too much of a difference between the original 42-inch Z6 and EGO E-Steer zero-turn mower. The E-Steer has a 22HP equivalent capable of tackling moderate overgrowth.
As for runtime, you're looking at about 2.5 acres per charge with four 12Ah batteries, which come with the mower.
Here's how the EGO E-Steer zero-turn mower faired in trials.
We put it to the test cutting dry grass that was higher than normal. In this setting, we were able to cut for just shy of 53 minutes with the blades running on high and the drive speed at high in Standard mode.
We were cutting at 6 MPH, so that's 2.25 acres. In short, EGO's estimate was pretty accurate.
Now, all of this said, the mower holds 6 batteries, so you can boost your runtime 50% by adding two more 12Ah units.
However, if you just stick with the four batteries that come in the kit, the charger will have you up and running at 100% in 2.5 hours or less.
EGO E-Steer 42-inch Zero-Turn Mower Design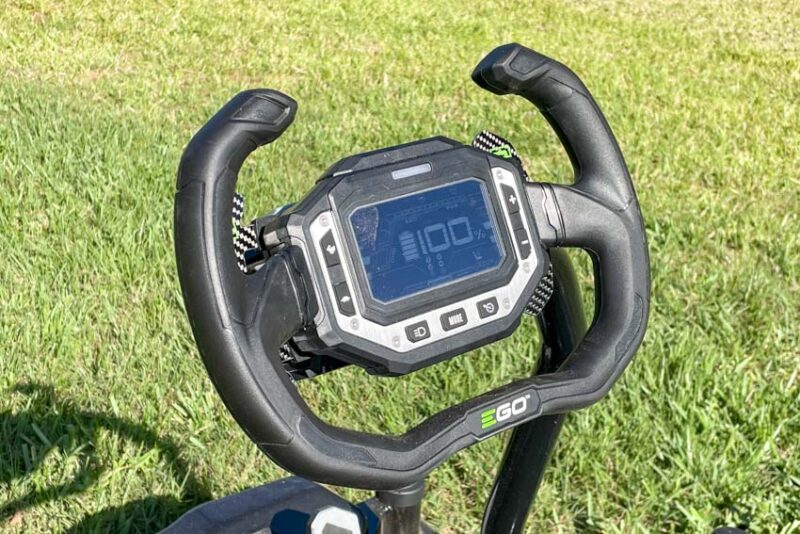 Steering wheel with electronic power steering
Accelerator pedal
True zero-turn radius
Steering wheel-mounted controls with LCD screen
Comfortable seat with armrests
Adjust seat position
Adjustable seat spring tension
32 LED headlights with on/off switch
Audible reverse warning
42-inch stamped steel deck
Side discharge, bag, and mulch capable
Bluetooth connectivity
USB device charger
IPX4 ingress rating
Driving Experience
This is where we get into some of the particularly interesting features. Indeed, the EGO E-Steer zero-turn mower is unique for its steering technology. With E-Steer, you can drive this ZT like a car (or like you're flying an airplane, whichever you prefer).
Designed with a yoke-style shape to it, it will give you the familiar feel of steering but with a true ZT turning radius. Moreover, it has electronic power steering.
Also similar to a car, the EGO E-Steer zero-turn mower uses an accelerator pedal. To go in reverse, you pull the reverse paddles on the wheel toward you, holding them. Releasing them will automatically put you in drive again.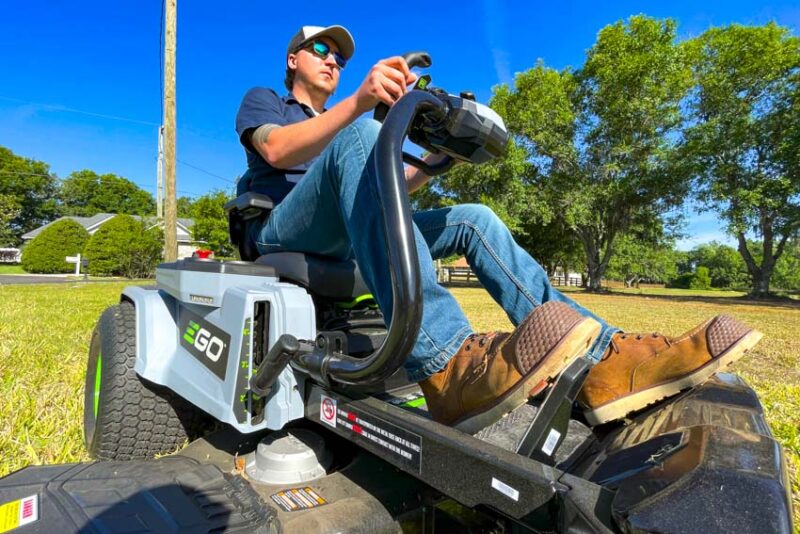 To stop, simply take your foot off of the accelerator, in which case the mower quickly responds.
Of course, you're probably wondering about the steering, "What if I've got hundreds of hours of lap bar experience?"
No big deal. The transition is pretty simple, and those coming over from a lawn tractor are going to feel right at home.
Integrated Controls
Next, we have the controls, which are all at your fingertips. The exceptions are the key, on/off button, and blade engagement—they're all still on the side.
The buttons on the left adjust your drive speed. That's in addition to the modes (Control/Normal/Sport) that you can cycle through with the lower buttons.
Control provides you with the smoothest operation, while Sport gives you the fastest acceleration and response. Normal is somewhere in between.
Finally, there's the blade speed adjustment on the right of the wheel. With maintenance cuts in dry grass, level 2 or 3 will do well for bahia grass and St. Augustine. After periods of rain and increased growth, cranking the blades all the way up is the best way to go.
One relatively minor downside is that the screen is very difficult to see when the sun is high in the sky.
Additional Highlights
Comfortable seat with armrests
Adjust seat position
Adjustable seat spring tension
32 LED headlights with on/off switch
Audible reverse warning
EGO Power+ E-Steer 42-Inch Zero-Turn Lawn Mower Price
The EGO ZT4205S comes with four 12Ah batteries and a charger with an onboard plugin for $5999. There's also a combo that comes with an array of accessories for $6989:
EGO E-Steer Zero-Turn Mower
Mulching Plug
Bagger Kit
Storage Bin
Sun Shade
Cover
If you don't need the entire suite of accessories, they're available individually as well.
Be sure to register your purchase to ensure you get EGO's full 5-year warranty on the mower, batteries, and charger.
The Bottom Line
You have three elements at play that add up to a first in our experience: The ease of a lawn tractor's steering wheel; a ZT's turning radius; and controls right at your fingertips, all in one model.
EGO scored a home run with this one.
Check out more EGO 56V lawn care equipment by clicking here !