Conquer Lawn Day with the Greenworks 60V 13″ Battery String Trimmer
Having already been impressed with the Greenworks 60V line of cordless OPE, we're excited to get out hands on their more entry-level model to see how it compares. Now, they take aim at homeowners with smaller lawns who are looking to ditch their outdated gas model with the Greenworks ST60B212 60V 13″ cordless string trimmer.
Editor's Note: Check out our best string trimmer article to see our top picks.
Greenworks 60V Cordless 13-inch String Trimmer Features
Size and Weight
The Greenworks ST60B212 string trimmer weighs less than 7-1/2 pounds as a bare tool and 10.25 pounds while carrying a 2.0Ah 60V battery. While not heavy, we've seen lighter models aimed at residential users. It does distribute that weight evenly, splitting the battery and motor on opposite ends of the tool.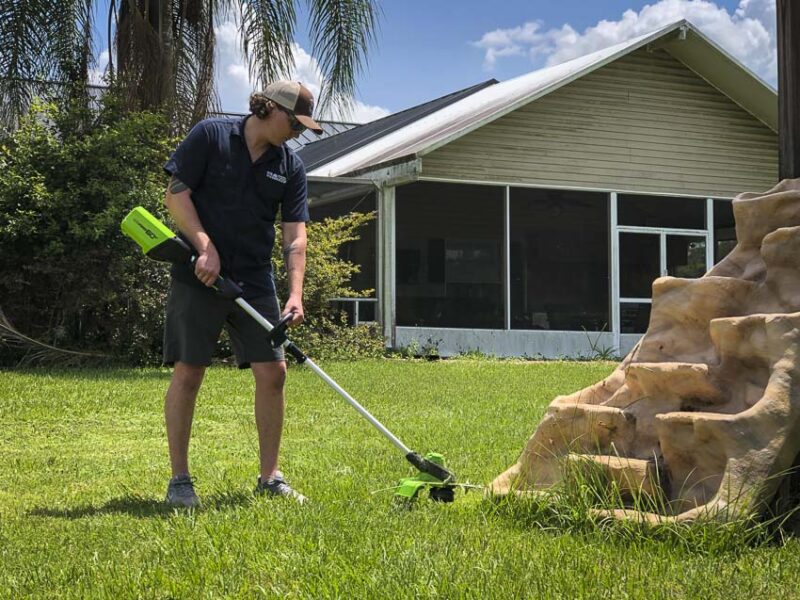 In terms of length, we measured 66.5 inches from the head to the back of the battery compartment. You can adjust the front handle lets you dial in the ideal working angle for your height. It doesn't feature a tool-free adjustment, however, so you more or less pick a place and leave it. I'm 6 feet tall and easily found a position that let me get right to work with this string trimmer.
Runtime
Greenworks claims up to 40 minutes of continuous runtime from a fully charged 2.0 Ah 60V battery. If you buy the kitted version, that's the one included. Oour runtime tests yielded around 39 minutes on Low—that might be the closest we've come to hitting a manufacturer's spec on the nose!
In High gear, the string trimmer ran for just under 30 minutes. For a residential trimmer that presents a pretty good amount of "trigger time". Unless you really bog this tool down, you should be able to maintain a 1/2-acre property using this cordless string trimmer.
Ergonomics
The trigger uses a secondary switch on top that you grip before pulling the actual throttle trigger beneath. The two-finger trigger design also helps reduce hand fatigue while using the tool.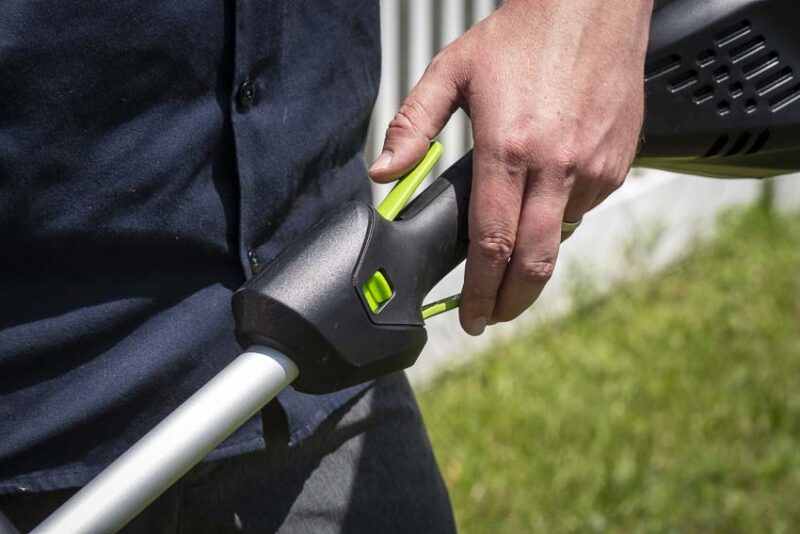 Cutting Swath
You can flip the cutting diameter from 13-inches (the default) to 11 inches by flipping around the integrated cutter on the plastic guard. This gives you some flexibility if you want either more runtime (11-inches) or maneuverability.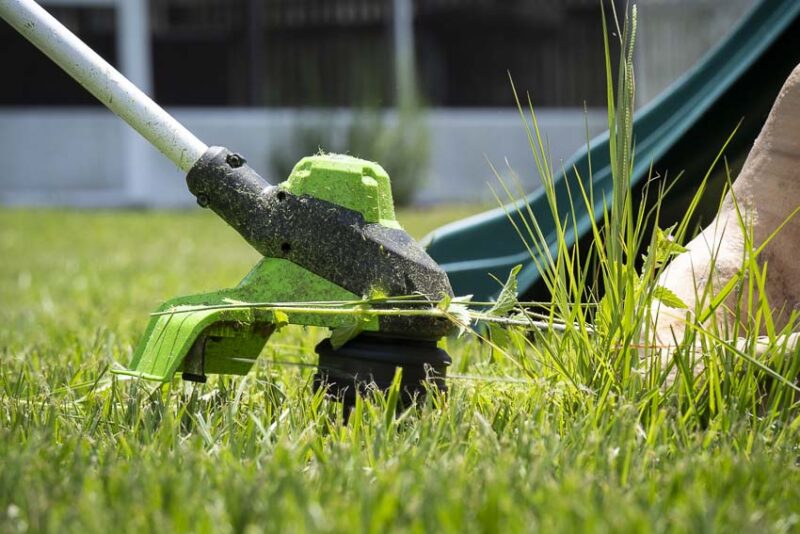 2-Speeds
In addition to the variable-speed trigger, the Greenworks 13″ 60V string trimmer also gives you two speeds. The 2-speed Torqdrive motor spins at a maximum of 7,000 RPM on Low and 7,400 RPM on High speed. Compared to some of the larger string trimmers we've reviewed, that speed actually makes up for the smaller 0.080″ line.
Additional Features
Attached metal wire edge guide helps maintain an even cutting swath
Greenworks 60V 13″ String Trimmer Performance
With a small 13″ cutting swath, you may not expect much from the 60V Greenworks ST60B212 string trimmer. The Torqdrive motor, however, gives it up to 30% more power. This helps when you get into thick patches of weeds or grass.
The 13″ string trimmer ships with 0.080-inch spiral twisted line on the spool. We prefer 0.095-inch but for a light-duty residential string trimmer, 0.080 seems to be the standard. It may cause you to feed out new line more often, but otherwise, the increased speed makes up for the loss in line diameter.
The 60V Greenworks 13-inch string trimmer uses a hassle-free Load N Go head. You feed the line through and then twist the bump-feed knob to load it up. It takes less than a minute to replace the entire spool and you don't need to disassemble it.
Greenworks 60V Cordless 13″ String Trimmer Price
The Greenworks ST60B212 kit retails for $199.99 at your local Tractor supply. The kit includes a single 60V 2.0Ah battery, a 3-amp charger, and a 4-year limited warranty.
The Bottom Line
Given its performance, weight, runtime, and price, we feel the Greenworks 60V 13-inch cordless string trimmer provides one of the best value string trimmers in the residential class. It has plenty of power for tackling all of your Saturday lawn chores. On top of that, the low weight and great balance make it perfect for anyone looking for a more nimble trimmer. Since the tool runs on the Greenworks 60V platform, you also get access to the rest of their lineup to help keep your yard looking great all season long.
Greenworks 60V Cordless 13-inch String Trimmer Specifications
Model: Greenworks ST60B212
Power Source: Greenworks 60V battery
Motor Type: Brushed
Cutting Swath: 13 in.
Feed Type: Bump feed
Trigger Type: Variable speed
Attachment Capable: No
Runtime: 29 min 41 sec (high), 38 min 49 sec (low)
Length: 66.5 inches
Line Type: 0.080 in.
Line Capacity: 13 ft.
No-Load Speed (Low/High): 7,000/7,400 RPM
Warranty: 4-year limited
Price: $199.99
Click here to browse the entire Greenworks 60V lineup.