Tackle Yard Day With Confidence Using The Greenworks Battery-Powered Lawn Tractor
Having already looked at the Greenworks 60V zero turn mower, we turned our attention to something even more user-friendly. The Greenworks CRT426 60V 42-inch battery-powered lawn tractor promises a familiar steering interface and enough runtime to tackle yards up to 2.5 acres. We planned to test the new lawn tractor to see if it could indeed cut as well as the marketing materials seemed to indicate!
Pros
Enough runtime to cut up to 2.5 acres
Quick acceleration
Simple controls
Charges six batteries in 90 minutes
Cruise control
App-based features like GPS tracking
Cons
No on-board charging (uses 3 dual-port 60V chargers)
Not a lot of room for taller users
Greenworks CRT426 60V Battery-Powered Lawn Tractor Features
Just several years ago, the thought of switching from a gas ZT to battery power would have been unthinkable. Greenworks definitely made that migration or choice easier by creating a product that handles like a gas mower, looks like a gas mower, and has many of the same features as a residential lawn tractor.
Similar to how a zero-turn works, the Greenworks 42-inch lawn tractor uses a key to get it started. Everything from the steering wheel to the blade activation feels exactly like a gas mower. The difference? You won't have to deal with the overbearing sound of a 25cc or higher engine. A small, backlit LCD lights up to indicate the lawn tractor is ready to drive and/or cut. On the screen, you can see the current battery charge level. It also displays fault codes—though we didn't encounter any of those during our testing.
Ergonomics and Comfort
We like the familiar placement of the mower and drive controls—including the pedals. This mower drives, reverses, and parks quite easily. We also like the use of a standard deck height adjustment lever that you control with your right hand.
The seat worked well when mowing for shorter periods of time—but after an hour it can be a tad fatiguing. We've definitely seen more comfortable air-ride seats on similarly-priced mowers. Your best bet is to take a seat in one at your local Tractor Supply and try it out.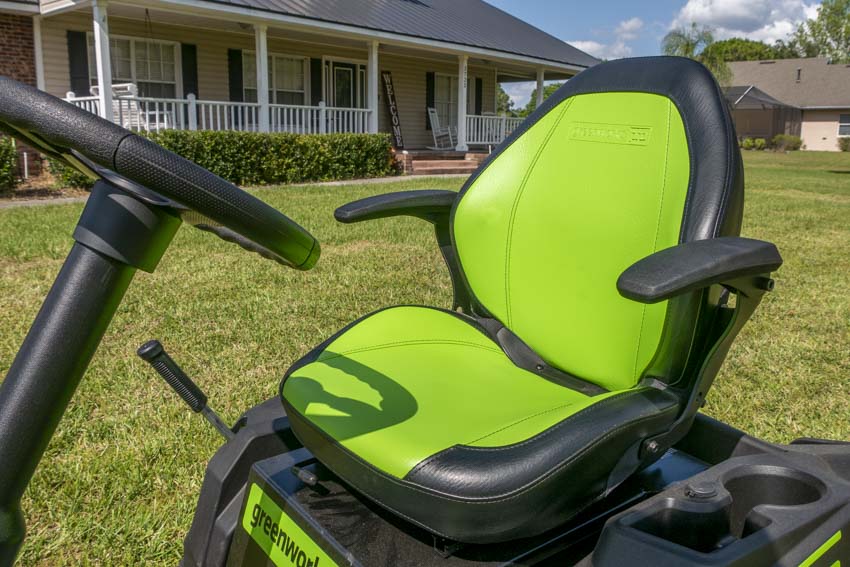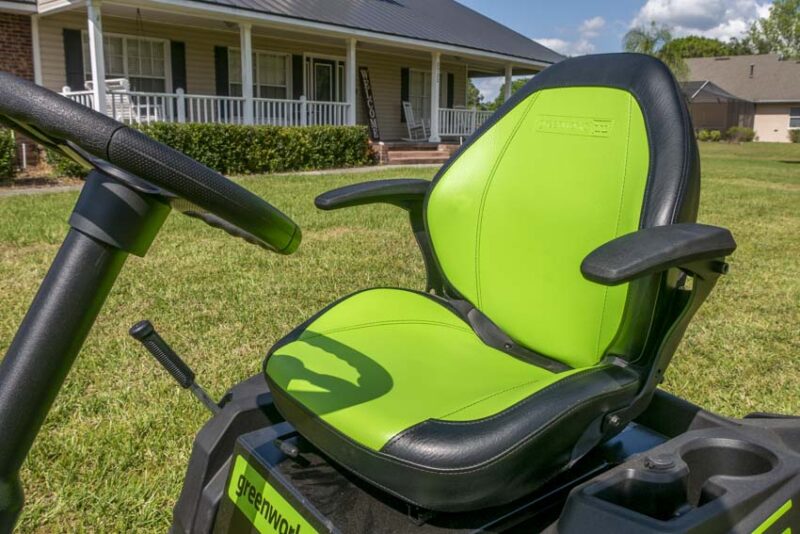 For those over 6-feet tall, you may find that you have to step over the steering wheel to get on and off the Greenworks 60V lawn tractor comfortably. Even with the seat all the way back, we tended to hit the steering column with our knees. This is NOT uncommon with smaller lawn tractors.
Greenworks iOS and Android App
While you can't turn your mower into a remote-controlled device using the Greenworks iOS or Android app—it does provide some nice features. You connect by scanning the QR code on your quick start guide, downloading the app, and creating an account (if you don't have one already). Then, pair the Greenworks CRT426 60V lawn tractor with the ap using the serial number and pairing code.
The app gives you access to fault codes, shows you the speed of the mower, lets you observe the remaining battery charge, and—most importantly—gives you a real-time GPS location of the mower. It uses a combination of 4G/GPS so it's actually more handy than many mesh-based systems that require an app to be active nearby.
Additional Features
Dual LED headlights
Front and rear attachment capable
Reinforced 12-gauge steel deck
Hose adapter for cleanout
1.5 to 4.5-inch deck height
Suitable for hills up to 15°
Manual parking brake
Dual 2.1 amp USB charging ports
Integrated cargo bed hauls up to 200 lbs
52-inch width with the chute up, 60-inch width with the chute down
Greenworks 60V Battery-Powered Lawn Tractor Cutting Performance
Having covered all of the features, we were eager to start cutting with the Greenworks 60V Lawn Tractor. As their first lawn tractor, the Greenworks CRT426, shares a lot of features with their 42-inch zero-turn. It just gives you that cutting ability in a much more familiar platform for those looking for a traditional riding mower.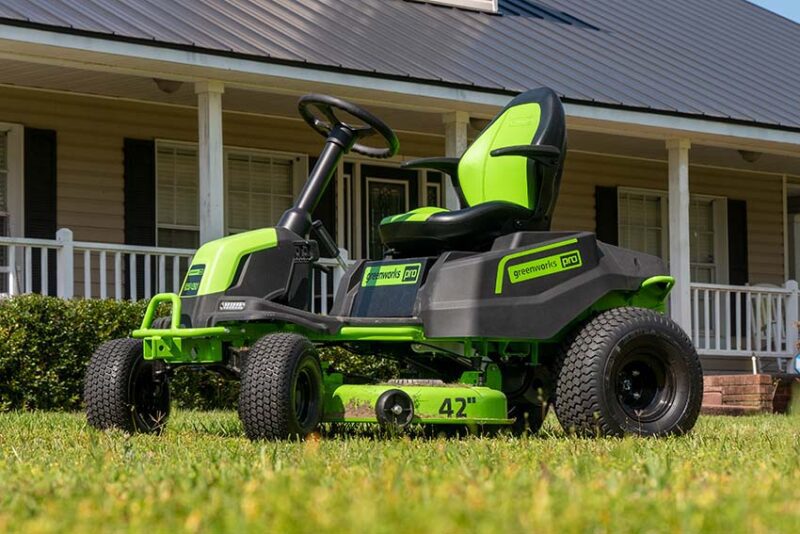 The Greenworks 60V riding mower uses six 60V 8.0Ah batteries. These are currently the largest batteries Greenworks manufactures and they can be used with any of their 60V outdoor tools. To run the 60V lawn tractor with its maximum power and runtime, it requires all six provided batteries. You can, however, run the mower with just one pack installed. We only recommend that as a means of getting the mower transported—but it's worth noting.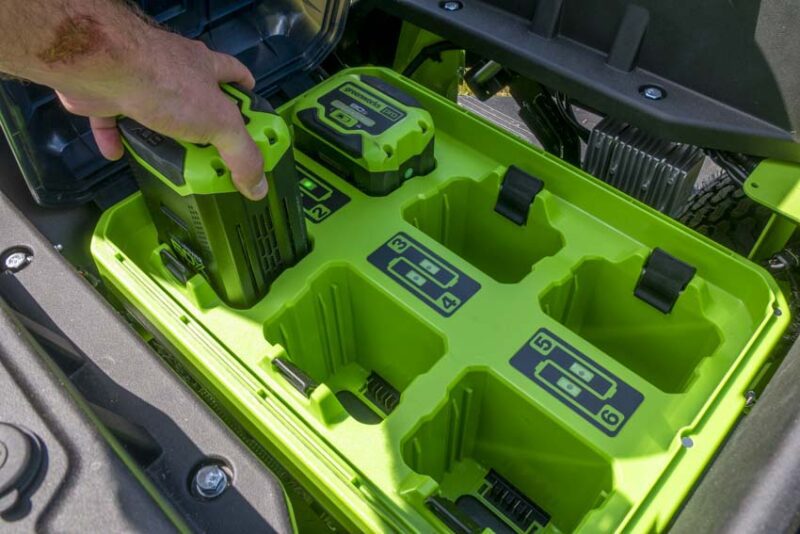 Greenworks claims their CRT426 lawn tractor has the same power as a 24HP gas riding mower. The two mowing blades spin at a rate of 3,000 RPM. They kept up the speed even when cutting thicker grasses, but this mower is dialed in for less-drastic maintenance cuts in order to hit its runtime numbers.
Greenworks CRT426 Riding Mower Runtime
Greenworks tells us to expect around 1 hour of runtime. That gives you enough cut time to tackle up to 2.5 acres. That takes into account both the 42-inch wide deck and the 5 mph mowing speed. Testing this, we dropped the deck down to a 2.5-inch cutting height and ran the lawn tractor at High speed.
We were cutting a rather mixture of dry Bahia grass and St. Augustine. Giving it what we considered a "medium-light" overall cut, we clocked 1 hour and 2 minutes of continuous cutting with our stopwatch. We stopped the clock when the batteries hit 5% and the mower automatically entered "limp" mode.
With cutting speeds up to 5 mph (with the blades off, the mower moves at around 8 mph), we feel that Greenworks' estimate of 2.5-acres seems quite reasonable.
Cruise Control!
A convenient cruise control button site below the Forward/Reverse rocker switch. This lets you lock in a constant mowing speed to rest your foot from the pedal. You just keep your foot on the pedal at the speed you desire, press the button when you hit the right speed, and then you can take your foot off and continue mowing. If you hit the brake pedal or simply press on the accelerator pedal with your foot, the cruise control disengages and you're back to fully-manual driving.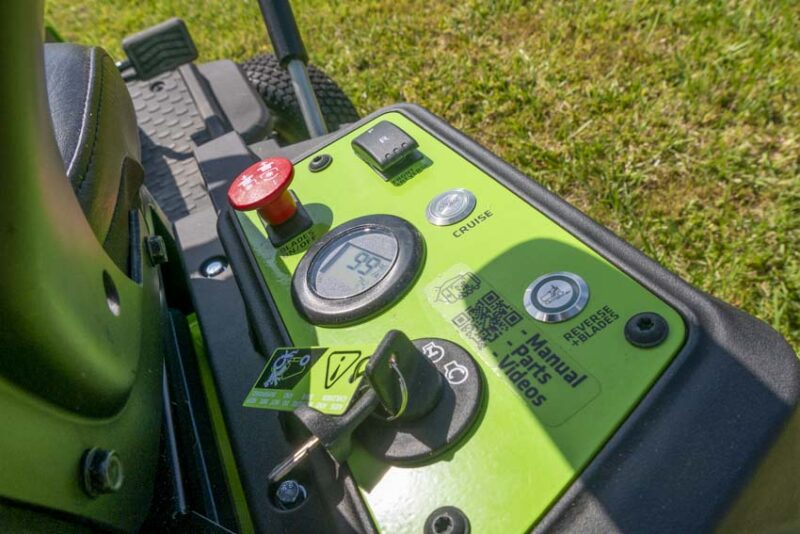 Charging Time
While we prefer onboard charging, Greenworks decided on a different system. Because they include three dual-port chargers with each lawn tractor kit, you can actually recharge all six batteries in 90 minutes or less. That beats the charge time on every other electric riding mower we're currently aware of.
Also, Greenworks uses 10-amp fast chargers for these dual-port systems. That means you'll likely pop a breaker if you plug two or three into the same outlet or circuit. You also can't use most power strips as many don't support high current draws. The best thing to do is spread the three chargers around across two or more circuits to avoid tripping breakers.
In the end, we'd really still prefer onboard charging.
How Much Does the Greenworks 60V Lawn Tractor Cost?
The Greenworks lawn tractor retails for $3999.99 at your local Tractor Supply. You can also get it directly from Greenworks online. In addition to the mower and a mulch plug, the kit includes six 60V 8.0Ah batteries and three dual-port rapid chargers. Greenworks backs this lawn tractor with a 4-year or 200-hour warranty (whichever comes first).
We recommend making the drive down to your local retailer to get some in-person "seat time" with this mower to make sure it's a good fit for you. You can give the zero-turn a look at the same time.
The Bottom Line
Considering the Greenworks 60V 42-inch battery-powered lawn tractor gives you several advantages. You get a convenient and familiar drive interface with the advancements, comfort, convenience, and efficiency of a truly gas-free mowing solution. This mower is really simple to use without the bells and whistles of a more complicated mower. It has the features you need. More importantly, however, it has the runtime and power to get the job done.
Check out the entire Greenworks 60V line here .
Greenworks 60V 42-Inch Lawn Tractor Specifications
Model: Greenworks CRT426
Power Source: Greenworks 60V batteries
Deck Size: 42 in.
Blade Speed: 3000 RPM
Towing Capacity: 200 lbs.
Hauling Capacity: 200 lbs.
Max Drive Speed: 8 MPH (forward), 5 MPH (mowing), 3 MPH (reverse)
Warranty: 4 years or 200 hours
Price: $3999.99