High-Performance Features and 40V Power to Shape Your Shrubs
Husqvarna is typically on point with its product line development, and this applies to the consumer, Prosumer, and Pro markets. From push and riding mowers to chainsaws and safety gear, they do well with expanding and updating their fleet of outdoor power equipment. One member of the updated team is the Husqvarna Hedge Master 320iHD60.
Let's jump into some features and design exploration.
Husqvarna Hedge Master 320iHD60 Performance Features
Starting out with power and drive, the Husqvarna Hedge Master 320iHD60 gets its juice from a 40V (4Ah) lithium-ion battery and runs on a brushless motor with a high torque-to-weight ratio. The latter reduces noise and increases efficiency.
Model: Husqvarna 970592602
40V (4Ah) lithium-ion
1-inch cut capacity
Dual-cutting knives
15% faster cutting speed
30% more reach
Now, a big feature of any trimmer is cutting speed. You want to glide across the surface, curves, and edges of your shrubs, ground cover that encroaches on walkways, and even tree branches that are up to 1 inch thick.
In this case, the 320iHD60's 24-inch blade with dual-cutting knives runs 15% faster than the competition, according to the manufacturer. And as Husqvarna states, this cordless trimmer enables you to tackle challenging maintenance tasks around your yard and in your gardens.
However, it's difficult to accomplish any of this without features that extend battery life. Husqvarna has this covered with an active cooling system, which offers more consistent power and battery health.
Lastly, a removable clean sweeper lets you brush aside cut branches. Moreover, it's meant to improve the overall result, or what Husqvarna describes as a "perfect finish."
Husqvarna Hedge Master 320iHD60 Design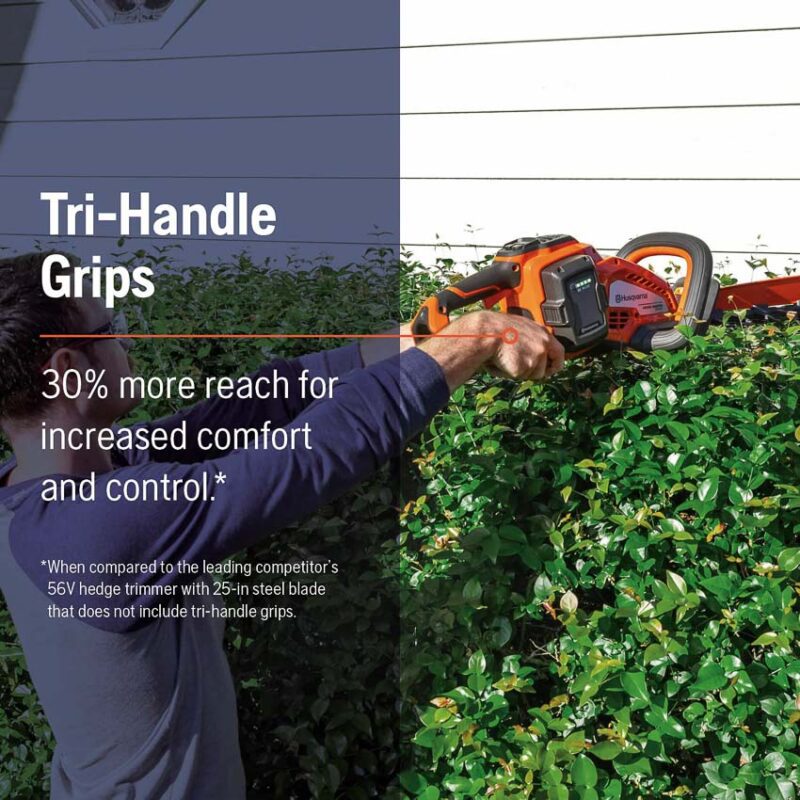 Weight: 18.4 pounds
Tri-handle grip design
Push-button un-jam
Cross-compatible battery
On the design side of things, there are a few things to discuss. We'll kick things off with the blades, which are made of carbon steel. This is generally a harder material, and therefore, should allow for heavier-duty chores.
Additionally, the tri-handle grips–which appear on a number of the brand's hand tools–not only provide greater control but also extend reach by an estimated 30%.
They've also designed the Husqvarna Hedge Master 320iHD60 to clear jams with the push of a button. Hopefully, this will sidestep perhaps the most annoying problem in any trimming job, which is (as the name implies) jams due to wedged sticks and debris.
As for weight, the trimmer's 18.4 pounds might seem heavy, but the three handles mentioned above should balance that out.
And finally, the 40V battery works with all Husqvarna hand-held tools.
Husqvarna 320iHD60 Price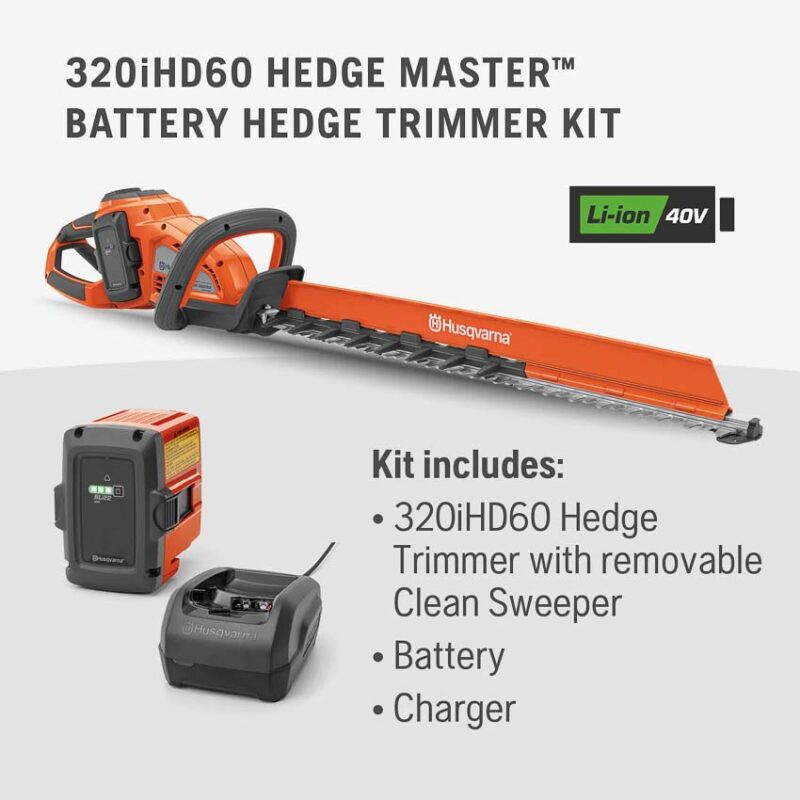 The Husqvarna Hedge Master 320iHD60 sells for $299 at Lowe's. This price includes a 40V battery and charger. The manufacturer backs its product with a 3-year warranty.