When we picture a beautifully manicured yard, we often focus on lush, emerald grass. But your gardens play a huge part in your home's appearance, and they're not always blossoming flowers. How about a beautiful line of boxwoods? Simply put, neatly shaped greenery adds to the stateliness of your property, giving it an established look and, thus, boosting its curb appeal and value. And that's where equipment like the Ryobi 18V Hedge Trimmer (P26011BTL) comes into play.
Our team put this 24-inch tool to the test, and, based on our field notes, we have a few things to say about it.
Ryobi 18V Hedge Trimmer Background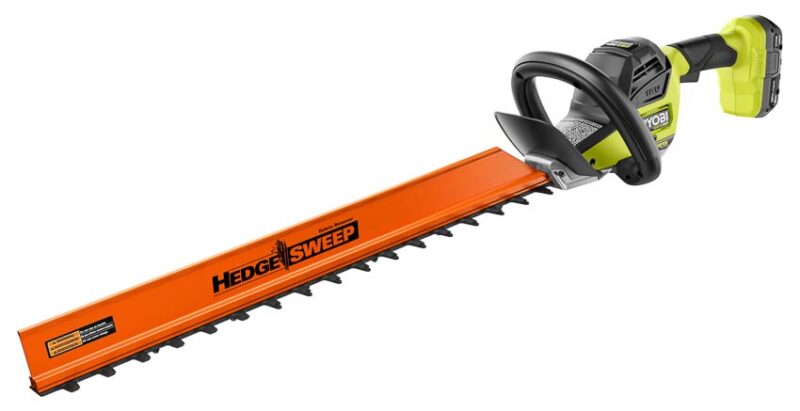 Driving the P26011BTL is an 18V (2.0Ah) brushless motor with a magnesium gearbox boosting power.
Before we even unboxed it, we checked up on the numbers, and, based on those alone, it seemed clear that Ryobi built this thing to handle a variety of tasks. For one, it touts a 24-inch dual-action blade with anti-jam technology. That's a respectable two-foot reach. And, trust us, when you unpack the P26011BTL, you realize just how much distance that is.
Make sure your skills are sharp along with your blades. Explore our guide on how to use hedge trimmers!
Indeed, adding to that, a 1-inch cutting capacity makes this a hand-held chomper. Going into this, Ryobi assured us that their 18V hedge trimmer would be able to handle everything from shaping to minor limbing.
Moreover, this tool is a member of Ryobi's whisper series, the role of which is to give you performance and power without the noise. Both were on our minds as we stepped out to give the P26011BTL a try.
Ryobi 18V Hedge Trimmer Performance
Weight, Balance, and Ergonomics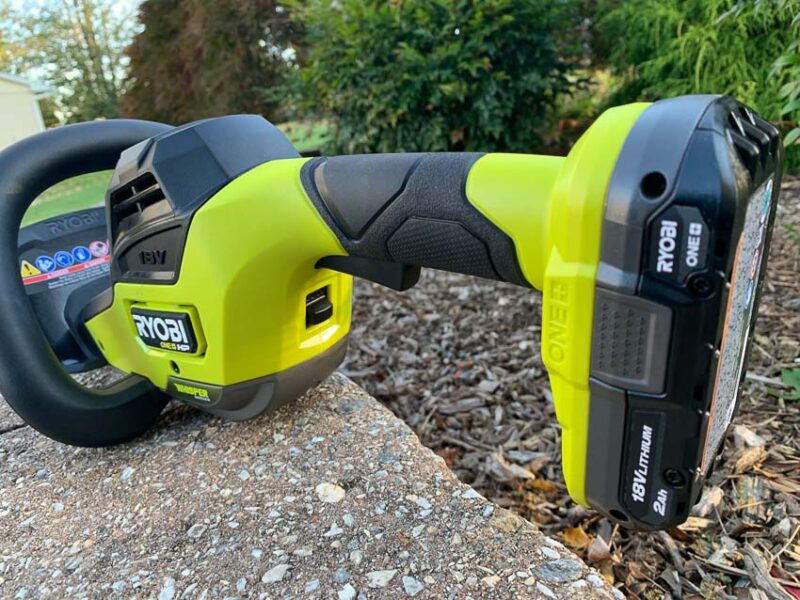 Perhaps most important with any handheld gear is ergonomics. Therefore, we'd be remiss not to touch on the P26011BTL's rounded front handle. Moreover, the rear handle has a soft overmolding to boost comfort and grip. We really liked both.
The handles fit like a glove. In fact, they were every bit as comfortable as the above description makes them out to be. Throughout our tests, we experienced no arm or wrist fatigue. Furthermore, maintaining a firm grip was a cinch.
As for weight and balance, Ryobi kept this tool nice and light. Of course, the blade and sweeper account for the lion's share of its 7 pounds. Yet, in spite of that, they managed to preserve the P26011BTL's balance. Actually, we thought it was exceptionally well-balanced, in spite of its beefy front end.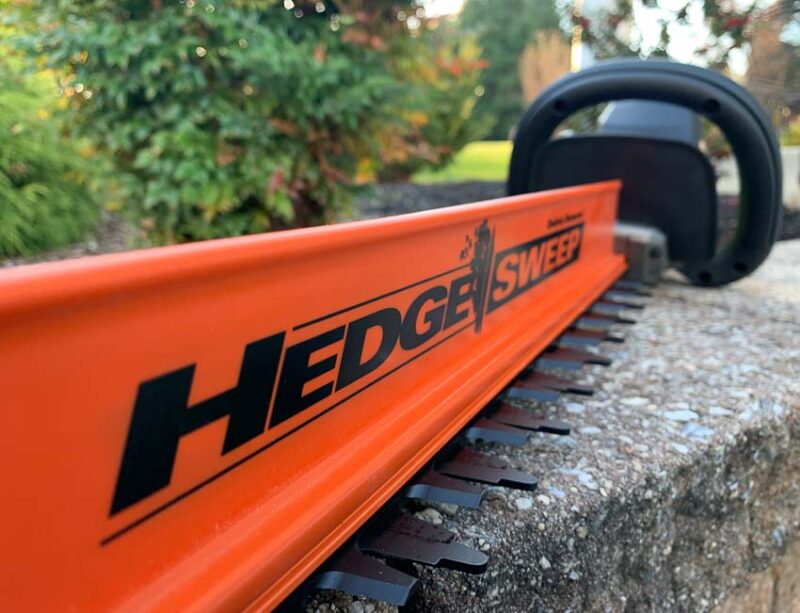 That said, one of the standout parts of this 18V hedge trimmer is Ryobi's HEDGESWEEP design. Meant to clear clippings and debris as you trim, the goal of this feature is to improve cut precision, visibility, and ultimately, efficiency.
We had no problems with any of these facets. In particular, the HEDGESWEEP increased visibility. So, right away, we were able to see areas that needed a second pass (there weren't many given the cutting performance).
Power and Performance
Ryobi wasn't kidding when they named their tool lineup the Whisper Series. The moment we fired it up, the P26011BTL purred. What's more, we could hear and feel the quality of the brushless motor.
There was nothing jarring or grating about this model's operation. As we pulled the trigger, the blades eased into their full cutting speed. Ultimately, this enhanced our control while trimming.
Speaking of cutting, the Ryobi 18V hedge trimmer is confident and precise. Actually, this thing has very sharp blades out of the box, so be careful when you remove the guard.
We trimmed shrubs, such as yews and boxwoods, along with a miniature Japanese maple that had some branches a shade over a half-inch thick. Cutting was effortless. And, while we didn't put it to work on flat-topped hedge rows, the sweeper still came in handy. This was certainly the case when clearing clippings and debris during upward strokes.
Specs
Model: Ryobi P26011BTL
Battery: ONE+ 18V (2.0Ah)
Motor: Brushless
Blade: 24 inches, double-sided
Dual-action cutting
SPM: 3,200
2-speed switch and trigger
Weight: 7.07 lbs
Now, if you're familiar with our reviews of handheld OPE, then you already know that we're sticklers for a good trigger lockout. Well, Ryobi's 18V hedge trimmer isn't good–it's great. Quite frankly, it's probably one of the best we've come across in a long time.
As we've explained many times before, the trigger lockout is not an insignificant design or performance element. You're essentially using two hands for two buttons at once (the lockout and the trigger). Consequently, there has to be a level of synchronicity at play. Otherwise, engaging the blades will be more difficult, thus affecting control, comfort, and ergonomics. The P26011BTL operates seamlessly in this respect.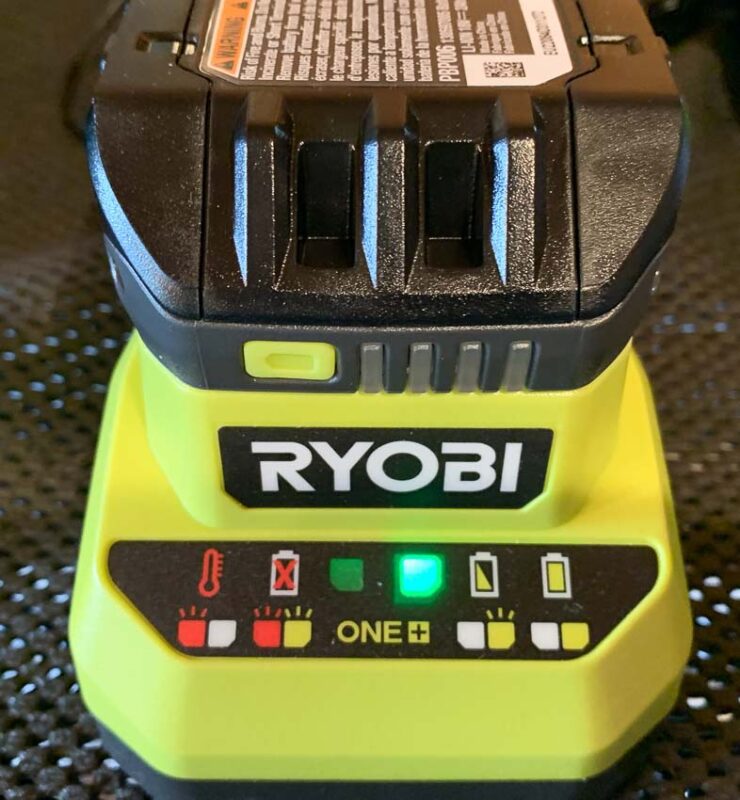 Finally, the battery is light, compact, and not at all intrusive. Regarding runtime, we performed about 25 minutes of solid trimming, and we saw only a one-bar drop. Naturally, we were happy with that.
The Bottom Line
Overall, Ryobi did a fantastic job with this 18V hedge trimmer.
Ergonomically, the best way to describe the P26011BTL is comfortable. The handles fit our hands naturally, and the grips helped a great deal with maneuverability, especially when executing awkward strokes.
Cutting-wise, the blades sliced through leaves and branches with no trouble at all, and Ryobi's HEDGESWEEP proved every bit as effective as we imagined.
In short, we give this tool our stamp of approval and think that it's worth at least a second glance the next time you're at Home Depot.
Ryobi 18V Hedge Trimmer Price
The P26011BTL sells bare for $174. Ryobi backs its product with a 3-year limited warranty.