The LE-322R Gives Homeowners Enhanced Performance and Design
A worthy competitor in the electric OPE market, Husqvarna has added a 40V model to its battery-powered walk-behind lineup. The Husqvarna LE-322R Lawn Xpert Mower is part of an effort to advance the brand's electric lawn mower formula by way of performance and design enhancements.
With that in mind, let's see what the LE-322R has to offer weekend warriors with small- to mid-sized yards to conquer.
Husqvarna LE-322R Lawn Xpert Mower Performance
Model: Husqvarna LE-322R
Covers yards up to 1/2 acre
Up to 75 minutes of runtime per charge
21-inch cutting width
Active cooling system for consistent power and longer battery life
Self-propelled
Walking speeds up to 4 mph
The Husqvarna LE-322R sports a brushless motor that, according to Husqvarna, gives this mower the power to chew through thick grass 30% more easily than comparable walk-behinds in its class. Likewise, its 21-inch cutting width suits homeowners with yards half an acre or less in size.
As for runtime, Husqvarna says you can expect to get about 75 minutes of cutting when using a pair of 40V BLi30 7.5 amp-hour batteries.
An active cooling system keeps the mower's motor from running hot. This helps maintain consistent power and extended tool life.
Furthermore, the LE-322R's self-propelled design includes a speed control similar to the one on the EGO Select Cut XP mower that enables the operator to set a walking pace of up to 4 mph, which is on the high end of average .
Husqvarna Lawn Xpert Mower Design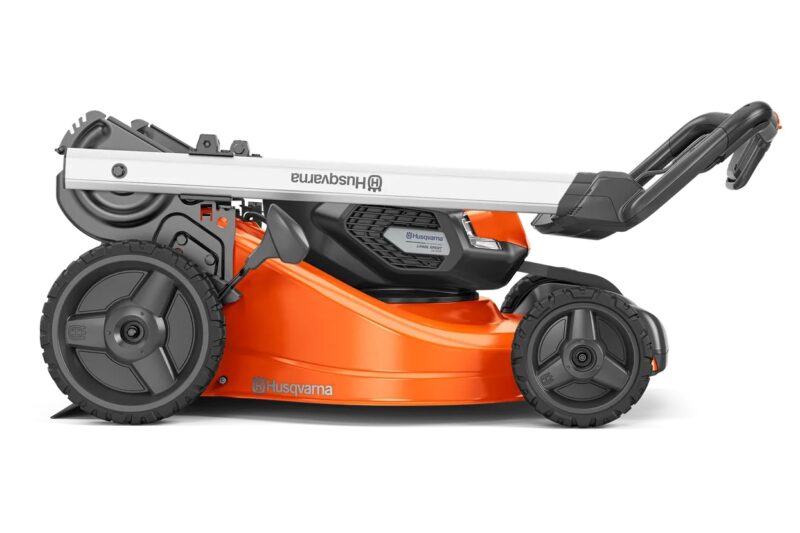 Weight: 80 pounds
Multiple cutting modes
Handles fold inward for compact storage
LED headlights
8-inch front wheels
10-inch rear wheels
7 cutting positions from 1.5 inches to 4.5 inches
The LE-322R has a number of features worth noting, starting with a series of operator controls.
This mower offers three cutting modes (auto-sensing, mulching, and boost) that you can toggle via a button on the control panel. Additionally, the design includes cutting heights from 1.5 to 4.5 inches, with 7 adjustment positions. A Start button, similar to a modern keyless vehicle, gets you started.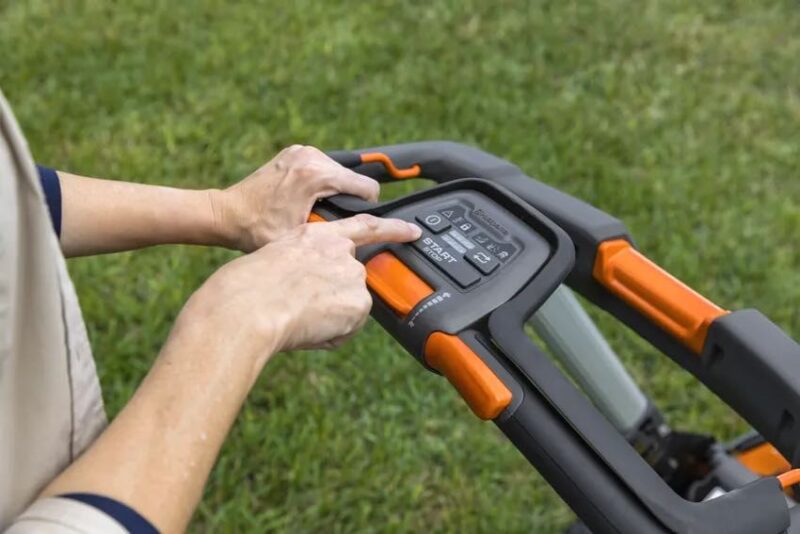 This model's lightweight build scales in at 80 pounds bare, while other design elements like its 8-inch front and 10-inch rear wheels allow for more rugged handling capability. Moreover, the LED headlights make it easier to mow in low-light conditions.
Finally, the handles fold for compact or vertical storage.
Husqvarna Lawn Xpert Mower Price
The Husqvarna LE-322R retails for $599 as a bare tool and $849 as a kit, including two 40V batteries and a charger. Husqvarna backs these options with a 3-year warranty.