With all the developments in battery powered outdoor power equipment (OPE), one thing has been elusive. There are not many sources for battery powered riding mowers. The Mean Green Nemesis NXR mower was the first we personally saw, but its $8,999 starting price hardly seems affordable for the average homeowner. The Ryobi battery powered riding mower comes in as the first sub-$3,000 battery-powered riding mower that offers all of the conveniences of an electric mower for the consumer. The nearest competitor is the 42-inch Cub Cadet RZT-S42 Zero for $3,999. Is the RYOBI RM480E mower for everyone? Probably not, but the battery powered lawnmower debate is about more than price—there are a myriad of factors at play.
Why a Battery-Powered Riding Mower?
While this is a hands-on review, I think it's also good to address why you would want to buy a battery powered riding mower. For starters, this mower requires almost no maintenance. Since the twin brushless motors driving the dual 19″ blades use direct drive, there are no belts to maintain. No gas engine also means no spark plugs, fuel, or air filters to replace. Finally, a battery-powered mower uses no gas, so fumes and winterization become a thing of the past. Sound convenient? It is. This may be the single biggest set of reasons why you'd want to consider paying the premium for a Ryobi battery-powered lawnmower over other gas-powered models.
You may also simply want a more eco-friendly mowing solution. If your yard is bigger than what can be done with a battery-powered push mower, the Ryobi RM480E would be your nearest and most affordable option.
Convenience Features for the Ryobi RM480E Riding Mower
With the Ryobi RM480E battery powered riding mower, you pretty much just charge it up and get going. It uses four 12V lead-acid batteries. That gives you a 48V system with a 75Ah, 4000Wh power plant. Those batteries, combined with the three direct-drive brushless motors (the third is on the drivetrain) deliver two hours of runtime. That should be enough to cover up to two acres of land on a single charge. This system also makes it easy to replace the batteries once the 3-year warranty expires.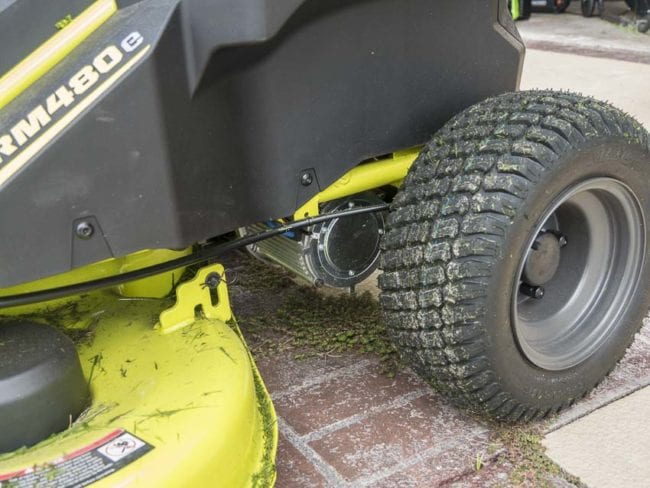 While the Ryobi battery-powered riding mower can run for two hours, charging should be done continuously when not in use. Keeping the riding mower plugged in and charged is the best way to maintain and care for those four sealed lead-acid batteries. In this way, the Ryobi riding mower operates much like an electric golf cart.
Control Panel
Unlike most riding mowers, sitting in the Ryobi RM480E is like riding in a high-tech go-kart. The control panel is much more advanced than your traditional mower and features an easy-to-read LED gauge for both battery level (bars) and total hours operated (numerical readout).
At the top of the panel is the blade engagement knob. Pull it up, and the blades engage. Slap it down, and they'll stop rotating. Below that, you find the direction control switch and the buttons for the cruise control and LED headlights. The keyed switch is below the digital gauge as is the USB port. To the right of the entire panel lies a vertically-oriented space which can hold your smartphone. There's also an override for mowing while in Reverse gear.
Comfort and Seating
The seat on the Ryobi battery powered riding mower has a couple springs to cushion the ride and an adjustment lever to slide it front and back. This mower uses a steering wheel, so it operates in a way that's more familiar to those who may not have mastered a traditional zero turn. And this isn't a zero-turn mower—but it's got a fairly tight turning radius nonetheless.
Just like a go-kart—which, again, the Ryobi riding mower resembles more than a little—the accelerator is on the right, and the brake is on the left. The foot pedal is easy to depress, but there is a bit of lag when you get it started. This is a mixed bag. You wouldn't want a sudden acceleration when you hit the pedal, but at times it felt a little bit on the sluggish side. If you like to drink water or something when you mow, a cup holder is located behind and to the left of the seat. It's just behind the deck height lever and can hold only smaller containers.
Ryobi Riding Mower Blades & Brakes
Push down the Ryobi riding mower brake all the way, and you can engage the parking brake on the left just below the steering wheel. Be sure to do this when you park the mower after the job is done.
The Ryobi RM480E uses twin 19″ blades that are driven directly by two brushless motors. That gives this mower a 38″ cutting deck. There are twelve (12) height options for the deck, from 1.5 to 4.5-inches. One problem we ran into repeatedly, was that the location of the deck height lever is easily dislodged when you exit the mower. I hit it nearly every time and had to reset it before mowing.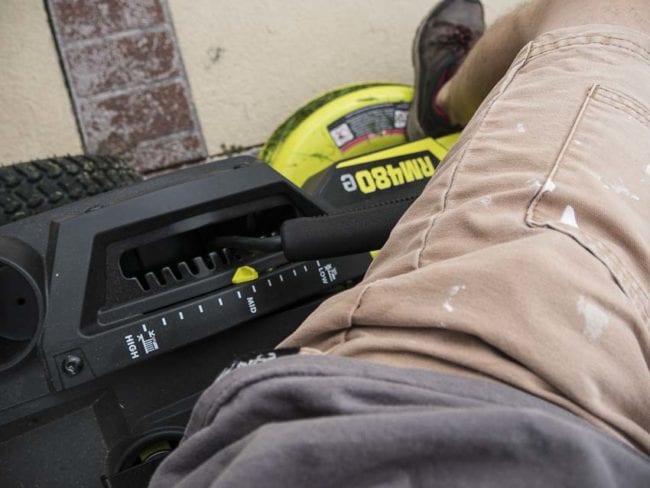 The Ryobi RM480E is led by scalping wheels which keep the blades and deck from digging in when you come to a hill or uneven ground. A mulching plug is included and was simple to install. I left it in for our testing.
Getting Up to Cruising Speed
The Ryobi 48V riding mower also includes cruise control. The cruise control is activated by a button on the console and holds the speed wherever you have it set. I used it constantly during my testing as it's easy to engage and disengage. Headlights would seem odd, except for the fact that the mower is really quiet compared to comparable gas-powered models. For the first time ever, you really can get away with mowing the lawn in the evening. The mower isn't silent, mind you, but the drive motor and spinning blades are the only noise sources. From the seat, we measured 92 dB SPL, which is about the same noise you get from a 48-inch zero-turn prior to spinning up the blades. It's also about 6-7 dB SPL less than a typical gas-powered product like the Exmark Radius X Series zero turn mower or the John Deere ZTrak Z355E in cutting mode.
Since the Ryobi battery-powered riding mower uses brushless motors, the Reverse gear is unique. Rather than the levers of a typical ZT or a manual gearshift, the RM480E uses a simple rocker switch for Forward, Neutral, and Reverse. If you want to cut in reverse, however, you need to push an additional button on the control panel. Once activated, the blades will continue to spin when you reverse the drive.
Using the Ryobi Battery Powered Riding Mower
The mower drives quickly when the blades aren't engaged—around 8mph. With the blades spinning, speed drops to around 5mph. In reverse, you get a bit slower, down to 3mph. Cutting was authoritative over typical grass. We did, however, run into an unusual drought here in Central Florida. We had to wait over a month before the grass was anywhere near mowable. When it finally began to rain—man, that grass shot up quickly! That gave us a nice mix of short and tall grass areas.
In some places, the grass was more than a little unruly. Those areas required a significant decrease in speed in order to not stall the blades. This is definitely going to be atypical for most users—but be aware that if you wait too long, you'll need to adjust your cutting technique accordingly.
The ride on the Ryobi battery powered mower is a tad on the bumpy side. Some of that is a factor of the smaller frame and seat. It was by no means uncomfortable, but you do experience a bit more movement. This goes hand-in-hand with the expected yard size that would accompany this mower. A yard over 1 to 1-1/2 acres would definitely benefit from a more comfortable ride and seating.
Cruise control worked really well, and the lack of a zero turning radius means you'll likely end up with more of a circular cutting pattern as opposed to back-and-forth. You can touch the brake to disable cruise control or deactivate it via the push button switch.
Ryobi RM480E Battery Powered Riding Mower Features & Specs
Speed: 8mph (drive), 5mph (cutting), 3mph (reverse)
Deck height: 12-position (1.5 – 4.5 in.)
Deck width: 38-inches
Blades: 2×19″ precision-cut steel
Side-discharge, mulching, or bag (option)
Cruise control
USB charging (1.0A)
LED headlights
Drive: Rear-wheel (Fwd/Rev/Neutral)
Run-time: 2 acres/2 hours
Weight: 595 lbs.
Seat: Adjustable w/dual springs
Control panel: Battery level, hour meter
Start key
Operator presence control
Parking brake
Optional accessories: 2-bin soft bagger with bagging blades, mulching blades
Retail price: $2499 ($299 bagger option)
Conclusion
So back to our initial discussion: Is the Ryobi battery powered riding mower good for everyone? Probably not—but this is an impressive product that comes in at a significantly lower price than every other battery-powered model currently on the market. I think it's perfect for people with a yard in the neighborhood of 1/2 to 1-acre. Exceed that size, and a larger deck and some more speed really come in handy. If your yard is under 1/2 acre, then a solution similar to the Ryobi RY40180 40V brushless mower might be a more economical solution.
The batteries—if they last as long as your typical golf cart—should be expected to run for 5 years (maybe more). After that, replacements will run you around $110-140 each. That means that while you're not paying for fuel, you could have a $440 to $560 bill every 5-10 years depending on your use. Keep the mower charger plugged in to maintain the batteries and that time should trend towards the long side. Compared to gas products, that might be close to a wash—but with the added benefit of less maintenance and no winterization.
We enjoyed using the Ryobi riding mower. It really is nearly maintenance-free. I can appreciate that and look forward to more innovation from Ryobi and others in the area over the coming years.