The new DeWalt 40V Max mower may be your answer to escalating gas prices and problems with Ethanol-laced fuel. Or, you may just want a battery-powered lawn mower. Whatever your reasoning, the DeWalt 40V Max mower cuts well, stores away with a small footprint, bags or mulches, and maneuvers very easy.
If you're looking for a battery-powered mower to mow your football field, then you better pack a few extra batteries. On the flip-side, if you have the run-of-the-mill lawn size, you may be fine. Runtime will be top concern if you're looking to cut large areas. With multiple tests, we could cut 5,440 sq/ft on a single charge.
Helpful Information: the actual lawn size for the American home is just 0.14 acre (a little more than 1/8), and shrinking.
DeWalt 40V Max Mower Features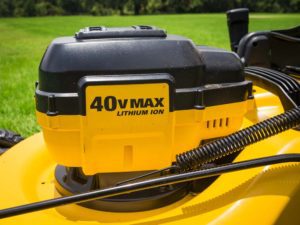 In the likes of battery powered push mowers, the DeWalt 40V Max mower is relatively powerful. Our testing resided on Bahai and St. Augustine grass in Central Florida. Bahia is well known for it's toughness and it grows in sandy environments. We didn't test in any overgrown areas, but the test areas were definitely in need of cutting.
DeWalt 2x20V Max and 40V Max Mowers
DeWalt recently released both a 2x20V and 40V Max mowers. Both of these mowers run on 40-volts of power. The 2x20V uses two 20-volt tool batteries in series, combining for 40-volts Max. This 40V Max mower uses a single 40-volt battery specific for the DeWalt lawn tools. While we haven't tested or reviewed the 2x20V, we place our bets that the motor and power much the same.
Specifications for both mowers look almost identical. Both include a brushless motor and 20-inch metal deck. Also, both are 3-in-1 mowers, hence they mulch, bag, and rear-discharge.
DeWalt DCMW290H1 Features Continued
Adjusting the height on the DeWalt DCMW290H1 is a cinch. With one hand, you can easily move one handle to any of the 5 cutting heights. Cutting heights range from 1-1/2″ to 3-1/2″. The handle also folds down flat to the deck, making it easy to stand on the back wheels. This provides a very small footprint for storage.
We did find a small hiccup with the handle folding and the height-adjustment knob. If the height-adjustment handle is in the "2" or "3" notch, the locking pins on the handle will collide with the height-adjustment knob, when folding the handle. This is remedied by placing the heigh in "1", "4", or "5".
While the DeWalt 40V Max mower does include a 20-inch metal deck, the actual blade only measures 19-1/4 inches. While this is not terrible news, just understand that the cutting swath is closer to 19-inches.
Big Wheels Keep on Turnin'
The DeWalt 40V max mower is not a self-propelled mower, although, it pushes and maneuvers very easy. Large 10-inch rear wheels with rubber tread aid in traversing any turf. The front wheels measure up at only 7-inches, but they don't hinder the roll.
Two handles on the metal cutting deck make for simple and easy lifting of the mower. This DeWalt 40V Max mower isn't too heavy, but it's not light and shifty either. It does have a quality feel to it, in most aspects. Another small feature that I like is the weep-holes on the deck, to drain off any water from rain or rinsing.
Using and Testing the DeWalt 40V Max
After several full charges on the 6.0 Ah 40V Max battery, our runtimes stayed between 19m 15s and 20m 24s. The average cutting area accomplished during these times was about 5,400 square feet. To put this in acreage terms, about 1/8 of an acre. Before you start complaining about this, make sure you think about it. If you have a typical home in a neighborhood, your lot size is probably 1/4-acre. That's your lot size. Deduct the home footprint, shop/shed, driveway, sidewalk, landscaping, etc., and you're probably left with less than 1/8 acre of turf.
https://www.instagram.com/p/BjuRWvWBdvG/?taken-by=opereviews
As mentioned above, this is not self-propelled, but I can see this as a benefit. Self-propelled mowers may have their place in hilly environments, but I like a simple push mower when trimming out a yard. Even though we have over 5-acres of property, we still use a push mower to trim around obstacles, before cranking up the zero-turn. Mowing these areas requires a lot of forward and back motions, and turning. The large wheels on the back of the DeWalt 40V Max mower make traversing these areas very easy.
When running a battery-powered mower like the DeWalt, you cut out more than just gas and oil. The only thing you hear is the whirrr of the blade as the mower passes by. This means that your loved ones can sleep-in on Saturday, as you're up early, cutting with your new toy. We performed most of our testing in the "mulching" format. We made sure to make a few rounds with the bagging attachment, and the DeWalt did very well, almost too well. After just a couple strips, the bag was almost full. This is a plus for DeWalt to catch all the grass, as very little residual was left. However, who wants to dump bags of grass all day? I say…let it mulch!
Conclusion
While you don't want the DeWalt mower if you're hoping to cut an acre on a single charge, it can be a great option for that downtown bungalow or townhouse with very little storage. In the end, the DeWalt 40V Max mower decision is really based on fitment and preference. Is it right for you? You want to cut an average or smaller lawn: Yes. Removing gas and oil from your lawncare tools is important: Yes. You need a commercial push mower for mowing all day: No. Your kids need a go-kart: No.
We would like to see the issue with the handle locking pins fixed, as this could cause some damage, over time. Also, the batteries need a 4th light. With just three indicator lights on the 40-volt battery, you don't know if 2-lights mean 33% or 66%. This is just too large of a spread.
Seriously, I had my doubts about the DeWalt 40V Max mower, so I'm pleasantly surprised. Do I wish that the runtime was longer? Of course, and we'll mess around with a 7.5Ah battery to see what we get. I wish that I could more eloquently explain this is an easy to use, simple, get-the-job done mower.
To purchase the DeWalt 40V Max Mower, click here .
DeWalt 40V Max Mower Specifications
Power: Brushless Motor
Output: 3-in-1; mulching, bagging, and rear-discharge
Deck: 20-inch stamped metal
Deck Adjustment: Single lever
Cutting Height Range: 1.5 to 3.4 inches
Battery: 40-volt Max (36 nominal) 6.0Ah Lithium Ion
Warranty: 90-day money back, 1-year service, 3-year limited
Price: $379 (w/6.0Ah battery and charger