Greenworks Commercial introduced the new GT 161, its first attachment-capable string trimmer. The new Greenworks 82V string trimmer offers universal attachment capabilities and works on their 82V battery platform.
Firstly, the GT 161 is the first Greenworks 82V string trimmer that allows attachments. Most landscapers we know prefer dedicated tools like the Greenworks Commercial stick edger, hedge trimmer, or cultivator. Some, however, like more flexible solutions, and this system meets the needs of those Pros.
Greenworks 82V String Trimmer Features
The string trimmer base can be paired with a hedge trimmer attachment, blower, edger, pole saw, or even a cultivator attachment. It lets you switch tasks speedily from string trimming, to edging, to hedge trimming, light blowing, or cultivating.
"Time is money for landscape pros, so we are excited to introduce a new tool that provides incredible efficiency…The new GT 161 Attachment Capable String Trimmer offers a portable core power plant that accepts multiple tool attachments. It is a powerful solution to a variety of landscape maintenance jobs, and, it is completely fossil-fuel free providing incredible ease of use and environmental-friendliness."

– Tony Marchese, Commercial Business Unit Leader for Greenworks NA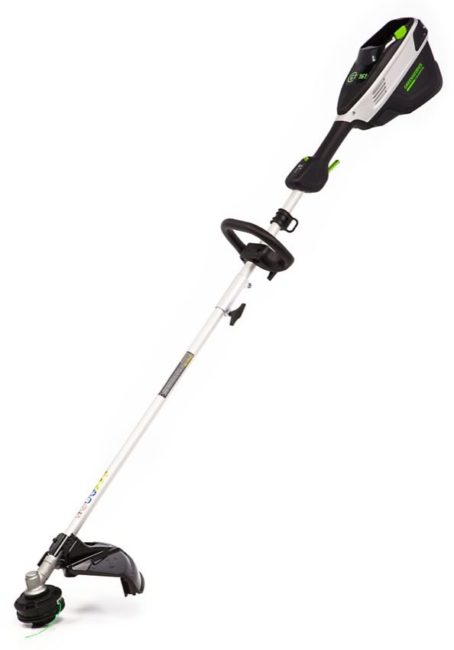 Powered by an 82V lithium-ion battery, the Greenworks 82V string trimmer also uses a brushless motor. It features a 16-inch cutting path—the minimum we like to see on Pro models. Like most cordless OPE products, the tool activates with the push of a button. A bump feed head makes it easy to replace string as you work.
Buying the GT 161 Attachment-Capable String Trimmer
The new Greenworks Commercial GT 161 Attachment Capable String Trimmer and attachments are available now through the Carswell, Carswell OEI, Conniff, Edney, PACE, and Steven Willand independent dealer networks. The Greenworks GT 161 retails for $249 and includes a 2-year warranty on the tool.
For more information check out the Greenworks Commercial website .