You might have noticed that, lately, we've been pretty busy with our latest undertaking, our Best Cordless Hedge Trimmer Shootout for 2018. With 13 different models to pit against one another, we had our work cut out for us. Honestly, with that many hedge trimmers on hand, you'd think we'd run out of actual hedges to trim. Not to worry though, Florida stays pretty jam-packed with available overgrowth to sic these trimmers on, even before spring really sets in.
At any rate, for our shootouts, we like to consider a few factors before we really settle on a winner. We try to keep our testing objective, looking at categories like power, performance, runtimes, weight and ergonomics, feature set, build quality, and value. Each category gets assigned a point value, and we go from there. Pretty simple, right? Well, with the winners picked out, we like to take a closer look at each of the entrants, one by one.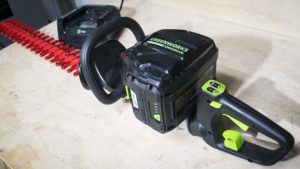 This week, we'll be spending some time with the Greenworks Commercial Hedge Trimmer. Before we get too far into this review, it might be helpful later if we cleared a few things up right now. Greenworks actually entered two models in our shootout, so you'll definitely see their name come up again in the future. However, Greenworks has an "Elite" line of cordless tools, as well as a "Commercial" line aimed at the lawn pro. This GH260 represents the commercial side of Greenworks as their flagship model. But, does the 82V Commercial line offer anything that the 40V Elite line doesn't?
Speed & Cut Testing
With each trimmer, we took 3 passes on a panel full of 4 differently sized dowel rods to see how quickly each model handled a consistent workload. The Greenworks Commercial Hedge Trimmer finished 3 passes in 36 seconds. It placed 9th out of 13 places. Obviously, this wasn't the worst finish, but we did expect a better result from the company's commercial line. The interesting thing about Greenworks and our dowel rod testing is that their Elite model, the HT-240-T, finished 2nd with a time of 20.5 seconds.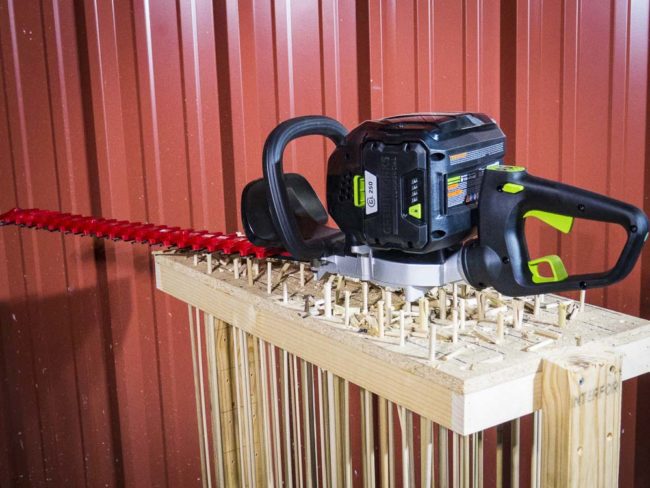 Of course, the speed test is helpful, but it doesn't tell the whole story about a hedge trimmer's efficacy. Another thing we looked at, as we felt like it affected speed and efficiency, was every hedge trimmer's cut capacity. How "inviting" is the blade/blade guard design? We measured each trimmer at the blade opening. The GH 260 measured in at .60″. Most of the trimmers we looked at measured in at a larger 3/4″, which will definitely affect performance. We wonder why Greenworks settled on this smaller opening?
Runtime Testing
Runtime also affects a model's overall score. We ran each hedge trimmer from a full charge until it went dead (with the exception of the Stihl HSA 66, which we just couldn't kill after 4-1/2 hours). We saw some pretty wild swings in this category, mostly due to our winner really wrecking the curve. However, on the losing end of the spectrum, the competition was a good deal closer.
Neither of the Greenworks models did particularly well in this category either, although you can forgive the 40V Elite line. The 82V GH 260, however, finished in another disappointing 9th place. With a final time of 1:21:36, it only ran for around 14 minutes longer than its faster-cutting counterpart.
While a time of 1:21:36 didn't win the runtime fight, this still may exceed your runtime needed for a full days work. We understand that hedge trimming is not performed all day with most lawncare crews. If you're truly maintaining hedges and spending just a few minutes at each job, one battery may last you. Also, there's the option of having a second battery to swap out when needed.
Weight And Feature Set
The Greenworks GH 260 seemed to be on the wrong end of the weight category results. The GH 260 weighed in at 13.1 lbs with the battery attached. To put that into perspective, the Greenworks HT-240-T finished as the lightest model at 7.8 lbs. Now, as many of you know, 5 lbs (give or take an ounce or two) is a lot when you're on a job that requires you to hold the trimmer at shoulder-height or more.
The Greenworks Commercial hedge trimmer does include some useful features. For one thing, Greenworks included a rotating handle that allows for better control when trimming the sides and tops of hedges. It also has an electric lockout safety feature, which forces the user to depress the power button before a squeeze of the trigger powers the blades.
Build Quality and Value
The GH 260 shines in the build quality category. As Greenworks has designed this model with the commercial landscaper in mind, the GH 260 has a tough, durable build. Plus, it was one of several models we looked at that has a serviceable gearbox. This ought to help keep the hedge trimmer maintained for better uptime.
Value rankings, unfortunately, hurt the Greenworks Commercial hedge trimmer in our shootout. For the tool, the battery, and the charger, the GH 260 will run $417. This wasn't the most expensive setup we came across, but at only $12 cheaper than the $429 Husqvarna model, it really wasn't too far off. Contrast this with the Greenworks HT-240-T, which runs $179…this seems like a pretty natural place to segue…
Final Thoughts
…So, the obvious question becomes: if you can pick up the 40V HT-240-T for around $240 less than the commercial model, why wouldn't you? The question would be a moot point for the pro landscaper if the GH 260 outperformed and outlasted the Elite line. But, in just about every category, the 40V prosumer model presents a better option. Sure, 82V provides more power, but when 40V can do the job, and evidently do it quicker, why does the extra power even matter? Ultimately, the 82V Greenworks Commercial Hedge Trimmer suffers most by being straight-up outclassed by its own prosumer 40V model. However, in the end, if Build Quality and durability is a major concern, then this GH260 definitely has the leg up.
To find out more about the GH260 Greenworks Commercial Hedge Trimmer, click here .
Greenworks Commercial Hedge Trimmer Features & Specs
26″ blade with a jam release feature reverses blade at the push of a button to safely free jams
A brushless motor delivers more torque and longer life for your investment
180° rotating handle allows easy trimming at multiple angles
50% less noise allows you to start jobs earlier in the day without disrupting clients
1.5-hour runtime with fully charged 2.5Ah battery
Weight: 14 lbs
Dimensions: 46 x 8 x 10″
MSRP: $189 for bare tool