Metabo HPT 18V Workshop Blower Helps Clean Off Trailers and More
While most landscapers rely on powerful handheld and backpack blowers for their work, a small blower can work really well for smaller tasks. For sweeping grass out of the trailer or shop, something like the Metabo HPT 18V workshop blower really does the trick.
Editor's Note: Check out out best battery-powered leaf blowers article for our top picks.
Metabo HPT 18V Workshop Blower Details
The Metabo HPT RB18DSLQ4 preceded this blower and sported 77CFM of blowing volume. The updated Metabo HPT 18V workshop blower delivers 60% more airflow—up to 124 CFM.
With three different speed settings on the back of the handle, the tool claims 213 MPH of maximum airspeed. You control the speed levels with your thumb. Use them to balance power and runtime.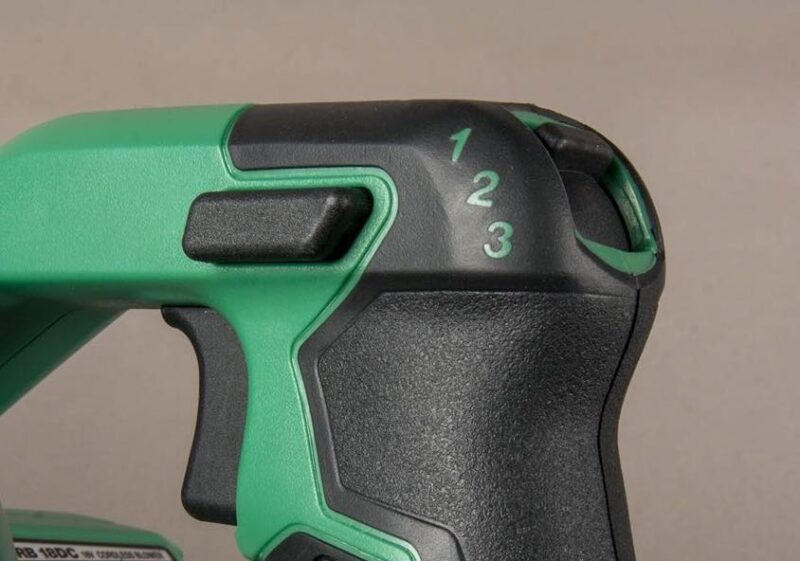 Expect around 20 minutes of runtime when using an 18V 5.0Ah battery. We expect this should let you get most of your trailer or workshop blowing done before having to swap batteries or recharge.
The Metabo HPT workshop blower gives you a convenient lock on the switch you can activate with your thumb. This locks the tool in the On position, eliminating the need to continuously hold down the trigger. At the very least it reduces hand fatigue and, at best, lets you focus on your aim.
As a bare tool, this workshop blower weighs 2.6 pounds. The lightweight design makes a lot of sense as a small cleanup tool. Otherwise, why not just go with a full-size blower!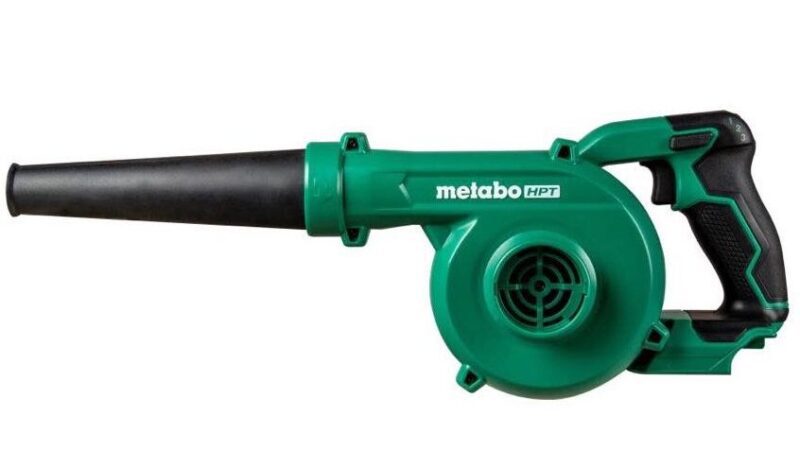 Additional Features
Rubber nozzle resists crushing and cracking
Accepts both Metabo HPT 18V and MultiVolt batteries
Just Another Jobsite Blower?
The Metabo HPT 18V Workshop Blower may look like similar products designed for shop cleanup. The speed and air volume numbers, however rank far higher than the competition. In fact, these n numbers are the highest we've seen from this class. Below we compared this workshop blower to models from Flex Tools and Milwaukee Tool.
Flex
FX5441
Metabo HPT
RB18DCQ4M
Milwaukee
0884
Motor
Brushless
Brushed
Brushed
Max Airspeed
185 MPH
213 MPH
160 MPH
Max Air Volume
115 CFM
124 CFM
100 CFM
Bare Weight
2.8 lbs
2.6 lbs
2.6 lbs
Bare Price
$119
$99
$129
Metabo HPT 18V Workshop Blower Price
Perhaps the icing on the cake is the price. The Metabo HPT 18V workshop blower retails for just $99. You have to add your own battery and charger, but you get a lifetime lithium-ion tool body warranty. You can find it at Lowe's, Acme Tools, and other online and brick-and-mortar retailers.
Considering Metabo HPT is blowing away (you see what we did there?) the competition in both performance and price, going with this tool makes double sense if you already use Metabo HPT 18V or 36V MultiVolt tools.
Specifications
Model: Metabo HPT RB18DCQ4M
Max air velocity: 213 MPH
Weight: 2.6 lbs (without battery)
Housing material: Plastic
Height: 8.3 in
No-load speed: 0 – 20,000 RPM
Voltage: 18V