Ditch Gas for the Milwaukee M18 Fuel 8-inch Hatchet Pruning Saw
With California banning gas outdoor power tools , more Pros welcome handy battery-powered solutions that help them work more easily. We see this particularly in the landscaping and outdoor power equipment sectors. Less than a decade ago, gas ruled the day and battery power remained a pipe dream. Now, tools like the Milwaukee M18 Fuel Hatchet Pruning Saw offer landscapers and arborists an innovative combination of power and ergonomics. We got to use it for ourselves while at a Milwaukee Tool media event.
Milwaukee M18 Fuel Hatchet Pruning Saw Overview
The flexible M18 Fuel Hatchet Pruning Saw combines power and ergonomics to let it cut through hardwood branches up to around 7-inches in diameter or so. By using brushless motor technology, Milwaukee can maintain the chain speed while it cuts. That holds true even when cutting through tougher wood. According to Milwaukee Tool product managers, the M18 FUEL Hatchet delivers the power of a 25cc gas saw.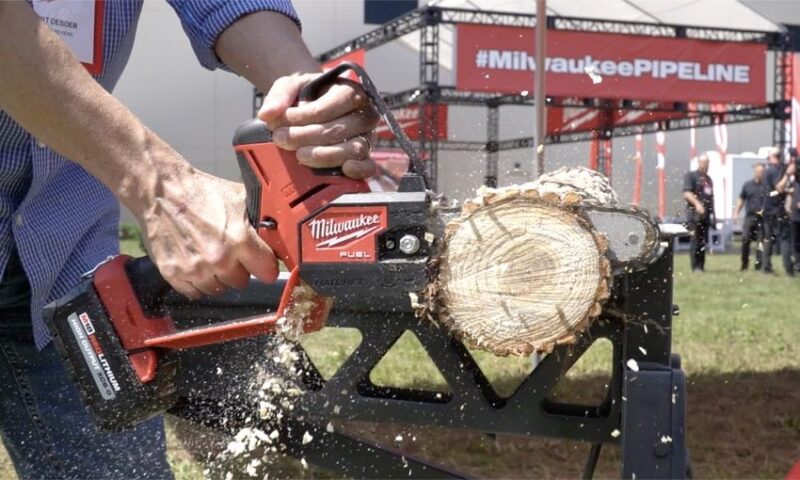 We like the compact design of the M18 FUEL Hatchet. It gives you tons of maneuverability and control. Weighing less than 5 pounds, we found we could easily place it and pivot it as needed to make our cuts quickly.
The battery-powered M18 Fuel Hatchet pruning saw reaches full speed in less than 1 second. That's very quick. Other features we like include the guard at the front/top of the tool and the onboard scrench storage.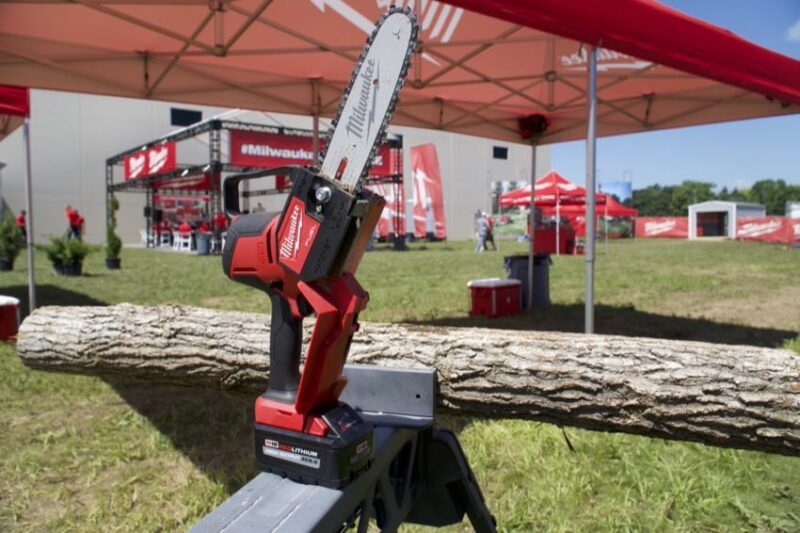 Performance
We got our hands on this tool at the August 2022 Milwaukee Pipeline media event. Surprisingly, we found we had enough time to really test out this 8-inch M18 FUEL pruning saw using a 6-inch diameter tree pine trunk. We must have made nearly a dozen slices in short order. In the end, the XC8.0 battery still showed 4 bars remaining.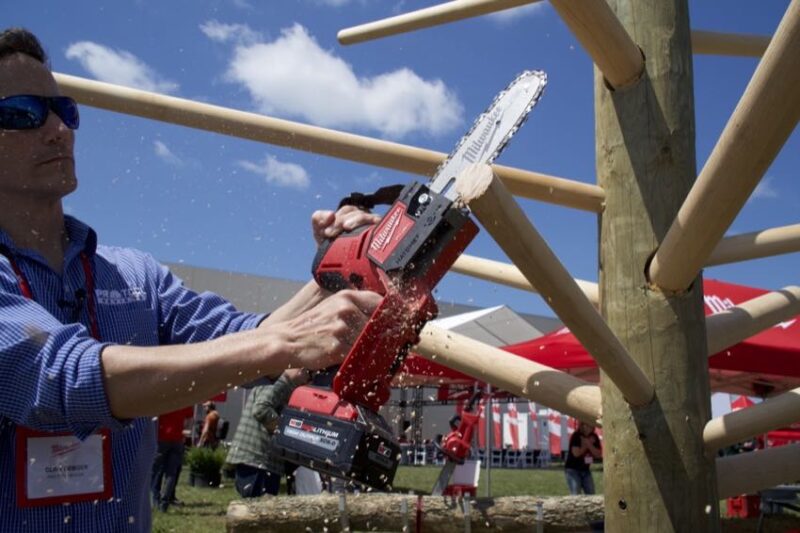 I found I could really engage the bucking spikes and leverage the M18 FUEL pruning saw into the cut. It let me lever the chain down into the wood quickly and get through each cut in no time. The ergonomics of this tool also impressed. The front guard protects your front hand, while the tool-sized trigger feels familiar and squeezes easily. The tool uses a full house chain and cuts at a speed of about 16.5 fps (5 m/s). Pull the trigger on this cordless 8-inch chainsaw and the blade gets to full speed almost instantaneously.
I like an accurate saw—or at least one that's easy to control and guide through a cut. To test this, I took off a series of several 3/8-inch or thinner slices of pine. A larger saw lets you get a smoother cut due to the longer chain and ability to pivot further, but for raw limbing and cutting smaller trees, I love how this lightweight tool eats through the wood.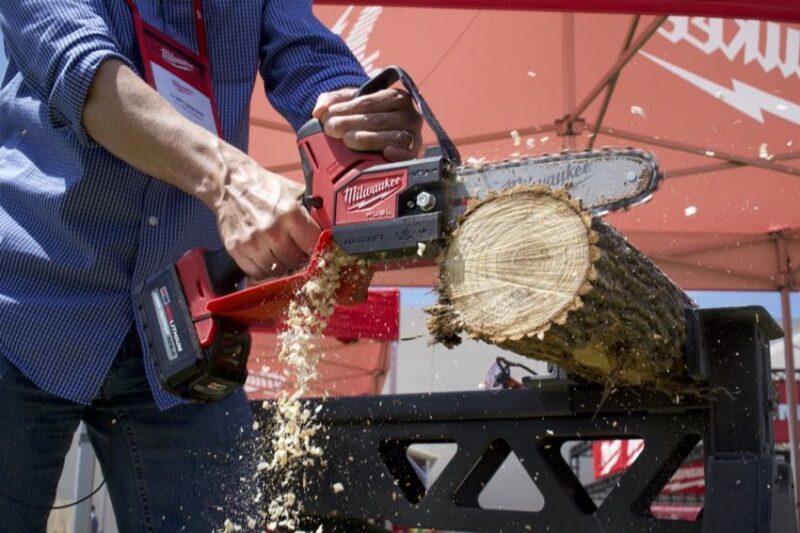 The M18 FUEL Hatchet has a lot going for it. You can make tons of cuts and ditch the gas pruning saw or larger chainsaw. The battery produces no fumes and you don't have to mix any 50:1 fuel. In fact, there's hardly any maintenance aside from keeping the chain oiled and maintaining the sharpness of the blade.
Compared against the Milwaukee M12 Hatchet , this larger saw cuts with a lot more confidence. It also gets through thicker branches (8-inch blade vs 6-inch). For professional arborists, I could really see this "gateway" tool fitting in nicely for anyone looking to ease into battery-powered outdoor power tools.
Additional Features
Variable speed trigger
Lanyard loop
Easy-access chain tensioner
Automatic oiler
Metal bucking spikes
Price and Availability
The M18 Fuel Hatchet Pruning Saw is set to release in October 2022. It carries a retail price of $279 for the bare tool. We look forward to doing even more testing when we inevitably get this saw in for review.
Specifications
Model: Milwaukee 3004
Blade length: 8 in
Price: $279