Trim Your Trees (and Your Spring To-Do List) with Ryobi's 6-inch Pruning Chainsaw
Spring is almost here, and more than likely, your outdoor to-do list is already in bloom. In timely fashion, Ryobi has an array of products to assist homeowners in managing this season's mounting lawn and garden demands, including the Ryobi 18V Pruning Chainsaw.
This compact version is the brushless iteration of its 8-inch sibling, the P5453. And, as an aside, it made our Best Chainsaw Reviews list. So, without further ado, let's explore the performance features and design behind this tool and see how it can help you trim your trees (and your spring to-do list).
Ryobi 18V Pruning Chainsaw Performance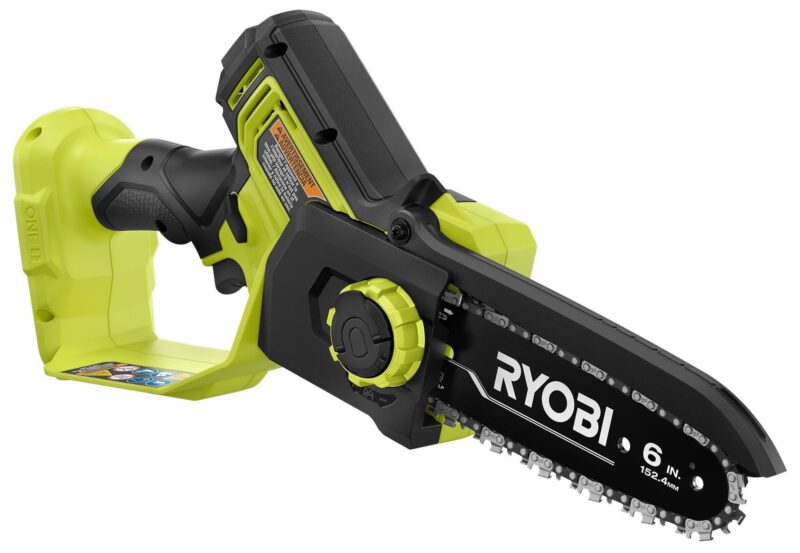 Chain speed: Up to 5 MPS (meters per second)
Max Cut Thickness: 4 inches
As far as performance features go, Ryobi's new brushless motor provides a top cutting speed of 5 MPS (meters per second), while its 6-inch bar and chain are geared for pruning and limbing tree branches up to 4 inches thick.
Be sure to check out our guides to Chainsaw Basics and Chainsaw Safety Tips!
Ryobi P25013BTLVNM Design
Model: Ryobi P25013BTLVNM
Power Source: ONE+ 18V Lithium-Ion 2.0 Ah Compact Battery
Bar-Length: 6 inches
Weight: 3.65 lbs. (with battery)
This 6-inch model is Ryobi's most efficient pruning chainsaw ever–41% more compact than the P5453, to be exact. And thanks to its size, it weighs about half as much.
Additional Features
Oil-free design
Tool-less chain tensioning
On top of that, this smaller, lighter blueprint allows for one-handed control, which could prove beneficial when working from a ladder. Ryobi likewise added an oil-free design and tool-less chain tensioning for easier adjustment and operation.
Ryobi 18V Pruning Chainsaw Price
The Ryobi 18V Pruning Chainsaw retails for $149 without any accessories. It's also available as a kit for $189 and includes a 2Ah battery and charger. Ryobi backs your purchase with a 3-year warranty.