Ryobi Battery-Powered Rear Tine Tiller Packs Serious Power
As gas-powered equipment makes the shift to battery power, we've been enjoying witnessing the evolution. The Ryobi 40V rear tine tiller makes its debut and it's in a league of its own. We took it out to the ranch to see how this battery-powered tiller stacks against gas models we've reviewed.
Ryobi 40V Rear Tine Tiller Performance
To make this strong of a tiller, Ryobi had to start with a strong foundation and we weren't surprised to find an impressive powerplant. A pair of 40V batteries power the machine's two brushless motors.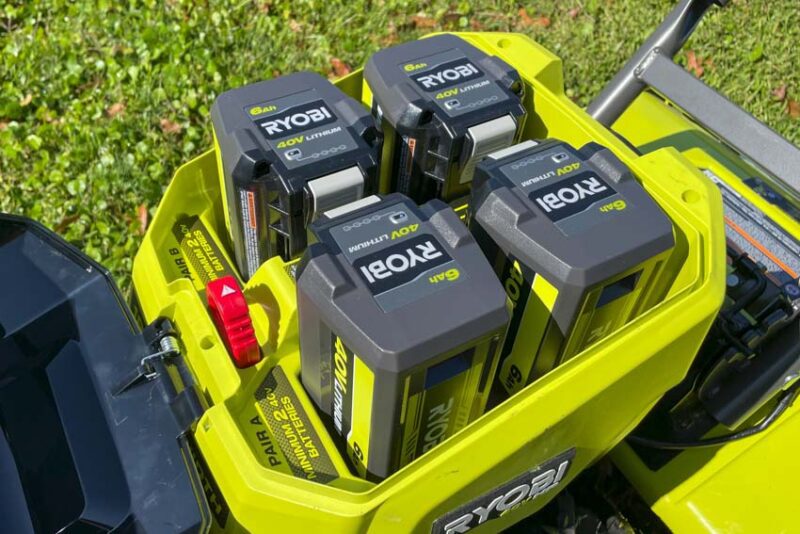 The battery compartment has space for four batteries. While you only use two at a time, they're all active ports and you have to switch the key around after your first set depletes.
This is a strong machine so it's wise to use 6.0Ah batteries or higher, but any Ryobi 40V batteries will work. Make sure each set matches and starts with a full charge. If you pair a 6.0Ah and a 2.0Ah battery, for example, you're only going to run until the smaller pack is depleted.
Tilling
Four tines work to help you clear an 18-inch path up to 10 inches deep. The tines counter-rotate which makes for a better job breaking up hard or untilled ground.
We wanted to start by pushing the tiller to see how it performed at full power. We used a DR Power brush mower to cut an area of overgrown, untilled pasture down to just a few inches tall and set out to test the machine's limits.
When we engaged the tines, they wasted no time and immediately started ripping through the grassroots under the ground's surface. One pass of the tiller left the soil exposed, but not yet plantable. One more pass finished the job. We compared our results to what we would expect from a gas tiller, and we found this Ryobi model performed very well.
Ryobi 40V Rear Tine Tiller Design Notes
Controls
This machine features a self-propelled mechanism, which is very welcome considering it weighs 165 pounds. As for the controls, they're pretty simple to grasp. You simply push the power button to activate the tiller, set your preferred drive speed on the flipper dial, and pull the bar to the handle to start tilling.
It does have a couple of interesting features, though. First, there's a transport mode button that allows you to move the machine without engaging the tines. We found the top speed in this mode to be impressively fast, so consider a speed somewhere in the middle while you're getting more comfortable controlling the machine.
The other notable thing was that you can keep the tines engaged while you're in reverse. Most tillers automatically shut them off instead. Having the ability to continue tilling in reverse can help get the job done quickly since you won't have to completely turn around in order to hit it a second time.
Tires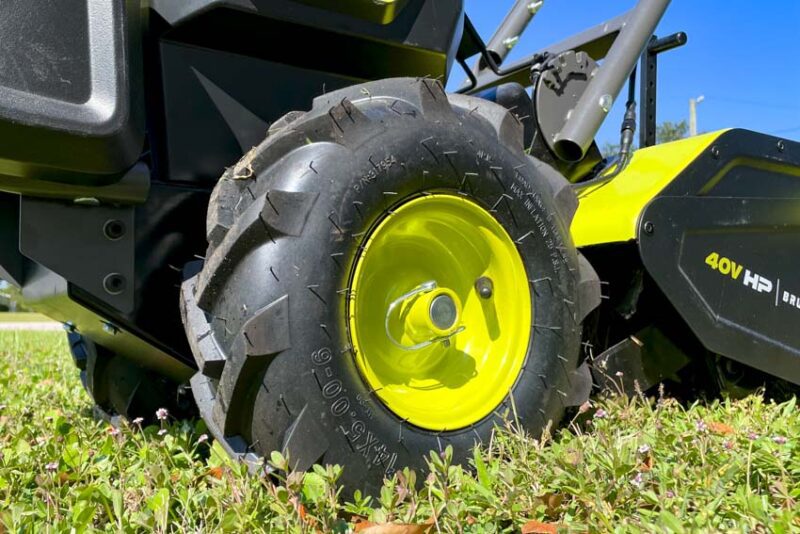 This rear tine tiller has a pair of 14-inch pneumatic tires. They feature an aggressive tractor-style tread that helps keep you going, although they can slip in soft soil when you're tilling deep.
Sand Ballast
The front of the machine houses a removable plastic tub. It can be tempting to use it as a phone holder while you work, but it's actually a sand ballast for when you need to weigh the front end down.
Additional Highlights
Adjustable side shields
Adjustable 9-position depth stake
Handle folds vertically to reduce storage footprint
Front bull bar
Compatible with all Ryobi 40V batteries
Ryobi Battery-Powered Rear Tine Tiller Price
This tiller retails for $1399 as a kit, including four 6.0Ah batteries and a dual port rapid charger. You can find it in select Home Depot stores or order it online for free home shipping. Ryobi backs your purchase with a 5-year warranty.
The Bottom Line
If you're looking for an alternative to gas power, whether it's by choice or regulation, Ryobi's 40V HP Brushless battery-powered rear tine tiller gets the job done. While you may have luck with a small battery-powered tiller for a small section of pre-tilled ground, this Ryobi machine gives owners of larger properties a legitimate tilling solution that's on par with gas.
Check out more Ryobi outdoor power equipment here !
Specifications
Model: Ryobi RY40720VNM
Power Source: 2 x Ryobi 40V battery (4 available ports)
Tilling Capacity: 18 inches wide and up to 10 inches deep
Tines: 4 counter-rotating
Weight: 165 pounds
Warranty: 5 years