Ryobi 40V HP Brushless Cordless Hedge Trimmer Provides Impressive Capacity
While Ryobi has a ton of homeowner- and DIY-targeted products, one area that it has been diving head-first into lately is high-performance cordless OPE. The brushless, 26-inch Ryobi 40V Hedge Trimmer joins the brand's Whisper Series with familiar features and eyebrow-raising performance. We got it in our hands for some testing to show you what it has in store.
Pros
1.5-inch cut capacity
Dual-action36-inch blades
180° rotating handle
Hedge Sweep attachment
Cons
A bit on the heavier side if you're used to smaller hedge trimmers
Ryobi 40V Cordless Hedge Trimmer Design Notes
Size and Weight
This hedge trimmer measures 43 inches from head to toe. Including its 2.0Ah battery, it weighs 11.3 pounds. While there are certainly lighter trimmers available, the battery pack helps to give this tool a balanced feel.
Handle Adjustment
Adding a pivoting handle feature to a hedge trimmer makes good sense to us. It's a simple design feature that allows you to adjust the angle you work at for added comfort. This also makes it easy to trim your hedges and landscaping into a variety of shapes and angles.
To adjust the angle, you simply pull back on the release button and rotate the handle. In total, you have 180° of rotation with detents at 45° and 90° on both sides.
Ergonomics
Good handle spacing and weight distribution are two of the most important factors when designing longer tools for comfort and safety. We can tell that Ryobi had their 2.0Ah battery in mind when designing this tool since this combination feels very balanced. However, we find that the 4.0Ah battery pack also feels pretty good.
This tool makes both horizontal and vertical cutting very easy. Thanks to the wide front handle, you have plenty of grip options to maximize comfort. This coupled with the versatility of the rotating handle makes for a winning combination.
Ryobi 40V Cordless Hedge Trimmer Performance
Cut Capacity
One of the first things we noticed about this tool is its 1 1/2-inch cut capacity. This number is on par with the pro-grade Stihl HSA 94 R. In fact, that was the only other battery-powered hedge trimmer we could find with the same capacity, with most topping out around 1 inch.
This stands out for a few reasons. For one, you have more flexibility to handle larger branches while you work. Two, the larger spacing between teeth allows more material to pass through smoothly, making the bar less likely to bind up.
Regardless, this tool made quick work of trimming our hedges.
You have two operating speeds to choose from while using this trimmer. It tops out at 3200 SPM, which is great if you're not worried about conserving battery. If you want to get the most battery life per charge, drop your speed down to the lower setting, which sits at 2800 SPM.
Dual-Action
On some trimmers, you have one set of blades that remains fixed while the other moves. Ryobi chose to utilize a two-blade system that reduces the amount of vibration you feel while you use it. Both blades run back and forth like scissors, giving you more cutting action since both edges of both blades constantly cut materials between the teeth.
Since the blades are moving in opposite directions, the net movement evens out, resulting in a smoother cutting experience. Plus, there's no vibrating gas engine to worry about, making this a very ergonomic tool in comparison to gas-powered trimmers.
Noise Level
This hedge trimmer is part of Ryobi's Whisper Series, which boasts a lower noise level. While it does have a quiet motor, it's hard to reduce the blade noise on a tool like this. Even with this blade noise, it's still dramatically quieter than gas alternatives. Our SPL meter measured this hedge trimmer at 82 dB on low and 87 dB on high from the operator's ear.
Hedge Sweep
Ryobi carried over its Hedge Sweep, which we've seen on previous hedge trimmer models. To equip it, you simply slide it onto the raised track on top of the bar. This accessory helps direct and clear clippings away while you work. You can even keep it on when you want to replace the scabbard.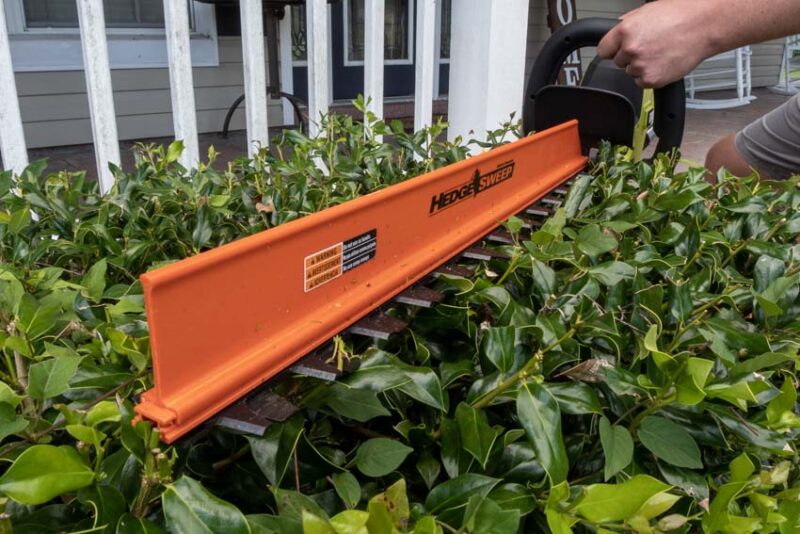 If for some reason you don't like it, you can easily remove it by sliding it off.
Ryobi 40V Cordless Hedge Trimmer Price
You can find this Ryobi 40V hedge trimmer as a kit retailing for $329, including a 2.0Ah battery, a charger, and a removable Hedge Sweep. Ryobi backs this tool with a 5-year warranty and the battery with a 3-year warranty.
The Bottom Line
Combining its cut capacity and blade length, we found the Ryobi 40V 26-inch hedge trimmer to be a quick and effective solution for our trimming tasks. The large blade capacity and cutting speed are reminiscent of professional-level tools. If you're in the market for pro-grade performance, this is pretty much as close as you can get without the price hike.
Click here to see what's NEW from Ryobi!
Ryobi 40V Cordless Hedge Trimmer Specifications
Model: Ryobi RY40660
Power Source: Ryobi 40V battery
Cut Capacity: 1.5 in.
Weight: 9.44 lbs (bare), 11.25 lbs (with 40V 2.0Ah battery)
Tool Length: 43 in.
2-Speed Motor
Bar Length: 26 in.
No-Load Speed: 2,800 SPM (low), 3,200 SPM (high)
Warranty: 5-year tool, 3-year battery
Price: $329 (kit)