Ryobi 80V Battery Platform Adds a 30-inch Self-Propelled Lawn Mower
While visiting the Equip Expo (formerly GIE) earlier this year in Louisville, Kentucky, we got a sneak peek at the latest OPE from some of the biggest brands in the industry. Ryobi was on the roster, and it showed off the newest addition to its 80V lawncare system. We're taking a look at the Ryobi 80V 30-inch Lawn Mower to see how it upgrades the brand's walk-behind lineup.
Ryobi 80V Self-Propelled Lawn Mower – The Big Deal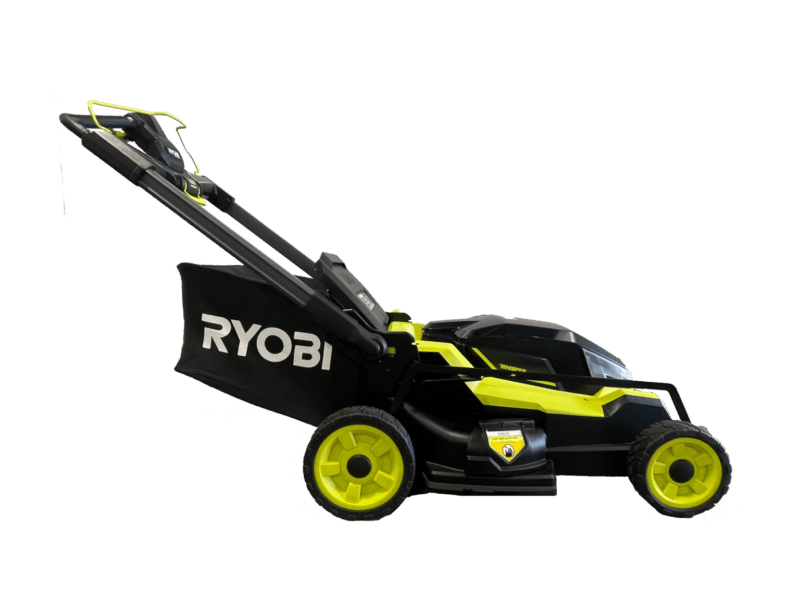 This mower is Ryobi's first walk-behind mower on the 80V system, which until now consisted of three ride-on mowers and just-announced Ryobi lawn tractors. The addition of a 30-inch walk-behind mower gives the lineup more flexibility and allows you to use the same battery system for smaller mowing tasks.
Ryobi 80V Self-Propelled Lawn Mower Battery
The Ryobi 80V 30-inch Lawn Mower uses a 10Ah 80V suitcase-style battery, which provides a higher capacity (720Wh) than you'd get from the brand's 40V mowers. In fact, you can expect to see up to 90 minutes of runtime per charge, which is 20 minutes more than Ryobi's next highest-capacity model, the Whisper Series 21-Inch AWD Crosscut mower .
For another way of looking at power, Ryobi claims the 30″ RYPM8010 Crosscut mower has more powerful than a comparable 223cc gas mower. We've never wanted a Dyno more in our lives…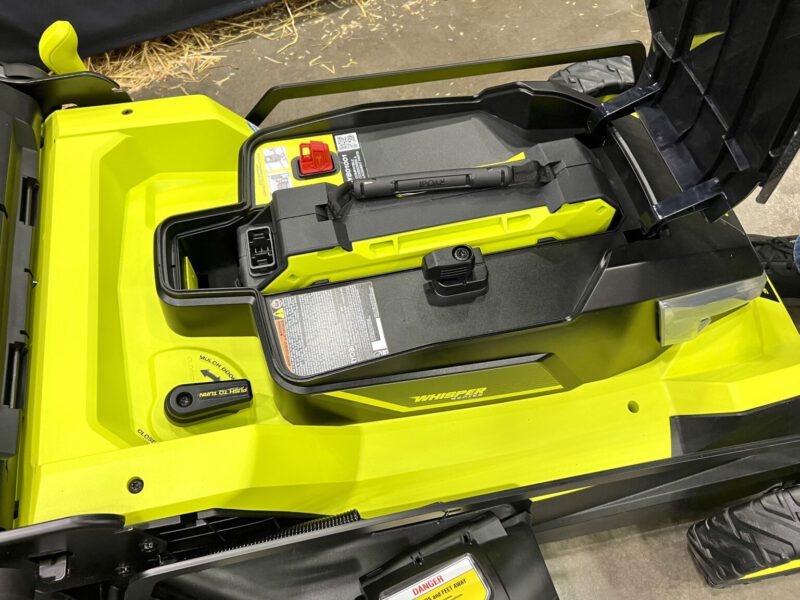 Blade Design and Cutting Width
The Ryobi 80V 30-inch lawn mower features two 15.35-inch stacked cross-cut blades that help deliver aggressive cutting performance. The two stacked blades overlap slightly, essentially giving you a pair of smaller CrossCut blades stacked side-by-side. The additional edge space yields better overall cut quality when compared to a single higher-mass blade.
The mower's 30-inch total cut width is a really big deal; it's a high cut capacity for an electric walk-behind mower. The only other battery-powered walk-behind we know of with this size is the Greenworks Commercial 82V 30-inch push mower, which we also saw at Equip Expo this year.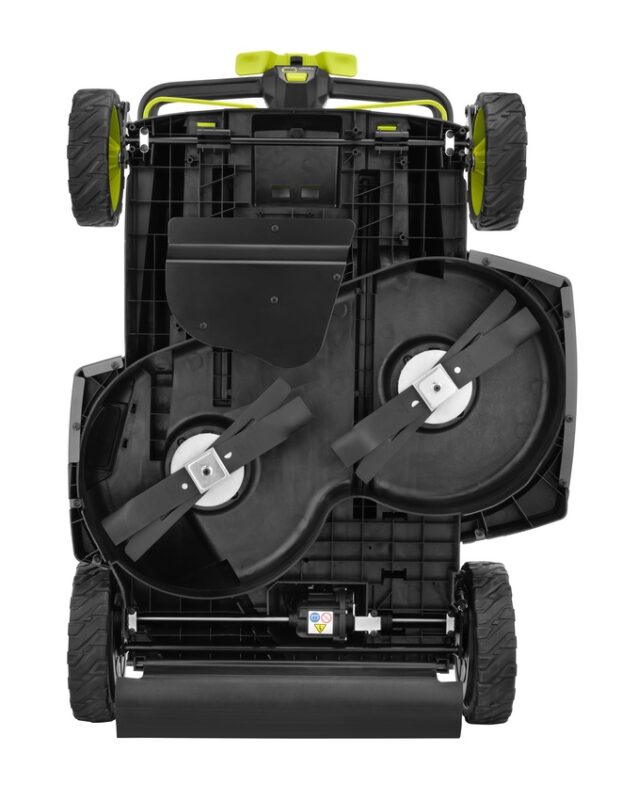 A handy blade reset indicator also alerts users when they need to sharpen or replace the blades.
Mulching and Bagging
Ryobi makes both bagging and mulching easy, regardless of which one you prefer. To switch between modes, you just have to twist the lever on top of the deck, at which point a door moves to open or block the pathway to the rear bagger. This lets you avoid dealing with a removable mulch plug, which can save you from a lot of annoyance.
Cutting Height Adjustment and Storage
Ryobi uses a 10-position single-lever cutting height adjustment system to lift and lower the blades. This makes it easier to achieve the perfect height and minimizes the adjusting you have to do. Dual-locking side rails provide a stable setting for a nice, even cut without needing a separate lever on each wheel.
You can choose an optimal cutting height between 1 and 4 inches.
When you're done mowing, you can fold the mower's handle all the way down for compact storage. To engage, you simply pull up on the handle release lever and push the handle down towards the mower body.
Features Summary
80V HP technology that delivers gas performance
WHISPER SERIES – 70% Quieter Than Gas
Push-button start
External fuel gauge and blade-change indicator
Integrated Mulch Plug—Just flip a switch!
Easy Lift Bag Removal & 10-Position Single Point Height Adjustment
SMART TREK® Adaptive variable speed
One-Touch folding handles for compact vertical storage
High-intensity LED headlight
Blade reset indicator
Ryobi 80V Self-Propelled Lawn Mower Price
This mower will include an 80V 10Ah battery and an 80V Super Charger. It retails for $1,999 including the single 80V 10Ah lithium-ion battery and charger. Like all Ryobi tools and equipment, you'll find it exclusively at The Home Depot. Impressively, the mower AND battery carry a 5-year warranty.
The 80V 30-inch Lawn Mower will also be manufactured at Ryobi's Anderson, SC facility, making it the first Ryobi 80V product to be made in the USA using global materials.
Final Thoughts
Ryobi moves into an interesting position by adding a walk-behind mower to the 80V line. Homeowners with 1/2-acre to 1-acre lawns would benefit from a machine that's smaller and more manageable than a ride-on mower. On the other hand, professional crews often use walk-behind mowers to get into smaller areas where ride-on mowers won't fit. In this way, Ryobi cements itself nicely in the Prosumer category between residential and commercial lawn care sectors.
Specifications
Model: RYPM8010
Cutting width: 30 in.
Blades: 2 x 15.35 in. dual-stacked (4 total blades)
Wheel height: 11 in.
Max runtime: 90 mins (1-acre)
Battery: 80V 10Ah
Made in the USA using globally-sourced parts
Warranty: 5-years (tool AND battery)
Other Ryobi 80V Products
RYPM8010: RYOBI 80V HP Brushless 30″ Whisper Series Cross Cut Self-Propelled Lawn Mower
RYRM8010: RYOBI 80V HP Brushless 30″ Lithium Electric Zero Turn Riding Mower
RYRM8021: RYOBI 80V HP Brushless 42″ Lithium Electric Zero Turn Riding Mower
RYRM8034: RYOBI 80V HP Brushless 54″ Lithium Electric Zero Turn Riding Mower
RYRM8060: RYOBI 80V HP Brushless 42″ Lithium Electric Riding Lawn Tractor
RYRM8070: RYOBI 80V HP Brushless 46″ Lithium Electric Riding Lawn Tractor