Ryobi 40V HP Brushless AWD Self-Propelled Lawn Mower Sharpens Its Competitive Edge
Ryobi introduced their first generation CrossCut lawn mower back in early 2021. It was definitely a huge improvement over its previous mowers but there were a few things we felt could be improved. Here we are a year later with the second generation Ryobi RY401210 40V HP Brushless AWD self-propelled lawn mower in-house and we're diving in to see what's changed.
Pros
AWD delivers extra traction on slopes
Powerful cutting
Much quieter than CrossCut model
Adjustable cruise control
One-touch deck height adjustment
Very efficient side discharge, mulching, and bagging
Assembled in the USA
Cons
Manual battery switchover
Caught clippings can cause mulching lever to stick
Ryobi RY401210 40V HP AWD Lawn Mower Design
The Ryobi RY401210 40V HP Brushless AWD self-propelled lawn mower uses a design that approximates their Smart Trek technology, but adds a few twists.
For starters, the handle reveals a small selector switch that lets you toggle between RWD (rear-wheel drive) and AWD (all-wheel drive) on-the-fly and as-needed. Since we took the Ryobi RY401210 to the ranch, I had some opportunities to mow across several hills. The additional traction the AWD mode delivered kept me straight and I didn't have to fight to keep the rear wheels from slipping.
AWD gives you a slight drop in speed once engaged, but it delivers superior cut quality on slopes, so use it when you need it.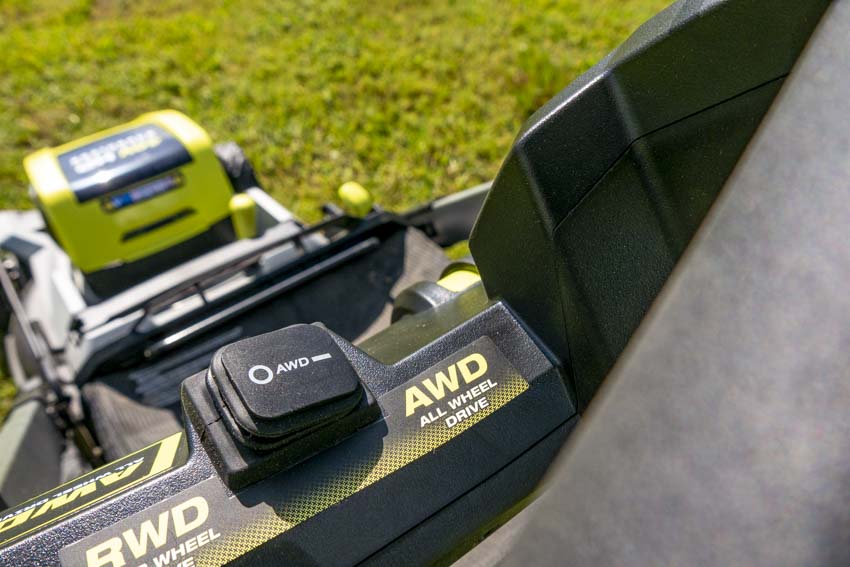 The Smart Trek paddles easily adjust the drive speed to match your pace. You can use either thumb to set the variable speed slider. After that, the variable speed paddles keep you within that maximum speed. Ryobi actually gave the drive speed slider on the RY401210 more friction so it doesn't move unless you want it to. They also made the angle of the thumb bars adjustable. Both are noticeable improvements over their last-generation self-propelled mower.
Ryobi CrossCut Gen 1 vs Gen 2 Lawn Mower Comparison
Here's a quick look at the differences between the first and second generation of Ryobi CrossCut self-propelled mowers:
| | Ryobi RY401210 (Gen 2) | Ryobi RY401150 (Gen 1) |
| --- | --- | --- |
| Deck Size | 21 in. | 21 in. |
| Low Blade Speed Noise | 71 dB | 82 dB |
| Runtime | 59:01 | 50:02 |
| Drivetrain | AWD, RWD Smart Trek | RWD Smart Trek |
| Motor Type | HP Brushless | HP Brushless |
| Price | $799.00 | $599.00 |
From this table, you can obviously see the added AWD function in this new Ryobi RY401210 40V mower, but the most surprising thing for us was the drastic reduction in decibels heard at the operator's ear. We've seen this noise reduction in the Ryobi Whisper Series 550CFM blower and other products from Ryobi. We're excited to see them pay attention to noise reduction in mowers as well.
Additional Features
21 in. lightweight, durable composite deck
Dual active battery ports (manual switchover required)
LED headlights
1-touch aluminum folding handles
Single-point height adjustment
7 deck height levels (1-4 inches)
Ryobi RY401210 40V HP Brushless AWD Self-Propelled Lawn Mower Cutting Performance
The Ryobi RY401210 40V CrossCut AWD lawn mower continues the use of a stacked blade system. These dual-blade systems consistently seem to deliver better cutting performance, including finer mulching and denser bagging. So far, they've really improved on prior single-blade versions of these mowers.
For testing, we lowered the deck to 2.5 inches. We then cut bahiagrass, taking off between 3 and 4 inches with each pass. It was no surprise—based on the performance of the Gen 1 Crosscut mower—that the Ryobi's brushless motor didn't have any trouble. It kept ejecting grass clippings throughout every phase of our mowing.
After this, we dropped the deck all the way down to bury the mower in some thick St. Augustine grass. Like the last Ryobi CrossCut, the mower just kept cutting. The Ryobi RY401210 40V AWD mower—even without AWD engaged—packs enough power to replace a gas mower for every use we could throw at it.
Mulching
We LOVE that Ryobi incorporated a sliding mulch plug right into the deck. To use it, you lift the two-finger lock and slide the selector lever on the deck to switch between mulching and bagging modes.
While a bit "sticky", we found it worked consistently well if we kept the slot free of grass.
Mulching proved to be excellent, if not better, than its predecessor during our testing. That's a really big deal because the first-generation Ryobi RY401150 already impressed us.
Bagging
What do you get when you combine great mulching with high airflow and lift? You get some of the best bagging we've yet seen from a battery-powered mower. Taking 2-inches off in St. Augustine, we filled the bag in a matter of minutes. Removing the bag, we found fine grass clippings—and the bag was full to the top!
Use Ryobi's optional high-lift blade to get the best bagging. It reduces your runtime slightly, but the higher vacuum effect pulls more grass clippings into the bag.
Side Discharge
With such excellent bagging and mulching, it didn't surprise us that using the side-discharge had the Ryobi RY401210 tossing grass way to the side. This mower features a true side discharge rather than a rear attachment. It did a far better job of distributing the grass clippings than many of the best battery-powered lawn mowers we've used to-date.
Cut Quality
As I looked back over thousands of square feet of cut grass, I couldn't help but notice the excellent cut quality. The previous Ryobi CrossCut mower also had excellent cut quality, but we're glad the new features didn't subtract any of the good.
Runtime
Ryobi tells us to expect up to 70 minutes of continuous runtime from the RY401210 mower. We tested those claims on our lawn on what we'd consider a medium-cut. In dry conditions and using the two 6.0Ah batteries in the kit, we ran for just over 59 minutes. In optimal conditions, Ryobi's 3/4-acre estimate seems achievable.
We like that you can see the remaining charge in the batteries thanks to an external LED fuel gauge right on the rear of the deck. You do, however, have to flip the key around when your first battery is used up—there's no automatic switch on this model. That's possibly our biggest grip with this mower.
Noise Level
Ryobi continues to build out its Whisper Series line. This Ryobi 40V AWD Mower measured a scant 71 dBA with the blades at low speed. That's 1 dBA quieter than the already-impressive Ryobi 40V HP Brushless 730 CFM Leaf Blower. It's also 11 dBA lower than their first-gen CrossCut mower!
The low noise output makes this a great lawnmower for anyone who lives in a neighborhood with noise restrictions.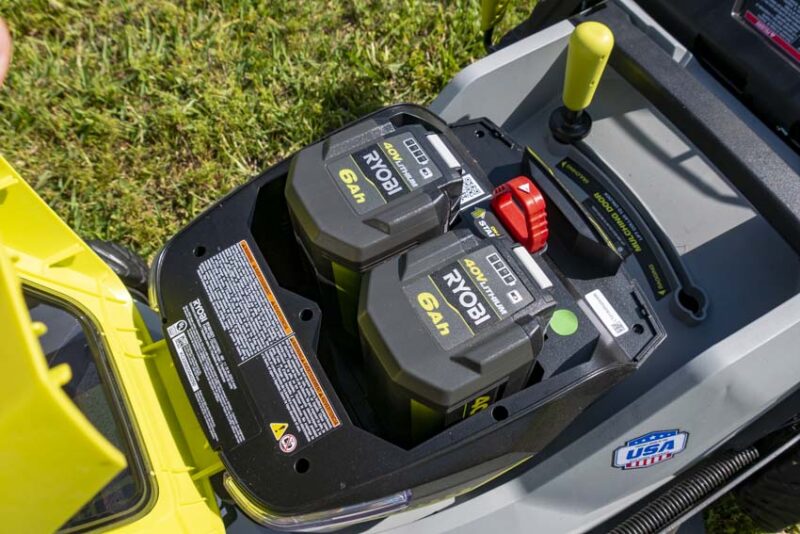 Ryobi RY401210 40V HP Brushless AWD Self-Propelled Lawn Mower Price
The Ryobi RY401210 retails for $799. Inside the box, you'll find two 40V 6.0Ah batteries, a rapid charger, a collection bag, and a side discharge chute. Ryobi backs this mower with a 5-year tool warranty and the deck carries a limited lifetime warranty.
The Bottom Line
Ryobi took its first-generation CrossCut mower, added a selectable all-wheel-drive, and made some improvements in key areas that make using it even more convenient. The price comes up, but we expect that with the additional features. Overall, Ryobi's design team has come up with a truly amazing machine that's on a mission to eliminate any obstacles to using a gas mower.
Ryobi RY401210 40V HP AWD Lawn Mower Specifications
Model: Ryobi RY401210
Power: 2 x 40V, 6Ah batteries (recommended)
Motor: HP brushless
Drive: AWD and Smart Trek RWD
Deck size: 21 in.
Mowing modes: Mulching, bagging, side discharge
Cutting height: 1-4 in.
Runtime: 70 minutes
Warranty: 5-year (tool), 3-year (batteries and charger)
Price: $799 (kit)