The Skil 40V Blower Brings Practical Design to the Homeowner Market
The Skil PWRCore 40V 530 CFM battery-powered blower is a prime example of an outdoor power tool that has the homeowner in mind. Its practical design fulfills consumer demand for convenience and utility–especially in the maintenance of small- and medium-sized lawns.
Now, when you're looking for power in this class, don't fixate on size because bigger doesn't necessarily equal better. Indeed, the quality of this Skil 40V brushless blower proves otherwise.
Skil 40V 530 CFM Blower Performance
Max Air Speed: 130 MPH
Air Output: 530 CFM
Newton Force: 10.8 N (high), 14.1 N (Boost)
Runtime: 9 min. 38 sec. (high), 8 min. 13 sec. (Boost)
Let's get started by reviewing some of the features to see if they measure up in performance.
The Skil 40V Blower has a brushless motor and axial fan design producing 530 CFM (cubic feet per minute) at 130 MPH. Using a force meter, we found that the Skil generated 10.8 Newtons on high and 14.1 Newtons with the Boost Mode engaged. That's commensurate with a majority of modern residential battery-powered blowers.
These performance numbers indicate that this unit is more than adequate for blowing sidewalks and driveways after mowing. It's also sufficient for tackling seasonal leaves.
Of course, when talking about force with a battery-powered blower, runtime is a huge factor. With the kitted 2.5Ah battery, the Skil 40V blower ran for 9 minutes and 38 seconds on high, and just over 8 minutes in Boost Mode. For the battery size, this isn't bad at all.
That said, should your battery tap out halfway through the job, the PWRJump charger that comes with the blower will get it back up to 30% in about 15 minutes and fully charged within an hour. Again, not bad.
Skil BL4713C-11 Blower Design
Model: Skil BL4713C-11
Power Source: Skil 40V battery
Weight: 4.1 lbs. (bare), 6.6 lbs. (with 2.5Ah battery)
Length: 35 in.
Motor: Brushless
Noise Level: 76dB (high), 79dB (Boost)
The Skil 40V blower weighs a manageable 4.1 lbs. as a bare tool and 6.6 lbs. with the battery. At 35 inches long, this blower is quite maneuverable and storage-friendly to boot.
If you still need to consolidate space, you can simply detach the tube from the motor housing via the quick-release button. This cuts the overall length in half.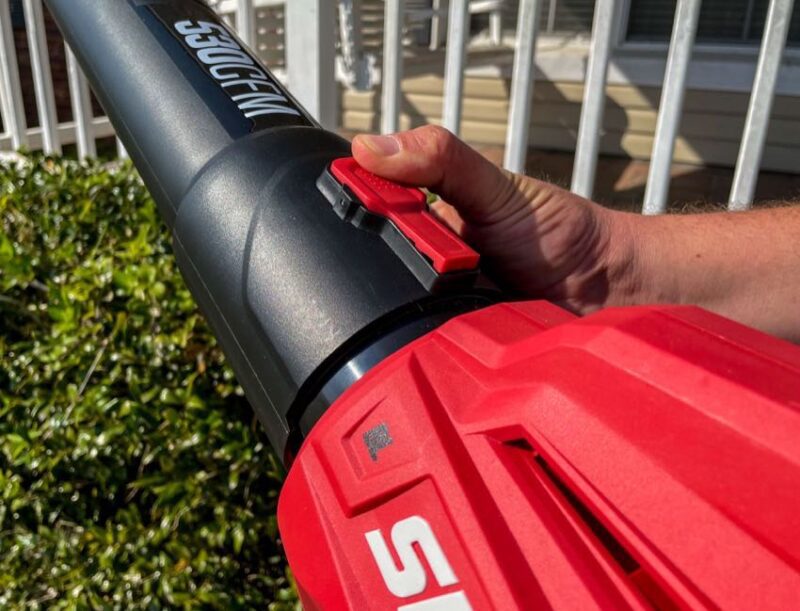 Furthermore, Skil's 40V cordless feels well-balanced, nosing down naturally toward the debris.
Skil also has a cruise control feature where a thumb dial lets you set and hold your speed. That way you don't have to keep pressing the trigger.
For more power, simply use your thumb to pull that lever past its natural stop. And when you finish with Boost Mode, release it.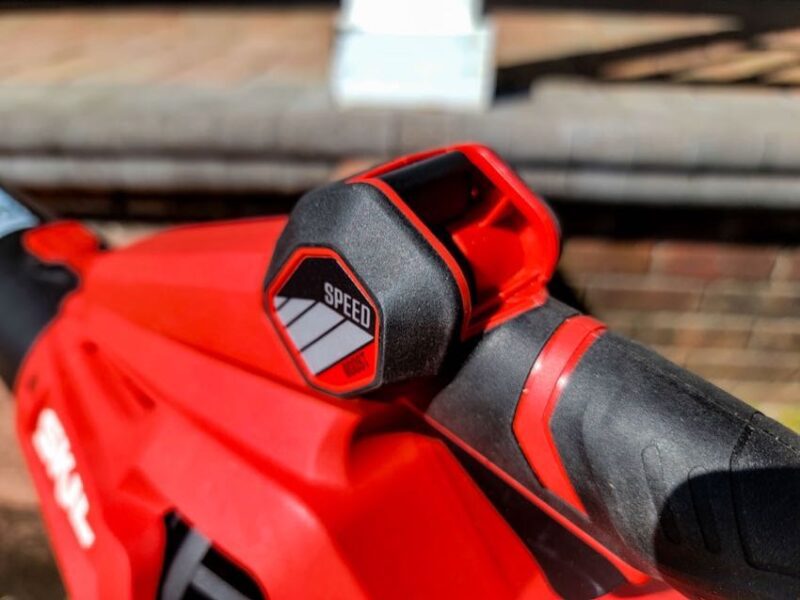 Skil 40V 530 CFM Blower Price
The Skil 40V Blower, complete with a 2.5Ah battery and PWRJump charger, sells for $119. It comes with a 5-year warranty when you register your purchase within the first 30 days of ownership.
The Bottom Line
The Skil 40V Blower is a great addition to the homeowner's OPE arsenal. Its design is lightweight, easy to use, and practical overall. More importantly, though, it has the power you need for home lawn care–enough to replace your residential gas model.
While there are certainly more powerful battery blowers on the market, Skil's price and value are tough to beat.