Skil Adds a 40V Powerhead String Trimmer to the PWRCore 40 Lineup
Skil (as a name, certainly ) has enjoyed almost a century of tenure in the world of power tools. And like everyone else these days, the company has been attentive to building a cordless line of OPE offerings, including the new Skil 40V Powerhead String Trimmer.
Recently, we tested this addition to the PWRCore series to see what its attachment-capable system has to offer in the way of performance and ease of use.
Skil 40V Powerhead String Trimmer Performance
Model: PLT1500C-10
Power Source: Skil PWRCore 40V battery
Max Speed: 5900 RPM
Cutting Swath: 14/16 in.
Line Size: 0.080 in.
Approximate Runtime: 50 min.
The first-ever attachment-capable trimmer on the PWRCore 40 platform, the PLT1500C-10 features an extension system that accepts universal implements (meaning the powerhead will work with any brand's attachments, as long as they feature a universal interface).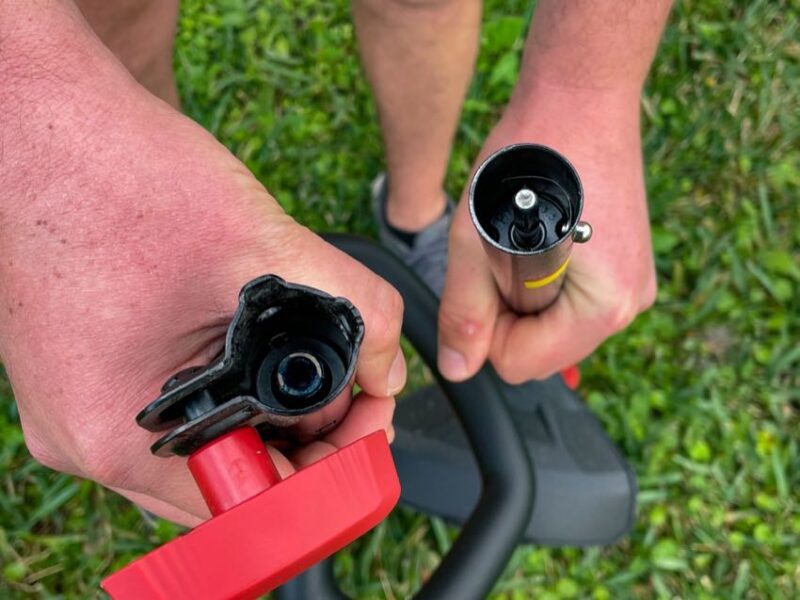 The brushless motor spins the trimmer head up to 5900 RPMs, and the two-speed selector switch provides a hint of flexibility, allowing you to prioritize either maximum power or runtime.
We were pleased with the 16-inch cutting swath, which should make relatively short work of tough grass and weeds. If you want to adjust for tighter areas, you can reverse the line cutter on the guard and limit the swath to 14 inches.
The trimmer head is rated only for 0.080-inch line (a tad thinner than we prefer), but on the bright side, this slighter gauge is ample for most homeowners and helps maintain a higher runtime, too.
Skil 40V Powerhead String Trimmer Design Notes
Weight: 10 lbs. (bare), 13.6 lbs. (with 40V 4.0Ah battery)
Feed Type: Bump
Line Load Method: Twist Load
Weather Rating: IPX4
Motor Type: Brushless
Since the Skil 40V Powerhead is attachment-ready, it lets you do more in less time on yard day. The grip ergonomics are standard but nice, with a textured rubber overmold, an ambidextrous thumb safety switch, and a 2-finger trigger.
Reloading the trimmer line is very easy with Skil's Twist Load head. Just insert a section of your favorite 0.080-inch line and pull until the two tag-ends are even. Then, twist the trimmer head clockwise to feed the line onto the internal spool. Compared to the manual loading systems that are standard on many string trimmers, it takes far less time and creates fewer headaches.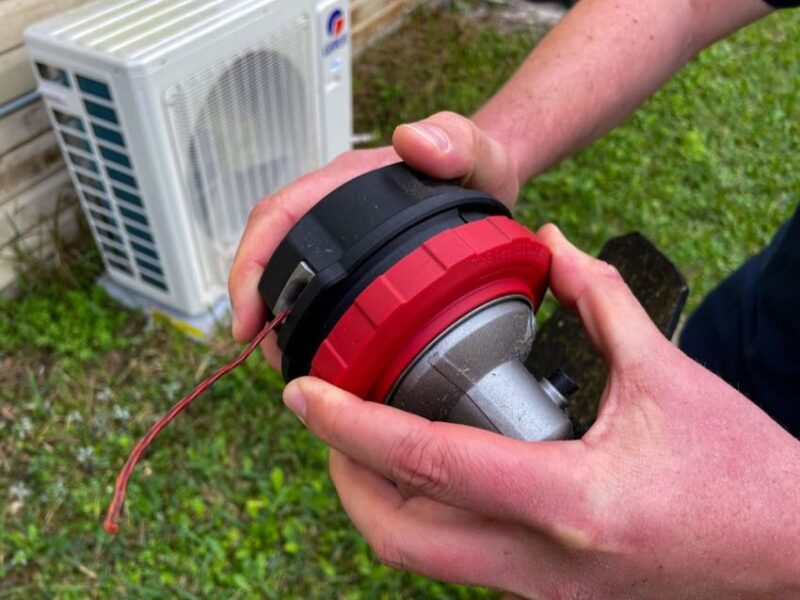 9-Inch Edger Attachment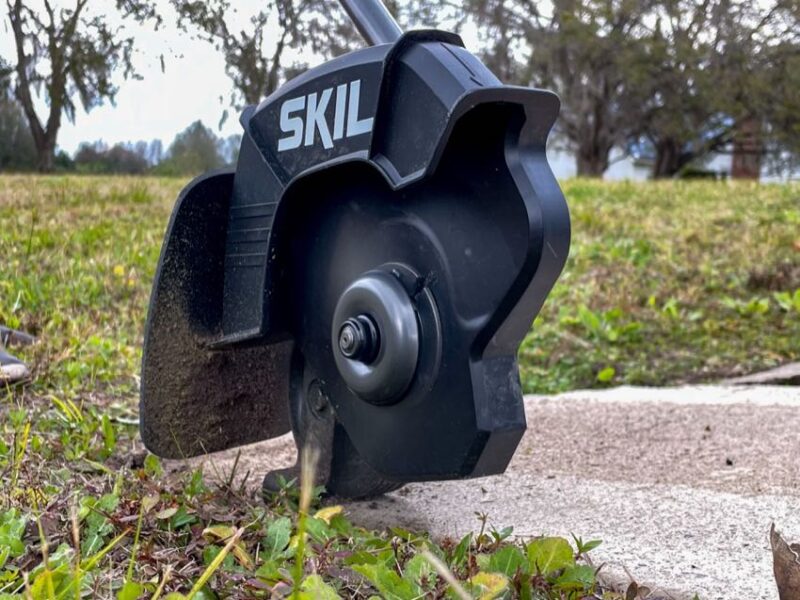 Model: PED0900
Blade Size: 9 in.
Max Cutting Depth: 3 in.
Guard Material: Plastic
Along with the string trimmer head, Skil is also releasing a 9-inch edger attachment. It features an adjustable-depth guide wheel that allows the blade to reach a max cutting depth of 3 inches. A thick rubber debris shield and plastic blade guard offer protection from flying debris and reduce mess from grass clippings, dirt, and mulch.
Additional Features
Ready for use with a shoulder sling
Adjustable front handle
Skil 40V Powerhead String Trimmer Price
Expect this package to run you $199.99. If you want the 9-inch universal edger attachment, that will retail separately for $99.99. The powerhead and attachments carry a 5-year warranty , and 2 years on the batteries and chargers.
The Bottom Line
The Skil 40V Powerhead String Trimmer has a straightforward, user-friendly design that's a step up in performance from 18V/20V max systems. The string trimmer and edger attachments are robust and up to the task. Overall, the PLT1500C-10 is a worthy introduction to the PWRCore 40 series.