Three-in-One Protection for You and Your Crew
The woods can be a dangerous place, and that's not some poorly timed Halloween tagline, either. It's an occupational reality, which is why Stihl's line of outdoor equipment products includes gear like the Stihl Forestry Helmet System.
Designed for arborists and loggers, this single unit helps protect the head, ears, and eyes. Let's dive in for a closer look at its features.
Stihl Forestry Helmet System Performance
Model: Stihl 0000 886 0100
Hardhat protection: ANSI Z89.1, Type 1, Class G
Hearing protection: 24 dB(A)
In terms of performance, the Stihl Forestry Helmet System has a few things worth mentioning. First on the list is head protection.
As a coconut shield, this unit meets ANSI Z89.1, Type 1, Class G standards. If you're not quite sure what all that means, here's a quick breakdown.
"ANSI Z89.1" refers to the American National Standard for Industrial Head Protection performance and testing requirements for construction helmets. "Type 1, Class G" hardhats protect your head from moderate impacts and up to 2,200-volt electrical currents.
Moving on to the face and ears, the attached screen offers full-face coverage, and the adjustable hearing protectors, 24 decibels of noise reduction.
Editor's Note: Stihl recommends that users also wear ANSI Standard Z87.1 safety glasses under the face screen.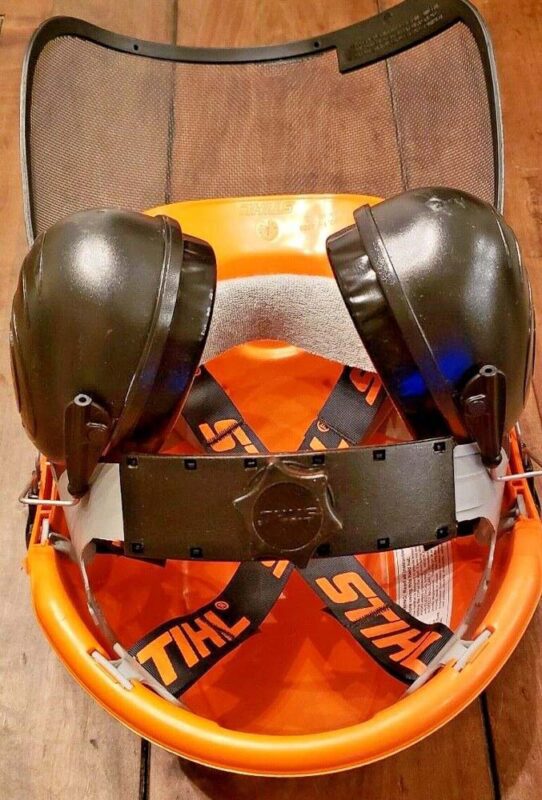 Stihl Forestry Helmet System Design
ABS thermoplastic helmet construction
6-point, ratchet-style suspension system
Visor-style "rain gutter"
Adjustable hearing protectors
Weight: 2.3 lbs.
On the design side of things, Stihl makes this helmet out of ABS thermoplastic , which is known for its durability and high melting point.
Furthermore, the inside features a six-point, ratchet-style suspension system for cushioning and stability. Additionally, the Cool Guard sweatband keeps you dry.
On the outside, Stihl attached a visor-style "rain gutter" that they say directs water away from your face when working in bad weather.
Still thirsting for knowledge? Check out our chainsaw safety tips for homeowners and Pros, and while you're on a roll, our preview of the Buckinghams BuckTree Agility Saddle!
Forestry Helmet Price
The Stihl Forestry Helmet System retails for $88.99 and comes with a 90-day limited warranty.