Handmade for Professional Arborists, Right Here in America
Finding American-made products isn't easy these days. However, Buckingham is based right here in the USA and has been in the safety equipment business since 1896. That's why we're taking a quick look at their BuckTree Agility Saddle. When slinging your favorite Stihl chainsaw or even a cordless chainsaw, this device can help you get your work done safely and comfortably.
BuckTree Agility Saddle Design Features
Model Number: 1480/1480Q1
Waist & Leg Strap Type Quick Connect Buckle
Number of D-Rings 4 (Two Upper/Two Lower)
D-Ring Material Aluminum
Waist Strap Material Nylon
User Weight Capacity 350 lbs.
Weight 5.5 lbs
Standards ASTM F887
When it comes to equipment like tree climbing harnesses, performance is a matter of what the gear enables the arborist's body to do. This includes everything from physical movement to blood circulation. Buckingham factors all such things into the design of their harnesses.
To start with, the BuckTree Agility Saddle's newly designed back pad maximizes support while the arborist works. According to Buckingham, the specialized shape allows for fuller coverage without digging into the ribs and supports the back in areas where many tree-climbing injuries occur.
Next are the saddle's articulating leg pads and straps, which move independently from the upper suspension for more mobility in the waist and legs. This design helps enhance circulation during long periods aloft.
To improve comfort and fit, the black leg straps let you form the pad and lower suspension angle to support your upper thigh area.
Looking for more safety gear? Check out our preview of the Stihl Forestry Helmet System.
Additional Features
10 Accessory Loop Hangers
14 Rated Attachment Points
Full-Floating Suspension Ring
On top of these features, Buckingham incorporated a few other design components worth noting.
For instance, the BuckTree Agility Saddle comes with newly designed easy-to-reach gear loops, has pads made with durable fabric to prevent premature wear, and gives you four spots for tool hangers.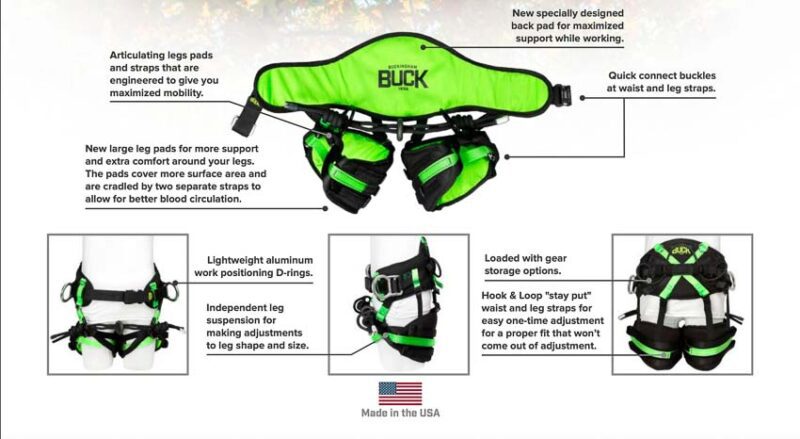 Interestingly, Buckingham's tree climbing harness also features an industry-first segmented rope bridge/suspension bridge.
This design includes sewn pockets that provide an assortment of connection points for different climbing techniques. Moreover, these pockets let you adjust the bridge length by placing a carabiner in the desired pocket location. This is especially useful when you need to be closer to the tree.
Buckingham Agility Saddle Price
Buckingham suggests a retail price of around $866.75, depending on options. Available in extra small up to extra large, their product comes with a 1-year manufacturer's warranty.